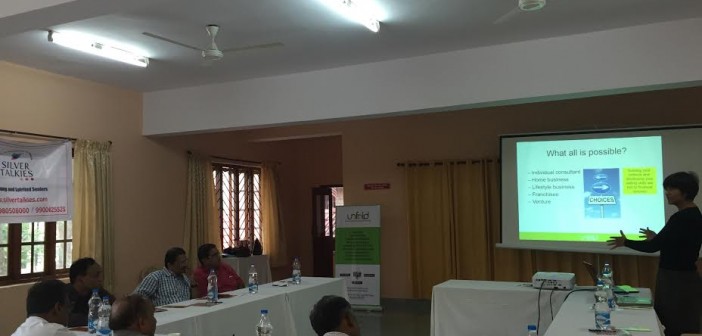 Kickstarting a Second Career for Retirees
A workshop on second careers for retirees and 50+ highlights how to discover & approach work opportunities post retirement in key sectors. We present a report. 
The traditional image of a retiree in India is of a person who is enjoying a slower pace of life, as she or he savour their morning cup of tea with a newspaper, followed by a day set in a relaxed manner. The image is changing soon enough. Multiple studies in India reveal there are over 3 million retirees in the country. Several of them are ready for a second career or an involvement with the workforce after retirement. A Merill Lynch study conducted in 2014 says that retirement used to mean the end of work. 'But now we're at a tipping point: a majority of people will be continuing to work after they retire — often in new and different ways,' it explains.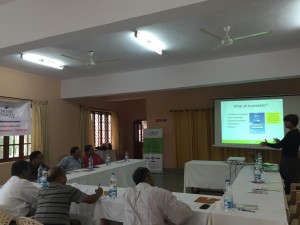 The study also said that 74% in the pre-retiree stage want to keep working after they retire. This thought and attitude were evident among all the participants of the Second Innings Transition Workshop by Unfold Consulting, in collaboration with Silver Talkies. The day long workshop, held on July 18, focused on how to build  a successful second innings, with ideas, insights and direction from a panel of speakers who have created a successful career for themselves after retirement. The workshop was open to all above 50+.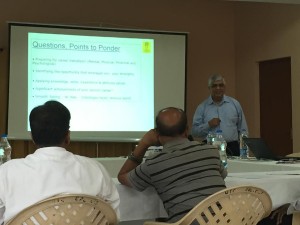 Second Innings Learnings
The workshop provided participants with a 15 minute self-reflective assessment tool which let them evaluate areas such as family, financial goals & medical needs that would have an effect on their second innings. The assessment also look into account their visualisation of a second innings, the assistance required to make the transition and their fears and apprehensions associated with it. The participants were encouraged to group with each other and interact. For many of them, the peer group interaction was one of the highlights of the workshop.
The workshop covered three sectors in details, apart from touching upon methods and approach that are common to all.
• Teaching: in schools and colleges
• Social sector: consulting and short-assignment opportunities
* Entrepreneurship: home business, lifestyle business & professional services
Work opportunities and the best means of approach was discussed in detail under each sector by the Unfold Team, with participants given extremely detailed leads on the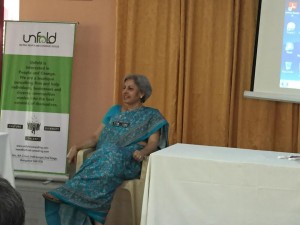 opportunity areas in each. Participants were also encouraged to reflect on the sector of their choice, based on their knowledge, comfort areas, technology know-how and the kind of work schedule they anticipate for themselves.  E.g., during the session on the Education Sector, participants were asked to reflect if they had an expertise that could become a teachable resource. They were also explained which areas within the sector offered flexibility and which did not. Pointers were also given on capital intensive areas in the sector and those that relied on a fair knowledge of technology. The session ended with participants given online leads that could help them discover work opportunities in the Education Sector.
In a similar manner, areas such as the Social Sector & Entrepreneurship were focused upon. Participants were explained the various organisational structures in the social sector and the different types of assignments and remuneration they could expect. The social sector is one of the few sectors that is age-agnostic and has a progressive attitude that is open to the retiree population and participants were given reference sites in the sector that could open up work opportunities. The session on Self-Employment (Entrepreneurship & professional consulting services) focused on the various types of self employment one could look into, ranging from being an independent consultant to running a lifestyle business. Participants also got an insight into the legalities associated with self-employment, e.g., getting a license, registering for sales tax, income tax registration, along with information on organisational set ups and funding.
Additional acquired skills that could lead to self employment were also looked at, ranging from those with lower entry barrier (insurance agent/direct marketing) to those with high entry barrier (e.g., setting up as a nutritionist).
While each sector was focused upon in complete detail, what added value to the learning were the insights from the speakers at the workshop, each of whom have a successful second innings and are associated with the three areas covered. Madhu Mehra, a former banker turned home entrepreneur with a knitting business, stressed on the importance of providing a niche product that is not easily available in the market and constant customer engagement.
Ishwar Hemrajani, member of board, Association of People with Disabilities, mentioned the scope of careers in the social sector that are not voluntary or honorary. He also advised participants to focus on the social sector only if they wish to be there whole heartedly and be prepared for constant learning. Prof. Krishnan, the sprightly 70 year old faculty for Banking, Finance & Entrepreneurship at Mount Carmel Institute of Management mentioned how he had no intention of slowing down, even after three heart attacks. "Re-tyre yourself," he joked, adding on a serious vein, "use the knowledge you have gained." Mr Hemrajani felt a workshop on second careers was a step in the right direction and would be instrumental in triggering a step in the right direction for at least some of the participants.
The workshop was also peppered with examples of people who have a successful second innings and the steps they took towards enabling it, in order to show participants that they were not alone in their quest.
Response & Reason
The participants at the workshop were a varied group, with a unifying need to keep themselves occupied with a second innings and utilise their time and knowledge in a productive manner. Their apprehensions ranged from lack of knowledge of social media to inability to step out of home for longer period. The workshop helped them to think out of the box with leads in several directions. For TR Rengaswami, the workshop was a good experience that helped him understand the requirements in case of self employment, social sector and networking. Yuvraj S felt that while all modules were interesting, the one on Education had maximum value for him, as well as the interaction with the speakers & how to network. The workshop also gave Ganesh S, already into various projects, a deep insight into the social sector and the different levels of opportunity available within it. He also felt that the workshop was very professionally conduced and insightful at multiple levels. For another participant, Jayakar R, who plans to do something from home, it was the first step towards creating a second innings for himself. So whether you were taking baby steps towards a second career or already involved in it, the workshop provided learnings for all.
Puja Kohli of Unfold Consulting feels this is the beginning of a movement. "Retirement is not being considered today as an end of a career but beginning of a new innings. In the words of some of our participants 'it is too early to hang up our boots'. The study conducted by us on second innings was revealing as 80% of the participants were looking for a meaningful engagement and making a larger impact using their knowledge and skills. The 3 sectors chosen by us was a direct outcome of that study," explains Ms Kohli.
Silver Talkies has been organising a variety of activities that give seniors the opportunity to explore different avenues and interest areas. The Second Career Workshop was a step towards that.
Unfold Consulting & Silver Talkies thank all those associated with the workshop, especially the participants and encourage all those seriously keen on a second innings to attend the next one. Planned for September at the moment, the exact dates and venue coordinates will be announced closer to the event, which will be held in Bangalore.
To know more, email mail@silvertalkies.com
About Author