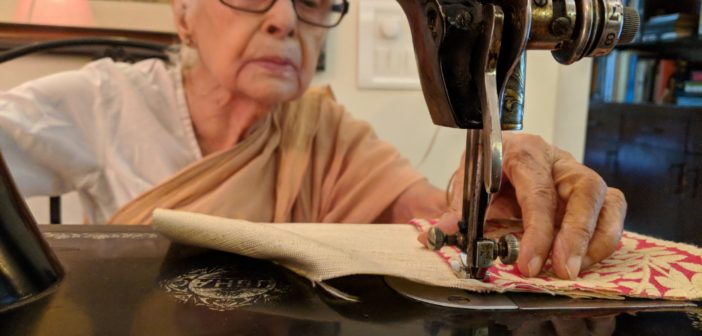 How Latika Chakrabarty Turned Entrepreneur At 89
If you are finding it hard to inspire yourself on a Monday morning, here's a story that will surely do the trick! Grandmother Latika Chakrabarty turned entrepreneur at 89 with her family's encouragement. Here's to finding your passion, no matter what the age.
Latika Chakrabarty is an 89-year old grandma who loves collecting old saris, kurtas, and clothes from all over India and upcycles them into handbags and pouches on her 64-year-old sewing machine. Her love for up-cycling now has an online home with her own website, filled with beautiful images of up-cycled handmade bags created by her from fabric she has collected and saved over the years.
This isn't a new hobby for her and the octogenarian actually embodies a habit her generation has always adopted, much before up-cycling and recycling became environment friendly new age buzzwords.
"My hobbies are to collect old things which can be later put to use. I don't like to throw away anything," she says, before continuing, "In my younger days I used to do lot of knitting, stitching and sewing. Our generation was thrifty having seen the hard days of partition and wars. Housewives of our times took pride in our ability to clothe our children with homemade dresses and woollens. Later when my three children grew up, I started making dolls"
So how did bags come about? "About four or five years ago, one day my daughter-in-law Sumita asked me to make a potli bag to match with her suit. Suddenly I realised I had a natural talent for making bags. That is how my bag-making started," Chakrabarty says.
So she started making potli bags, much appreciated by friends and family and started gifting it to people she knew and loved on birthdays and special occasions.
Chakrabarty wouldn't have started her venture, had it not been for the support she received from her family – especially her grandchildren. In fact, her story is an example many families with skilled and talented seniors could follow, to showcase not just their talent but also preserve a legacy.
"My business venture is totally due to my grandson Joy. On a visit from Germany last month he saw me working and he felt I should have an online presence. He created the website. Later my grand-daughter Priyanka and Joy spread the word through social media, namely, Twitter, FB and Instagram." Rana, one of her grandsons living in Auckland, New Zealand, was her first customer.
We asked Joy Chakravorty what motivated him and his siblings to share their grandmother's creativity with the world. We got a heartfelt response:
"My nani passed away this year and this had a huge impact on the entire family. My dadi is the last grandparent I have and I wanted to do something that would make sure that her legacy would not only remain with us but also be spread across the globe. She is more than someone's mother or grandmother and her creations and her blog is a testament to that."
The rest of the family chips in with inputs as well. "My daughter-in-law Sumita helped me to create the bags, my son handles the business part and my family supports and encourages me in every way. So you can say it is a family venture," says this creative grandmom, adding further, My daughters Minakshi and Manjira are my source of strength. They speak to me frequently."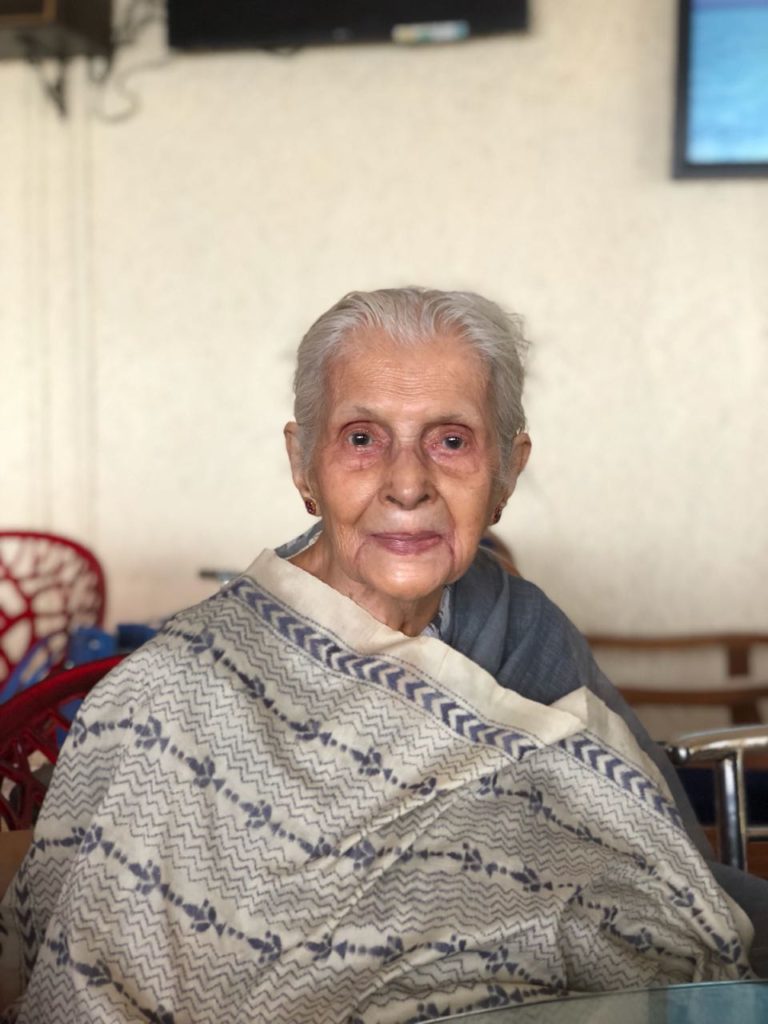 Chakrabarty was born in 1929 in in Dhubri, Assam. "We were 14 brothers and sisters and my father Jatindra Mohun Roy was a lawyer. He used to dote on me. My childhood memories are pleasant. I had lots of friends and family members around."
She was a meritorious student and by her own admission, "never stood second in my life." She married Krishna Lal Chakrabarty in 1949. He was an Officer Surveyor in Survey of India and clearly a gentleman ahead of his times, encouraging his wife to study and educate herself further. Chakrabarty completed her graduation and tells us that her name is in the roll of honour of her college (BholaNath College) for the year 1950. Chakrabarty has worked as a teacher too in the early 60s, when she taught in Sophia Convent, Mount Abu, after her husband's transfer to the region. Inspired by the famous Bengali author Ashapurna Devi, she is an avid writer and has filled up many diaries and notebooks over the years.
With creativity running in her veins, it's no wonder that she had zero doubts about venturing into business at the age of 89. In fact, the spirited senior seems to have been looking forward to it, with her family cheering her on. "As I had already created more than 300 bags. I still had 100 in my stock after gifting away the rest."
Given her age and the fact that she does this out of love, Chakrabarty isn't looking for a huge surge of orders. She does have her share of clients and admirers though, who visit her frequently, and make an appearance on her Instagram page too.
"I have received some orders from abroad but they are mostly from my family and friends who have settled abroad or my grandson's friends who live abroad. We had to cancel some orders from abroad because sending them by courier is very costly. It is a new business but sales is picking up steadily. Sometimes people come home and buy. However I am pursuing this venture mostly for my legacy to leave behind for the future generations."
Chakrabarty devotes two to three hours in a day to her venture, depending upon her health. She has quite a collection of pre-loved fabric to choose from.
"Raw material is generally discarded clothes which I collect from time to time. The accessories are bought locally from a shop in my neighbourhood called 'Smaran,'"
A lot of the raw material she uses has seen a previous life as beautiful saris, kurtas, and eclectic pieces of clothing, each with a unique story of its own. So in many ways, her family thinks, each of Chakrabarty 's bags tell a story of a different time and place in India.
Latika Chakrabarty can take limited orders for making personalised bags. To see her work, visit https://www.latikasbags.com
All photographs courtesy: Latika Chakrabarty and her family
---
Liked this story? You may also enjoy reading about other enterprising seniors. Click here to read more about them: Stories Of Senior Entrepreneurs
About Author