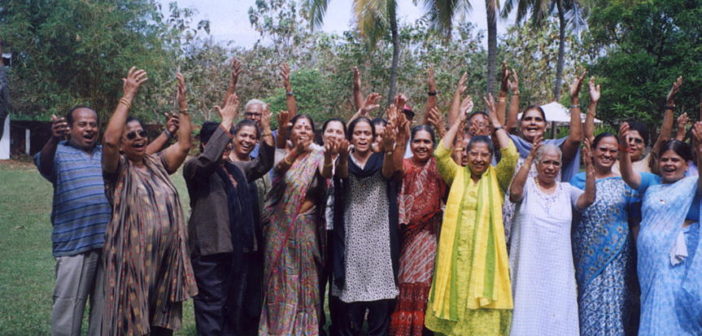 How Laughter Clubs Helped Me Laugh My Way to Health
Laughter, an expression of joy, is a healing agent that doesn't cost anything. In fact it is as free as air or love, as are these laughter clubs that will help you laugh your way to good health.
In 1999, speaking at a seminar in Mumbai, Dr. Dale Anderson, a physician with 36 years of practice all over the world, said, "Laughter is a great medicine…A smile can produce immediate change in the physical, mental and emotional state. Laughing improves face value, reduces stress, enhances body posture, relaxes muscles, improves immunity functions of the body and reduces pain and tissue inflammation."
One of the stories in the book 'Chicken Soup for the Soul' is about the famous writer, Norman Cousins, who was diagnosed as "terminally ill" and given six months to live. He reasoned that if worry, depression and anger were the cause of his illness, could wellness be created by positivity? He resorted to laughter as a way out of his illness. He saw funny movies, read funny stories and asked friends to call him whenever they said, heard or did something funny. He recovered completely and lived 20 more happy, healthy and productive years.
There is a saying that when you cry, you cry alone but when you laugh, the world laughs with you. This is the rationale behind the laughter clubs that have multiplied all over the world over the past 25 years. They work on the principle of collective laughter.
How I discovered laughter clubs
My tryst with laughter clubs started one morning in the late 1980s as I headed out for my morning walk at the Gateway Garden in Mumbai. An elderly gentleman named Mr. Shahani, an insurance agent, stopped me on the harbour-front promenade and invited me to join the laughter club session being held on the Radio Club Pier, starting at 7 am. I explained that I had to get back to my flat in Strand House to make bed tea for my wife and children. He wouldn't hear of it, saying: "What difference will it make if you join us for 15 minutes?"
I gave in and joined the laughter club session, which I enjoyed thoroughly and started attending regularly. Soon, we had to abandon our old location at the Radio Club pier due to some problem but that did not deter us laughter-cracks. We simply regrouped and moved on to a new venue – the Gateway Garden (now a vast plaza that was used by reporters and TV crews during the terror attack on the Taj) in front of Gateway of India. Now at the forefront of the laughter-cracks, I jockeyed to be the lead anchor of the Gateway Garden Laughter Club.
In the meantime, the BBC had visited our laughter club to shoot a session for their programme Outlook. However, on getting back to their studios in London, they realized they had not activated their audio during the shooting. So, one night, around 3 am, I received a phone call from BBC explaining their predicament and requesting me to demonstrate the laughter sequences, including the loud and lusty Patiala Laughter, over the landline phone so they could record it in their London studio. While I was doing so my wife woke up and concluded that I had indeed gone bonkers with my laughter club obsession.
Spreading the laughs
As an anchor at the Gateway Garden Laughter Club, the laughter bug had truly bitten me! One day, I demonstrated the Patiala Laughter in the Covenanted Comfort Room (toilet) of my office to my colleague Jairam. The exploding noise brought employees working on the floor rushing to the washroom in alarm, convinced that there was either a violent fight or heart attack happening behind the closed door. When we came out smiling there was relief all around.
But this incident sowed the seed for the start of a lunch-time laughter club for office-goers in the original business district of Ballard Estate. At 1 pm sharp, employees from L&T House and nearby buildings joined in for the short pre-lunch sessions, which lasted 10 minutes instead of the normal 20 minutes.
Both the Gateway and Ballard Estate Clubs were the darlings of the media, especially the foreign TV crews that came to stay at the Taj and other star hotels. The two clubs were featured on many national and international TV channels – BBC, German, Italian and Japanese TV, and CNBC. The Gateway Club also became a tourist attraction. For instance, batches of South Korean tourists staying a nearby hotels were shepherded by their tourist guides to participate in our laughter club sessions. This would be followed with still photography and video shoots of the tourists and hosts together.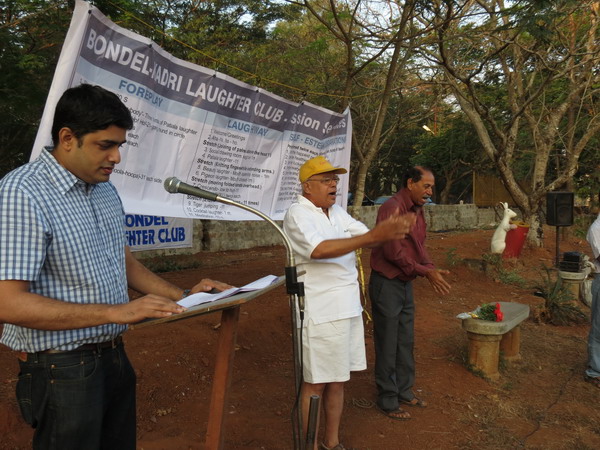 How Laughter sequences work
The session starts with a silent prayer followed by Aha-ha, Ho-ho, in a clapping mode, with participants moving in circles (chakra). Then there are a series of light physical and yogic exercises lasting about seven minutes. This is a type of foreplay for the laughter proper.
• The Laughter Proper: Starts with greetings/welcome laughter when participants approach each other with folded hands and light laughter coupled with exchange of high-fives. Then there is Aha-ha, Ho-ho in the laughter mode with related body movements.
• Social/Drawing Room Laughter: The third laughter is mild and interactive.
• Patiala Laughter: This is followed by Patiala laughter, named after the famous Patiala peg. It is full-throated, accompanied by upward movements of upturned hands.
• Mouth-open-no-noise Laughter: This is the fifth in the sequence and is as described.
• Pigeon Laughter: Also called beauty laughter, this comes next – mouth closed, head turning up and down as when pigeons are in a romantic mode.
• Crescendo Laughter: The hands move upwards, the laughter intensifies from low to high.
• Vowels Laughter: Two bursts of laughter after calling out A E I O U. The participants step forward and backward after each laughter.
• Tiger Laughter: The participants put out their tongue and imitate a tiger jumping at its prey, with forward stretched paws (hands). It bars the touching of fellow participants. Physical contact is limited to initial high-fives.
• Cocktail Laughter: The last laughter is called cocktail wherein the participants can laugh as they please to their heart's content.
At the close of the laughter sequences start the self esteem declarations. These are based on the belief that one is what one thinks. These declarations are: 1. I am the healthiest person in the world. 2. I am the happiest person in the world. 3. I am the luckiest person in the world. 4. I forgive every one. 5. Every day and every hour I feel better and better. 6. I am not alone; God is with me. 7. We are members of the Laughter Club. The declarations are made twice each, followed by bursts of laughter. The session closes with rhythmic clapping to the words "One, two, three; laughter is free. East or West, laughter is the best," five times. The anchor concludes with: "Thank you for coming. Have a nice day. We will meet tomorrow."
Moving to Mangalore
I continued to be in the forefront of the Gateway Garden Laughter Club till I retired to Mangalore in 2000 and lived in Johnlyn Cottage at Bondel. It took me some time to assess the potential of Bondel as a laughter club venue and, finally, I launched Bondel Laughter Club in 2002.
Bondel Laughter Club received generous projection from print and electronic media. As a result, I have been approached to demonstrate laughter club sessions and provide guidance in starting laughter clubs. It is against this background that I ventured into offering a CD titled Laugh Your Way to Health –An Operational Manual for Starting, Anchoring and Sustaining Laughter Clubs. You can view it here: https://vimeo.com/8267104
Finally, some questions and answers
Where should one hold sessions? Ideally, it should be an open space like a garden, playground or park so that public has easy access to it.
What is the ideal time? It is best to hold it in the early morning between 6 to 7 am so that it can be combined with morning walks; else in the evening between 6 and 7 pm. It is important not to have the session on a full stomach. The duration can vary from 15 to 25 minutes and include a set of physical exercises.
What is the ideal number of participants? A minimum of 10 would be good, 20/30 ideal, and the more the merrier.
There is strictly no physical touching others except during the initial greetings with high-fives. Some amount of synchronization is good but you can't put participants into a straight jacket. Laughter is no joke. There is a method in this seeming madness. People stimulate each other, specially their neighbours, by body language and eye contact. There are laid down sequences. They are flexible depending on the anchor's ability to manage change. These sequences can be painted on a billboard (flex) and displayed at the venue.
The initial launch is very critical. Ideally one should take the help of an experienced anchor for launching a laughter session.
I have given enough low-down. Go ahead and laugh to your way to good health and to your heart's content.
Related Articles
Banish the blues with laughter yoga
About Author