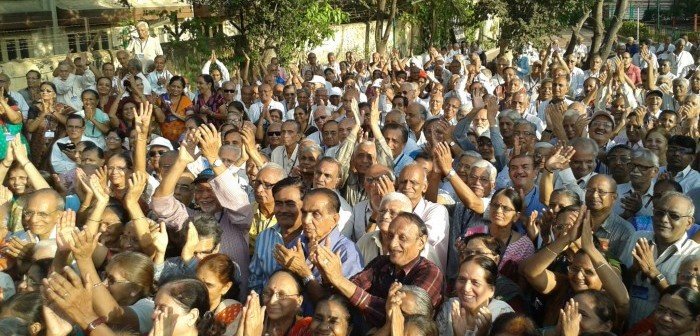 Banish Blues with Laughter Yoga
Laughter Yoga sessions are an increasingly common sight around neighbourhood parks and apartment complexes across India. We spoke to some its practitioners to find out how it can help seniors. 
Can laughing help you stay healthy? Can forced laughter enhance your mood, clear up your respiratory system and strengthen your lungs?
Professor P Sadashiva, President, Karnataka Laughter Yoga International, certainly seems to think so. In the several years that he has been practising Laughter Yoga, Prof. Sadashiva says that he has seen an improvement in his blood pressure and feels something is missing from his day if he hasn't had his daily dose of laughter. Like the professor, Mumbai's Ramgopal Cancherla, 66, feels that Laughter Yoga has given him several personal benefits. A lifelong career in sales meant that Mr Cancherla often had to travel on two-wheelers, which took a toll on his back. "I was constantly on Combiflam (a pain reliever) and can say with guarantee that ever since I started practising Laughter Yoga, my usage of pain relievers have gone down," he says. Mr. Cancherla is a longtime member of the MRRWA Laughter Club, Andheri East, Mumbai and credits Laughter Yoga for the positivity it brought to his life while dealing with complicated office situations when he was close to retirement. "It kept me cheerful and happy and did not allow things (his company was going through a merger) to disturb me much.
Laughter Yoga benefits
Founded by Mumbai physician Dr. Madan Kataria in 1995, Laughter Yoga has been described as a complete workout for wellbeing and usually combines Pranayama techniques (breathing exercises) along with guided laughter techniques. The logic, as Mr Cancherla, a Laughter Yoga teacher trained by Dr Kataria, explains, is that the body cannot differentiate between fake and real laughter and therefore one gets the same physical and psychological benefits from it.
Various educational and medical institutions, including hospitals like Kidwai Hospital and NIMHANS in Bangalore have used it to benefit their patients.
According to research published in the New England Journal of medicine, laughter releases Endorphins and Enkephalins, which are natural opiates and pain suppressing agents. Laughter can also release muscle tension, soothe the nervous system and control pain. Forced laughter in a rhythmic manner brings pressure on the lungs, which throw out all residual carbon oxide and fills up the body with good oxygen, resulting in better lung expansion and contraction. Mr Cancherla in fact says that 80 per cent of people in laughter yoga clubs do not suffer from backache and arthritis.
In a study conducted in Japan, researchers found that laughter can be beneficial for people with diabetes as it can help in lowering blood sugar levels. Prof. Sadashiva, who cites his own example and that of others he knows, believes that Laughter Yoga can help control your asthma, blood pressure and even migraine. He adds that for each and every kind of laughter, there is a purpose. "Some can help your heart, some can benefit eyes," he claims.
The People's Exercise
What started with merely a handful people in 1995, has now grown to a movement with over 6000 laughter clubs in 60 countries. Bangalore itself has 220 laughter clubs. Whether
the science works or not, often, Laughter Yoga clubs are the harbinger of new friendships, groups and bonds. Most people we spoke to say that while starting out may be a bit awkward (forcing yourself to laugh can be), they soon get into the mood of the moment and find themselves laughing contagiously. Delhi's Parvati Mishra doesn't miss the laughter routine in her local park a single day, unless bad health or weather prevent her from joining in. "I feel good to meet friends, laugh, do mild exercises, chat with everybody and go back home," says the 68 year old. The highlight for her is the laughter part and Mrs Mishra says it doesn't feel forced. "When I first started I was little hesitant to laugh openly but now there is such a camaraderie that we just look at each other and start laughing." Mrs Mishra lives in a joint family and her day goes by in a blur of kitchen, home and grandchildren duties. "Morning laughter makes me feel nice for the rest of the day. Nahi to aajkal khulke haasne ka mauka kahan milta hai? (how else do you get a chance to laugh wholeheartedly nowadays?)"
Most Laughter Clubs are conducted in local parks early mornings and in some cases in the evening too. Prof. Sadashiva says 80 per cent of the participants are senior citizens. Whether you believe in the scientific benefits of Laughter Yoga or not, there is no doubt that the act of unrestrained laughter has found many takers. It isn't an unusual sight to find a bunch of people (mostly seniors) standing in a corner of your neighbourhood park, laughing their hearts out. For many like Mrs Mishra, it is also the joy of interacting with others. "My laughter club group ladies have become my friends. When one of them was hospitalized recently, we all kept visiting to boost her morale, arranged in turns to send food home to her son and husband and helped them out with small chores like grocery shopping and maid issues," she says. It is also, her Me Time. "Earlier I used to walk and it was lonely. You have to walk alone. This way, I do something and meet people also."
Has she felt any major health benefits? Mrs Mishra says she doesn't have any major ailments so cannot speak on that but doing this has made her feel lighthearted and happy.
According to Mr Cancherla, one of the reasons Laughter Yoga is finding more takers, especially among seniors, is that it is easy to learn. "It is basically a combination of Breathing, clapping, which simulates acupressure; dancing which results in movement of entire body), laughing and singing," he points out. The other benefit, as Prof. Sadashiv mentions, is that anyone can join a Laughter Yoga Club, as it is free. Mr Cancherla, whose club has members from upper middle class to lower middle class families, agrees. What he also adds is that being part of Laughter Yoga sessions helps to boost confidence. Every year, he and a small group comprising mostly of women from his club, participate in Umaang, a talent contest for senior citizens held in Mumbai. The women, many of whom were hesitant and extremely shy earlier, now go up on stage and have the ability to perform in front of others. Mr Cancherla credits this to their participation and involvement with the Laughter Yoga Club. "It has helped them interact with others, experience things.."
The Spirit of Fun
The benefits may be more psychological than physical and their scientific reasons may still be cause for debate but there is no doubt that Laughter Yoga Club members across the country know how to have fun. The clubs in Bangalore organise a sports day on World Laughter Day, celebrated every first Sunday of May. In 2014, the Laughter Club in Dada Dadi Park, Borivili, Mumbai created a record in the Limca Book of Records by gathering 1950 senior citizens and laughing for 45 whole minutes, under the guidance of trained Laughter Yoga teachers. No mean feat that and we can only imagine the endorphin rush!
As the saying goes, laugh and the world laughs with you. Cry and you cry alone.
Wish to join a Laughter Club? Find out one near you through http://www.laughteryoga.org/english/club/find_club
These clubs are run by volunteers trained as Laughter Yoga teachers and welcome all irrespective or caste, language, community or social status.
Have you experienced Laughter Yoga? Do share your thoughts with us here.
About Author