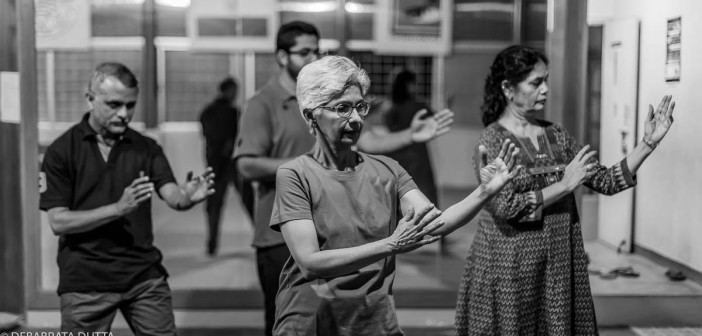 Learn Qigong with Silver Talkies
Come experience Qigong, a traditional Chinese form of healing that uses slow coordinated movement, rhythmic breathing and meditative state of mind to cultivate and balance the life force flowing through all of us. Qigong is now practiced worldwide for recreation, exercise and relaxation, self-healing and meditation.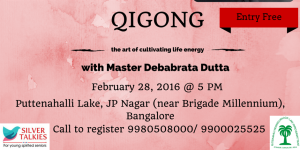 The word Qigong (Chi Kung) comprises of two Chinese words, Qi (chee) = life energy and Gong = cultivate or practice. Together, Qigong (Chi Kung) means cultivating energy, a system practiced for health maintenance, healing and increasing vitality.
Master Debabrata Dutta, founder of Institute of Korean Martial Arts, Bangalore, will be introducing us to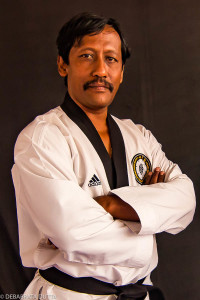 Qigong in an hour long session for senior citizens only.
Date: February 28th, 2016
Time: 5 pm
Venue: Puttenahalli Lake, JP Nagar (near Brigade Millennium apartments), Bangalore.
The session will be easy going and only requires ability to stand for 20-30 minutes at a stretch. Come dressed in comfortable clothing and footwear.
This is a small group session with limited seats. Please call at 9980508000 or 9900025525 to block a place for yourself. This is a free session.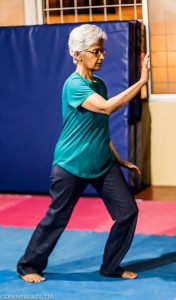 Frequently asked Questions
Qi is energy and Gong is to cultivate.
A self-realisation tool for mind, body & spirit. Qigong is a branch of Traditional Chinese Medicine (TCM) and is used for healing purposes. It uses slow coordinated movement, rhythmic breathing and meditative state of mind to cultivate and balance the life force flowing through all of us.
What are the benefits of Qigong especially for senior citizens?
The gentle, rhythmic movements of Qigong reduce stress, build stamina, increase vitality, and enhance the immune system. It is known to reduce hypertension and improve balance among seniors hence reducing the incidence of falling.
Learn it for physical well-being, peace, harmony and equilibrium of mind, body and spirit. Also practicing Qigong will give you a healthy occupation which is an added bonus!
Is Qigong difficult to learn or strenuous?
It is easy to learn and less strenuous, yet the practitioner must have physical energy to stand for some time, say 5 minutes to 15 minutes. Qigong can also be practiced from sitting position.
The slow gentle movements of most Qigong forms can be easily adapted, even for the physically challenged and can be practiced by all age groups.
Can it be done by a person suffering from any medical/ physical condition (diabetes, hypertension or arthritis etc.)?
Yes, anyone can practice Qigong and there are no side effects.
How long will it take before one can do the practice comfortably?
Depends on the practitioner, though Qigong by nature is for all and flows in all. Yet there will be a demonstration of conditioned doubts, fear and inhibitions demonstrated by most practitioners which is beyond one's control.
Qigong is a lifelong practice that is done mentally and physically. It takes at least 2 days @ 2 hours of instruction minimum to learn but lots of sincere practice there on.
How long should one practice daily to reap the benefits of Qigong?
One should practice anywhere from 20 minutes to 45 minutes, depending on the time available.
Where and how can I learn it?
YouTube, books and internet are good sources but a teacher is very valuable asset to have on your side.
How do I learn Qigong in absence of an instructor in my area?
You allow Qi force to happen and after the basic introduction any one can do it alone.
Photographs courtesy: Debabrata Dutta
About Author