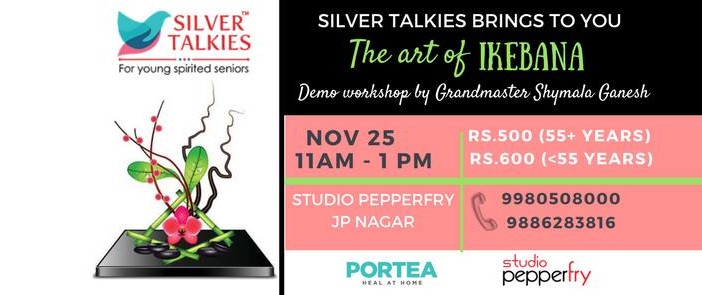 Learn The Art Of Ikebana With Us
Learn the Japanese art of flower arrangement — IKEBANA- with us!

What's Our Workshop About?
They say beauty lies in simplicity. Nothing holds that truer than Ikebana, the Japanese art of flower arrangement. It dates back to over 500 years ago and is still a much-coveted art form to learn. What makes Ikebana special and unconventional is the way it is arranged. Unlike conventional flower arrangements that focus on the blooms and colors, Ikebana is monk-like in its simplicity and emphasizes minimalism and asymmetry. It is also said to be a symbol of the sacred relationship between humans and nature.
Who's Teaching It?
This will be a demo workshop organised by SILVER TALKIES & conducted by Ms. Shyamala Ganesh, the Grand Master, Ohara school of Ikebana, Japan. She was the founding President of The Bangalore Chapter of the Ohara School of Ikebana which was founded in 1989. Since the inception of the Bangalore Chapter, she has been conducting annual exhibitions. Through the medium of Ikebana, she hopes to sensitize people to love, appreciate and preserve nature in all its beauty and splendor.
Where Is It?
Studio Pepperfry, Bangalore (Click here to see a map)
When?
November 25, 2017
11 am to 1 pm
Cost
Rs 500 (55+ years) & Rs 600 (if you are below 55)
How to register?
Email: mail@silvertalkies.com
Call: 9980508000 & 9886283816
More on our FB Event page https://www.facebook.com/events/145276246097688/
About Author