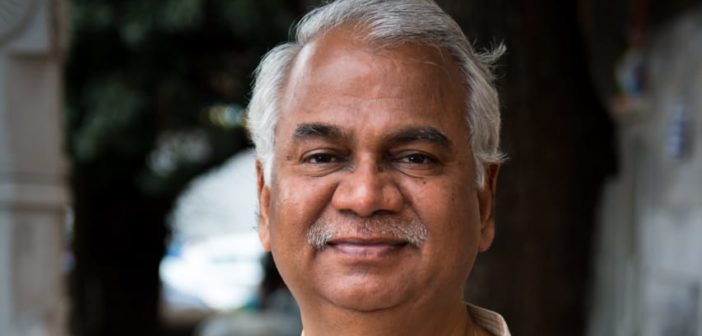 A Tribute To My Guru: Why Pandit Nagaraj Rao Havaldar Penned A Book On Pandit Bhimsen Joshi
Pandit Dr Nagaraj Rao Havaldar launched his book on Pandit Bhimsen Joshi at the 66th Sawai Gandharva Bhimsen Mahotsav, Pune in December 2018. He shares his experience of interacting with the legendary musician and tells us why he wrote a book on his Grand Guru.
Dr Nagaraj Rao Havaldar is a leading artiste of the Kirana Gharana and a disciple of Pandit Madhava Gudi, who was a prime disciple of Bharat Ratna Pt. Bhimsen Joshi. Pandit Havaldar brings to his performances the subtle understanding of a scholar and the finesse of an aesthete. A gold medalist and M.A. (History and Archeology), he holds a Doctorate in Music from Kamataka University. He also holds the Sangeetha Ratna, a degree in Hindustani Classical Music from Karnataka University. Dr. Havaldar is the founder president of Sunaada Art Foundation, an organization that aims to promote and preserve Indian classical music for future generations, by archiving rare recordings, organizing concerts, and promoting senior, but lesser known artistes in Hindustani music, especially from Karnataka. Over to him…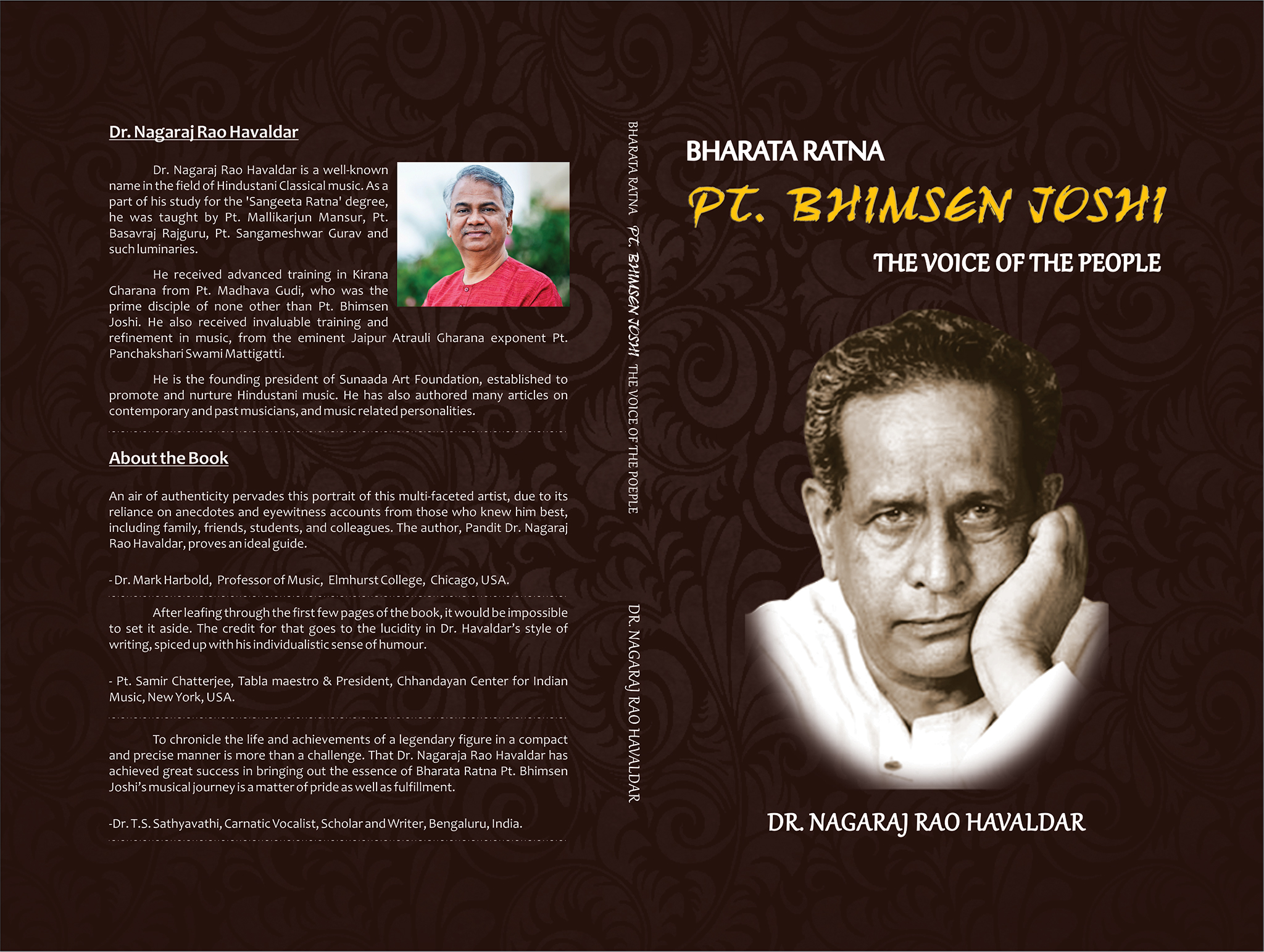 My book is called Pandit Bhimsen Joshi – Voice of the people. This is the second book in English on Pandit Bhimsen Joshi after 1984. The first one was by Mohan Nadkarni. After that book, Panditji lived for another 20 plus years and his music, personality and life all changed a lot. I have tried to document all that in this book. This is also the first ever book about Pandit Bhimsen Joshi to be written by a student from the same gharana.
Pandit Madhava Gudi, a disciple of Pandit Bhimsen Joshi was my guru. In 1985, I approached Pandit Bhimsen Joshi to learn from him. He was extremely busy in those days. I gave a personal audition and he recognised that I had all the merits to become his disciple. I had completed the Sangeetha Ratna course in Dharwad by then.
He said you can be around me but I may not be able to teach you and unfold the secret of my art because of my busy schedule. He suggested I go to his disciple Madhava Gudi who had learnt from him for 26 years by living with him.
If you want to really know the style of my gayaki, I would suggest you go to Madhava Gudi. If you want the brand name, you are welcome to be around me.
I listened to him and went to Madhava Gudi in Dharwad on his recommendation. After several years, I went back to Panditji and gave him an audition. He said, now you are my grand disciple who will carry on the mantle. Other than this met him several times. I played the tanpura as support to him in Madras Music Festival and also accompanied him on other occasions.
Pandit Bhimsen Joshi inspired me to learn music. He left an impact on my mind when I was a 6-year-old child. He had sung in Sandhya Raga, a Kannada movie. Since then, I had been hoping to learn from him.
My interactions with Pandit Bhimsen Joshi and the insight into his character that I got from Madhava Gudi persuaded me to write a book both on the person and musician that Pandit Joshi was.
My book looks beyond the glory of the musician that Pandit Joshi was and looks at the human being behind the artist. I have delved into how Bhimsen was as a student. The book is for the layperson and not just students of music.
My own impression of him is that he was a very accessible, polite and soft wonderful person. Very open and fun-loving human being who could come to your house and make himself comfortable and make others comfortable around him. He would be a roaring, larger than life musician only on stage.
For me the greatest learning has been his simplicity. He never forgot his past. He ran away from home but not everyone who runs away from home ends up as a Bharat Ratna (he received it in 2008). He had a very clear vision about what he wanted to do. He was not even tempted by film offers as he was extremely clear about his goal.
He was also open to playback singing and humble. He sang in Amol Palekar's Ankahi and I share an instance in the book where Palekar says he was ready to go through creative anxiety because of such a legend singing but Pandit Joshi kept some conditions. The music director of the film was Jayadev. Pandit Joshi said Jayadev will be my guru for this film. He should not be overwhelmed or overshadowed by me. His other condition was that unlike a normal film recording where the sitar player, sarod player and flautist will all come separately to the recording studio to play their piece, he needed everyone together. Panditji said whomsoever you wish to involve in the recording would need to do 15 days rehearsal with him together. No cut paste job he said, like eating palya once and then eating roti and then dal once. Instead he said I shall sit down with all musicians around me and we shall do the recording.
I spoke to not just Palekar but also many eminent personalities and classical musicians who interacted with Pandit Joshi. Piyush Pandey mentioned how accessible he was while shooting and recording the national integration song Mile Sur Mera Tumhara, which begins with him. In fact, not many know this but the basic sur of the song was composed by him.
Panditji also popularised Dasavani, a genre of Haridas compositions from 16th to 18th century in Karnataka and Santavani of Marathi saints like Tukaram, Gyaneshwar & Namdev. He literally carried contemporary Hindustani classical music on his shoulder.
My book also delves into grey areas like his fondness for alcohol but I have tried to demolish the theory that intoxicants are needed for a great performance. Instead I have shown how he fell prey to it, got out of it and how his music prevailed. There have been many things I have learnt from him.
When I gave him my first musical audience, I sat at a hand shaking distance and sang Raag Darbari nervously. I did not sing as well as I could have. He asked me if I were nervous. He said you need to become the personification of the Raga and I did not hear that. You need to sing to your true potential, he told me, adding, do not be conscious of who is sitting in front of you. I followed what he said.
For me the book is a historical document and narration of my guru and history of the Kirana Gharana I belong to. I am a Gold medallist in History and Archaeology and that has helped me write this accurately. It is my tribute to a guru and legend.
---
To buy the book, contact 9448029944 or 080 26691657.  The book is also available here 
---
Liked this story? You may also enjoy: Pandit Debu Chaudhri – On A Musical High
About Author