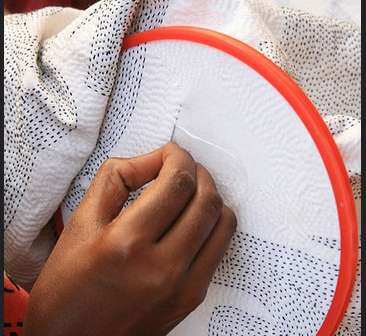 Shabnam Ramaswamy's Katha Stories
Shabnam Ramaswamy, 61, grabbed life by its horns and changed the script not just for herself but also for several women and children in a small village in Bengal. Reshmi Chakraborty met her to hear her amazing story.

"I had a middle class upbringing. That kind of background does not prepare you for the harsh realities of life," says Shabnam Ramaswamy as we sit down to chat about the work that shaped her life and the life that was instrumental in shaping her work. 
At 61, Shabnam is vivacious, outspoken, attractive and a grand mom who defies convention and stereotypes. She's also the force behind Street Survivor's India, an NGO located in Katna, a small village in West Bengal's Murshidabad district. SSI has a threefold objective, education – which they offer through their initiative, Jagriti Public School in Katna; Justice, an arbitration programme led by Shabnam that provides women who have been abandoned or ill treated with solutions and access to justice. The third noteworthy objective is Kantha, an empowerment project for the rural women which makes use of their inherent kantha (a traditional Bengali form of threadwork) making skills, markets it under the label Katna's Kantha and generates not just income for these women but also empowerment.  
A Life of Struggle
Shabnam didn't start out as an activist. A 60's child who studied at the prestigious La Martiniere School in Kolkata, she was married off at a very young age to a much older man and survived eight years of an abusive, violent marriage. One night, she was thrown out on the streets with her 3 year old son. Her husband kept her infant daughter. "I told myself, the streets couldn't get worse than what I was facing at home." She was in her early 20s, on her own, with no help from her parents either.
It must be a difficult story to tell but Shabnam tells it in the most matter of fact, can-do manner possible, making you see her never with pity, only wonder. She bought platform tickets and spent nights in the Sealdah Railway Station, huddled up with her boy, becoming at avoiding the ticket checker. She often wondered if she had done the right thing and depended on sympathetic friends for support in the form of food and the occasional money. Finally she managed to get herself a job as a receptionist in Marie Stope's Clinic in Kolkata. "They needed someone who spoke English and was presentable," she recalls. Shabnam was all that and more. In fact, nothing less than resourceful. Circumstances pushed her to extremes but she had only one thought: I have to win this. 
To upgrade her skills further, Shabnam joined a night college for a home science course and followed it up with a course in interior designing. She would lock her little boy in the one room she had rented in a semi-red light area as the rents were considerably lower. "I'd pack my Janta stove and all hazardous stuff inside a steel trunk, keep his food and toilet seat outside and go to work. The room had a little window and he would keep looking out through it," she says. It must have been heartbreaking but Shabnam had no choice.  Nor was she keen on showing the world her pain. "When I went out to work, I was presentable in my starched cotton saris. I may have been struggling inside but why would I show it to the world?" she pauses for breath and adds with a laugh, "Zindagi me drama karate karate haqueeqat bhi ban jaata hai. That's what happened to me. I may have aches and pains inside but I never let the world know!"
Gradually Shabnam built up a life for herself. She filed for divorce, got her daughter back and started a business in interior design. By the time she was 40, she was a well known interior designer and able to afford ayahs and good schools for her children, along with "chiffons and diamonds" for herself. She had come a long way from being the battered and homeless woman she had once been reduced to.
For the Greater Good
Shabnam's life took the path she follows now when she decided to use her experience and the inequalities she had seen for a greater good. "I had made money, set up my business but slowly I felt as thought I was becoming the person I had left behind. I loved money and worse…I loved hurting people," she says with a candour that's both remarkable and brave. "It gave me a kick as though I was taking it back on my ex! I felt I was losing myself and that's when I thought, the money I have in the bank is good enough for me and the children to survive. I would like to work with women and children who couldn't make it like I did."
So Shabnam made a fresh start and moved to Delhi with her children. She started working for the Salam Baalak Trust set up by filmmaker Mira Nair despite no degree in social work after convincing their heavyweight panel that her heart was in the right place for the job. It involved working with runaway kids at the New Delhi Railway Station and that's where she met journalist and documentary film maker Jugnu Ramaswamy who came to make a film on her work. The two got close and married as Shabnam wanted her children to see stability in life and realise that not all men were the same. Shabnam and Jugnu set up an NGO Street Survivors India and started working in a Delhi slum. A few years later, their initiative and the school they ran was razed in a demolition drive and they decided to pack up and move to Katna, Shabnam's ancestral village in West Bengal and continue the work there.
It Takes a Village
Today SSI runs the Jagriti Public School in Katna, an English medium school that follows the CBSE curriculum and boasts of visitors from different parts of the world. In order to raise funds for the school and empower the women in the area, Shabnam started the Kantha project, as local women already had the skill. Today the Katna Kantha products are exhibited and sold all over India and the world and are much appreciated. This livelihood generation programme has given the women in the village economic independence and earned Shabnam enough respect in the area. So much so that she presides over an informal court run from the terrace of the local police station that tries to amicably settle domestic disputes in the area. 
Setting up SSI in Katna and using it to change the lives of the women and children in the village wasn't easy either for this spunky woman. She lost her husband Jugnu to a cardiac arrest a few days before the inauguration of Jagriti School and decided to go ahead with what they had dreamt together. She has also faced death threats from local gundas, criticism for her uninhibited style from local maulvis (they think a widow should not wear colourful clothes!) and taken it all head on in her own inimitable way. In fact, as she takes a break from the Katna Kantha Stall at The Annual Handmade Collective in Bangalore to chat, she points to a tall man manning the stall. "He was the local goonda hired to kill me once," she laughs. Today he is not just her Man Friday but also someone who has been trained to oversee the work.   
In keeping with Shabnam's dream of giving a platform to women who are abandoned by their families, SSI also runs a Rescue Home for women who are abandoned. Shabnam has also set up a restaurant Tumi Ashbe Bolei, to promote tourism in the area, which is near Shantiniketan, Rabindranath Tagore's abode and a tourism hub. Throghout all this, Shabnam has remained the upbeat, ever enthusiastic force behind SSI, who has not let life and its challenges cast her down. As we laugh over her lack of what she terms "conventional behaviour," she says, "I'd die if someone put me in a box. I've got used to breaking rules." She is also uninhibited about speaking about her once  turbulent life. All because, "If someone may get inspired by my story, then it is worth saying…"
The Kanthas made by the women of Katna village are available under the label Katna's Kantha. Each of them are unique, keeping an ancient tradition alive and empowering and transforming lives. To know more or buy, visit http://www.kkantha.com/
About Author