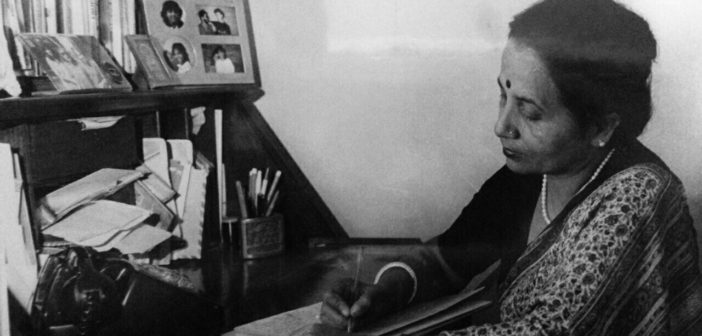 Kamna Chandra, The Writer Who Gave Us Movies Like Prem Rog & 1942: A Love Story
Writer Kamna Chandra, now in her 80s, penned some of the best known movies of Hindi cinema, including a refreshing movie this year.  She tells Silver Talkies about her journey and how her pen isn't ready to retire yet.
It's not everyday that you have a story you want to narrate to none other than the legendary showman Raj Kapoor. A story you feel can be brought to life with his direction alone. A story you want to narrate to the man himself and no one else.
"No I won't narrate the story to his assistant. Main kahani Raj Kapoor ji ko hi sunaoongi." Kamna Chandra, then a writer of plays for All India Radio (AIR) and Doordarshan was her assertive best with Harish Bhibra, Raj Kapoor's secretary, trying to persuade him to get her an audience with the famous director. The 'kahani' in question was a real-life story she had heard from her mother; one that had been in her mind for a long time. It went on to become Prem Rog, one of the biggest romantic hits of Hindi cinema and got Chandra, one of Hindi cinema's rare women writers in the 70s and 80s, her first Filmfare Award nomination in 1983. She had tough competition that year with Nikaah & Bazaar among the other nominees, before losing to writer Samaresh Basu for Namkeen.
Chandra, now over 80, went on to write few more stories that became trailblazing hits in the Hindi movie industry. One of them was the Sridevi-starrer superhit Chandni, directed by Yash Chopra. "His wife Pam called me to ask if I had a story and this was what I had in mind." She also wrote Kareeb and both the story and screenplay for the Vidhu Vinod Chopra directed superhit, 1942: A Love Story. Her latest is the story for the 2017 movie Qarib Qarib Singlle, directed by her talented daughter Tanuja Chandra and one of the most refreshing movies of the year. "I wrote it long ago for radio. Tanuja and Gazal gave it a contemporary flavour," she says.
Always The Wordsmith
Writing began long ago for Chandra and she never imagined being associated with the Hindi film industry. She grew up in UP, in a home where "padai likhai" held great value and where the daughter's education was given equal importance as the son's. She is a 1953 Graduate in English Literature from Allahabad University.
"In fact, my BA results came out on the same day as my marriage, so when the baraatis (groom's family) arrived by train, they were very happy to know that their bahu was a BA pass!" She says with a hearty laugh over the phone when we speak. Navin Chandra, her husband of 64 years, worked in the corporate world. He has been her rock through these years. Their relationship, love and respect for each other deepened over time, something that reflects in her stories. Romance in Chandra's writing can be gradual, finding its way with a slow but sure footing. "I like her treatment as well as love for human emotions in her stories. It's that which draws viewers in to her stories and the simple but sweet sense of humour as well. It's tough being funny in a natural kind of way. That's what she does well. Most importantly, she brings her life experiences and her own personal sense of humour into her writing and that is the most valuable lesson I've learned," says daughter Tanuja, the director of women oriented hits like Dushman and Sangharsh.
Chandra had been writing through school, marriage and motherhood and apart from radio, had even written for well-known magazines of her time, like Vama and Sarita. But it's Mumbai that gave her writing the wing to fly. Chandra's started writing plays for All India Radio and Doordarshan after her husband's transfer to Mumbai. This was in the late 70s and early 80s, when Doordarshan (DD) in Mumbai was going through its best creative phase. Not many know that she wrote Trishna, an adaptation of Jane Austen's Pride & Prejudice, for DD. "I met Meena Vaishnavi of DD and she asked me to adapt it in the Indian context. We worked together and I wrote 13 episodes, which were hugely successful." Trishna was a super hit, especially among young women and Chandra went on to tell more stories, create more original work, including Kashish, yet another romantic DD hit from 1993.
Writing For The Movies
When it came to cinema, Kamna Chandra mostly wrote the main story and preferred to let the director and their story department take over the screenplay and dialogue (as she did for Prem Rog & Chandni). "I never felt insecure about it. Mujhe lagta tha jo bhi karenge achcha hi karenge," she says, adding that she was fortunate to have been part of a simpler way of doing things in the film industry. The one exception she made was for her would be son-in-law, director Vidhu Vinod Chopra, who insisted she write the screenplay.
Chandra wrote the story for for 1942: A Love Story after she watched Chopra's path-breaking film Parinda. Once again, she approached a director because she liked his work and felt there was a story she had for him. "I had gone visiting my daughters in USA where they were studying. We watched Vinod's film Parinda together and were blown away by it. My daughter Anupama (Now married to the director) suggested why don't you approach him with a story and I did."
Back in the late 70s, when Chandra requested her audience with Raj Kapoor, she had never expected a call back. Within a week she did. "I was so excited and kept going over the story in my mind. I met him in RK Studios. He made me extremely comfortable and heard the story of Prem Rog with rapt attention for almost two hours. He asked me to write a draft, though his team worked on the screenplay and dialogues. When the movie released, I had single credit for the story. He was a gentleman to work with," she remembers fondly.
Balancing Her Two Lives
Chandra was living in Hong Kong with her family when Prem Rog released in 1983 and returned to India only after that year. But the movie had given her recognition for her work and there were enough offers. She wrote 'Chandni' for Yash Chopra soon after. Chandni was his first hit after four or five flops. Chandra went on to write more for cinema and was one of the rare women screenwriters of her time but her first choice was always home. "Meri priority ghar aur bachche the," she says with absolute conviction.
Yet Chandra managed to balance both work and home to the extent that made her happy.
"My mother insisted I study, even after my father's death. In those days I stayed in a boarding during high school and at my mother's insistence, completed my BA. I wanted to utilise that education, which was rare for a woman in the 50s, and I'm glad that I did. The work that came my way ensured I did something creative, put my education to use and at the same time got the satisfaction of managing my house." Her pride in her family is hard to miss and is peppered through her conversation as she fondly talks about her supportive husband and the three children who seem to have inherited her talent – Tanuja the writer-director, Vikram Chandra, the writer of acclaimed novels (and now a trending show on Netflix) like Sacred Games and Anupama Chopra, the film critic.
Chandra's stories have always had strong women in them, whether it was Manorama, the character played by Padmini Kolhapure in Prem Rog, Sridevi's character in Chandni or Manisha Koirala's Rajjo in 1942: A Love Story. "I wrote about women because I am one and I know the most about myself," Chandra simply says. "I agree I was one of the few women writers around but I didn't grab the opportunities that came my way. I was happy doing the work that I had."
Chandra's stories deal with unusual circumstances but are relatable. She gets the pulse of India in a smaller town setting and those fast disappearing old world niceties. In Prem Rog, which deals with a social taboo, she weaves the story around caste and widowhood; 1942: A Love Story is a romance set against awakening patriotism."Her stories are unusual but at the same time they come from the lives people live. Which is the reason for their longevity," thinks Tanuja, who may have turned Qarib Qarib Singlle into a contemporary story along with her co-writer Gazal Dhaliwal but says that it's her mother Kamna's original story which is the core of the film. "That story works even today."
Prem Rog remains Tanuja's favourite film from her mother's oeuvre. "It's from years ago but one can still watch it today and get completely sucked into the fascinating film made by the great Raj Kapoor. It's as relevant today as it was then because traditional prejudices very much exist in today's India even though they may appear different. I also like 1942 – A Love Story."  Chandra's journey as a writer, both for radio, television and Hindi cinema has been a quiet but impactful one. Chandra is thankful for the single line credits she has got in the movies and for the chance to work with legends but remains largely unfazed by it all. There's more writing left in her she tells me. As we speak, she asks me to watch 'Bhairavi' a lesser known film directed by Aruna Raje and written by her. Not too many people have heard of the movie but for Chandra, her work for it remains as special as her work for the Chopras and Kapoors.
"I am very warm in my approach to people and was excited to work with big names but I was never intimidated by anybody," she says. If anything, she wears her success lightly. In this day and age of instant celebrity and PR culture, she represents a grace and old-world charm that's rare to find. She has worked with some legendary names in Hindi cinema and been the writer behind some of the most popular movies, yet remains down to earth and approachable, even downplaying her achievements to some extent. "I have been very lucky that I got the chance to work with big names and I have been very fortunate in meeting good people but I'm a lazy writer. I took this more as a hobby and have been fortunate."
And we, the audience, have certainly been fortunate for the stories.
(All photographs courtesy Tanuja Chandra)
About Author