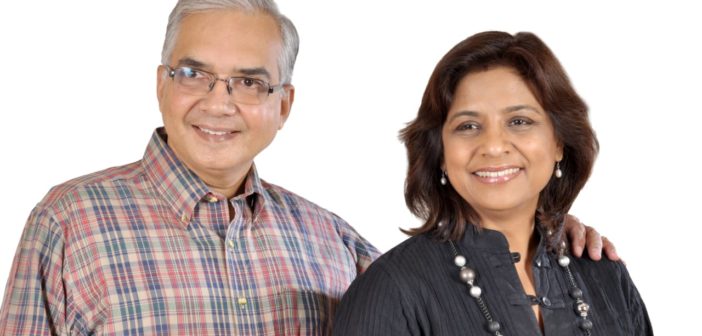 Meet Nivedita Dutt & Ashis Dutta, the Bangalore couple behind the Vote Song
Chalo Chalein, the vote song, is Bangalore couple Nivedita Dutt and Ashis Dutta's effort towards encouraging people to step out and vote. They tell us how it came about.
Chalo Chalein, chalo chalein…
Adhikar sang vote dene, desh pukare…
The Vote song, sung in the sweet voice of classical singer Nivedita Dutt, 54 and written by her husband and software entrepreneur Ashis Dutta, 60+, is a rousing composition, asking us to step out and cast our vote and explaining its importance in the simplest of terms. Popular on social media, the song has now been translated into 9 more languages, an initiative of Janaagraha, a Bangalore based NGO run by Swati & Ramesh Ramanathan and working towards citizen participation in public governance.
The Vote Song was composed before the 2014 elections, over a dining table conversation. "We discuss a lot of things over the dinner table," Nivedita told Silver Talkies. "Sometimes many things come out of mundane conversations," agrees Ashis. "We were doing a lot of talking and decided to do something instead. We are a musical family so thought of creating a song." The couple doesn't exactly remember if Nivedita started composing the music or Ashis wrote the lyrics first – it was truly a joint effort.
The couple were clear about one thing: "The song had to be strictly apolitical and we were not going to canvas for any party. Our aim was to motivate people to come out and vote."
Ashis, who has written songs earlier and has a working knowledge of street Hindi, kept the Hindi lyrics simple. It was composed in Raag Desh by Nivedita, a Raag he feels has a "subliminal patriotism to it." Vande Mataram, composed by Rabindranath Tagore is one of the most well-known Raag Desh compositions. They eventually gave the song to Janaagraha with the agreement that the NGO could give it to other organizations, with Nivedita and Ashis's copyright and credit retained.
And that's how the Vote Song was picked up by the Election Commission. In fact, the couple had been unaware of it until they got a call from Association for Democratic Reforms (ADR), an election watch forum, asking if they could compose a similar song on 'bhrashtachar (corruption)' due to the popularity of the Vote Song.
Chalo Chalein has been used extensively during state elections in Uttar Pradesh and with a Kannada version during the state elections in Karnataka in 2018. Now, with the translation into 9 languages (10 in total, including the original Hindi), Ashis, Nivedita and the Janagraha team are hoping to motivate more people.
You can hear the original Hindi version in this Election Commission video
The song has been translated in Kannada, Tamil, Telugu, Malayalam, Gujarati, Marathi, Punjabi, Bengali and Odiya with the help of volunteers from across the country, a joint effort of Janaagraha and the couple. Nivedita, who speaks Bengali, Hindi and English did find singing the translated versions a challenge at times. "I would ask volunteers to read out the words line by line to get the correct pronunciations," she says. Her greatest challenge was singing in Malayalam. "I asked some of my students who speak the language to help me with the correct pronunciation. I would record and send it to them for approval," she notes.
You can hear all the translated version here, courtesy a playlist from Janaagraha: 
Many of us sit and lament about governance issues but as we all know — the first step is to exercise our vote. It's heartening to see the effort and interest put in by Nivedita and Ashis in creating something that would encourage people to do that. And it's an effort that is all heart. When they couldn't find a translator for the Odiya language, Ashis reached out to a former classmate, now a Head of Department at IIT Kanpur and sought his help with the translation. A volunteer in interior Maharashtra helped them with the Marathi translation. It was also a challenge to set the lyrics in rhythm with the original tunes and often took many iterations.
Do they think it has encouraged people?
"It has motivated my help at home and my driver to go and out vote," says Nivedita, who thinks it has influenced many of their friends too.
The couple wrote and recorded the song for the common man and Ashis feels their purpose would be served if an auto driver or the helping hand at a grocery store heard the song and felt inspired to go out and vote. "Even if the song inspires 1 per cent, especially the younger people, that is something we are thankful for," they feel.
As for the Brashtachar song, it's probably waiting for another dinner table conversation. To be composed, recorded and inspire. Someday soon.
About Author