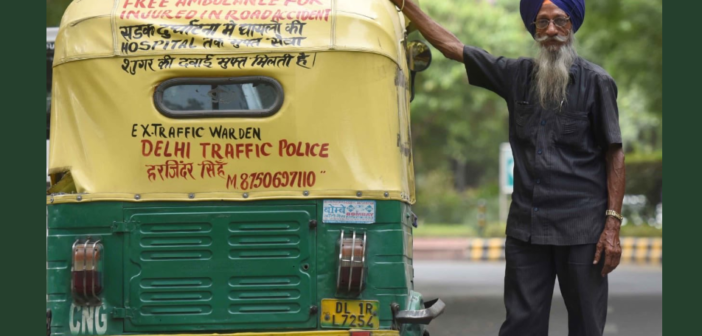 Meet The Senior Citizen Whose Auto Ambulance Is Saving Lives On Delhi's Roads
Harjinder Singh is 76 and runs a voluntary auto ambulance service in Delhi. He has been doing this for the last 40 years. It's time we got to know about his selfless work.
"Sat Sri Akal ji, gaadi chala raha hoon, aap thodi der me phone karenge?" comes the gentle voice of Harjinder Singh on the other end of the line when Silver Talkies calls him. We aren't surprised he is busy. Singh is 76 and runs an auto ambulance in Delhi, a voluntary act he does out of kindness. A former traffic warden, Singh was inspired to start the service during his traffic warden days when he saw accident victims dying on the road due to lack of help. He provides free rides to accident victims and says that he says been doing so since 1978. That we are coming to know about his selfless work 40 years later, shows up our own apathy towards the silent heroes of our world.
Meet auto driver Harjinder Singh from #Delhi, who turns his auto into an ambulance to save lives of accident victims.

While there are so many people in this world who don't give way to ambulances, Mr. Singh's act of kindness has saved hundreds of lives in times of emergency. 🙏 pic.twitter.com/AVC1mdcHdD

— Apolina De (@apolina_de) July 9, 2019
"I've been driving the auto since 1964," Singh tells us amidst the noise of traffic all around. Ever since his story went viral on social media, the mild-mannered Singh has been hounded by calls and has barely any time to speak in between doing his job. "If I come across someone injured in an accident, I immediately stop and take them to the nearest hospital. I will continue doing this service until I have strength in my body," he tells us. There's a water dispenser strapped next to the driver's seat in his auto, a small gesture that belies his kind heart.
Singh's family has been asking him to stop driving but the septuagenarian doesn't wish to sit idle and stop his good work. This noble senior citizen has also taken a course in first aid to help victims in emergency situations. He even keeps a medicine box in his vehicles to administer first-aid in case needed. "Earlier I didn't have a medicine box in my vehicle nor did I know how to apply these medicines. So I took a small course to figure out what medicines could be used in emergency situations. There is no better feeling than being of help to someone," Harjinder Singh told The Times of India. He also offers free diabetes medicines to anyone who asks for it.
Singh says he helps at least one accident victim a day most times and has received an appreciation certificate for his work from the Delhi Traffic Police. He told Silver Talkies that after finishing his work, he refuels his auto and roams around accident-prone areas of Delhi. He also has a donation box in his vehicle where people can put money that he uses for his hospital runs and to buy medicines. Singh's good deed gets him blessings and good wishes galore.
"Last month, I helped two brothers who were hit by a car. I was passing through the area and saw the two men bleeding. I rushed both of them to the hospital which was around 2km away. Both brothers were saved. The two are still in touch with me," he was quoted saying in newspaper reports.
If you live in Delhi and come across Singh's auto ambulance, do flag it down and donate towards his noble cause. It's people like him who keep our faith in the goodness of this world alive.
Image courtesy: Twitter
---
Liked reading this? You may also like: Sindhutai Sapkal – The Mother Of Over 1000 Abandoned Children
About Author