Memories of 1947: Of Bronze Medallions & Independence Day Celebrations at Rashtrapati Bhavan
Writer, musician and activist Sakuntala Narsimhan shared her memories of 1947 and the later years with the members of Nightingales Elders Enrichment Centre in Bangalore recently. Here's a retelling as part of our #Nofilterflashback series…
"My mother said she felt a total misfit at the party", recounted Sakuntala Narasimhan talking about the party her mother had attended at the Rashtrapati Bhavan as part of the Independence Day celebrations. She went on to explain that her mother was the only one all dressed up in her beautiful silk sari and high heels, while all the 'greats' like Sarojini Naidu, Kamala Devi, Nehru, Rajaji and others were dressed in simple khadi and proudly too!
On August 9, 2018, the members of Nightingales Elders Enrichment Centre, Bangalore, were transported to the August of 1947 as Sakuntala Narasimhan, the well-known writer-musician-activist (among other things), shared her experiences of the very important and special period in Indian history.
Sakuntala was all of 7 years old in August 1947, but 71 years later, the memories are still amazingly vivid, sharp and clear in her mind.
Sakuntala's father worked for the Central Water and Power Commission (part of the team that built the Hirakud Dam in Orissa). They lived in Delhi in a colony opposite Mandi House (the American Consulate was located there), and next to Lady Irwin College. She often walked with her best friend Zarina to buy jalebis at the Bengali Market, which was 2 minutes from home. Her mother was an accomplished singer and musician, a pioneer, possibly the first South Indian to learn Hindustani music. She learnt to play the Vichitra Veena from an illiterate Muslim, Ustad Ahmed Raza, who came on a cycle to their house and was paid Rs 20 a month.
August 15, 1947 was a day of ecstatic jubilation. The young Sakuntala did not know the meaning or importance of the day, but she says the mood was electric. Every school child was given a bronze medallion to commemorate the day and she remembers her younger brother being so jealous that he took it and locked it away. She shared some photographs with the audience and was kind enough to share them with Silver Talkies later.
That's her in the black and white photograph above with her brothers, dressed in a white sari with a tricolor border, which her mother stitched overnight and another one of her the same evening shared below (A benarasi butta sari this time). She also shared a photograph with Pandit Nehru and autographs (dated 1950) that she got from Nehru, Rajaji, K S Krishnan, written in Hindi, Tamil and English respectively.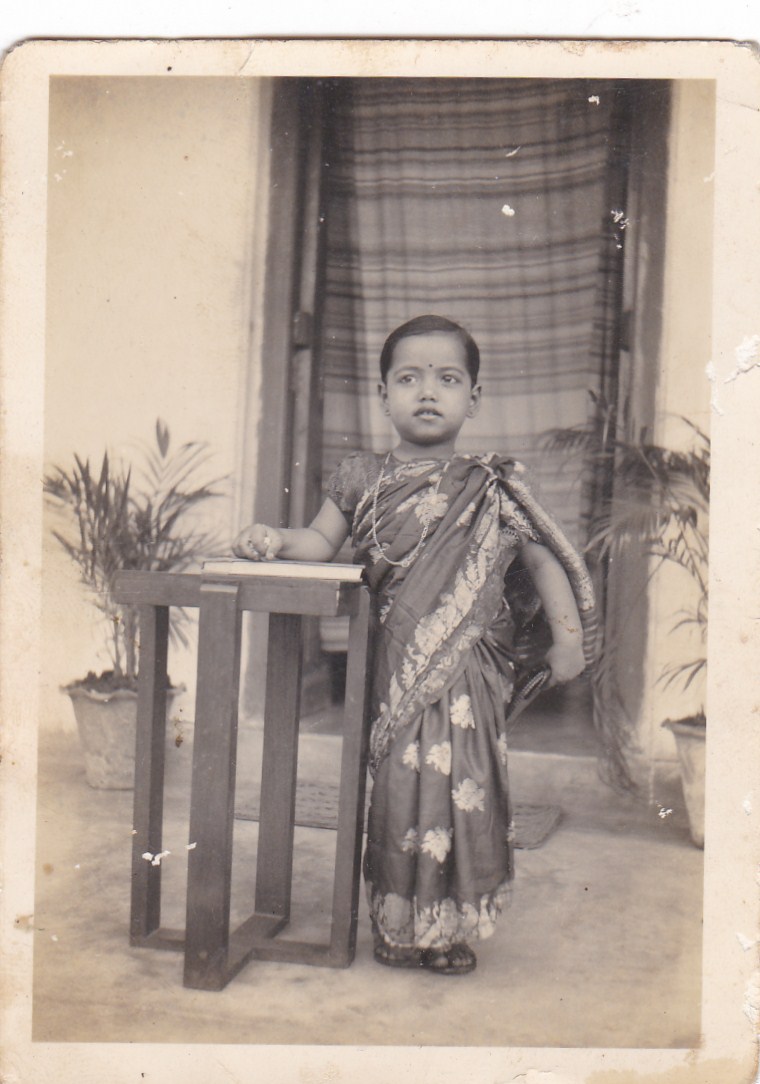 Being blessed with a beautiful voice, Sakuntala was constantly 'made to sing' for guests who came home, and at other places too. She says she hated it. She was never allowed to eat ice-cream. Her mother taught her songs of Subramania Bharati, the fiery Tamil writer, poet, activist and social reformer. And, she was called upon to sing anytime, anywhere! As she spoke, she sang a few lines in between, certainly an additional treat for the audience listening to her.
And then memories of the post-independence period, of how she woke up one morning to see an orange and red sky, caused by flames of burning houses and buildings. The Hindu-Muslim riots, the angry mobs, the abandoned shops, the looting, the killings and stabbings – she saw it all happen before her eyes. She remembers seeing numerous cameras and huge radios lying around outside broken shops, and their live-in servant, Diwan Singh, asking her father if he could take one, which he was not allowed to, of course. Her young mind did not understand the enormity of what was happening and her mother telling her not to step out made her angry.
She remembers her mother asking her Muslim veena teacher what he would do if he was forced to leave India, and his reply "fa-root bechunga"' (sell fruit). Thinking about that now, Sakuntala finds it very distressing that a great talent like Ustad Ahmed Raza, who should have been in fact awarded the Padma Bhushan, should be reduced to selling fruit.
And then there was the incident of a frantic knock on the door in the middle of the night. A Muslim man caught in the riots seeking help! Her father let him in but her mother was furious, saying the mob would kill them all. And in the morning, the man had disappeared along with the blanket they had given him causing an argument between her parents and her father saying that the man was also an "insaan (human being)".
Sakuntala shared personal experiences of the sad state of the refugees. She showed us a gold ring with a beautiful blue stone set in it, her mother had bought the stone from one of the refugees, for a paltry 8 annas, worth thousands today. The refugees came from Lahore and Karachi and put up stalls along Queen's Way (now Janpath) and King's Way (now Rajpath). There were silk weavers selling silk at very cheap prices, and her mother bought 6 yards of cream silk from one of them. One day a woman dressed in a salwar-kameez came asking for work, saying she could embroider. She had with her many color threads and needles and by the evening had completed beautiful, intricate embroidery on the silk fabric. Her charges for all that work – Rs 3! As she was leaving, she saw a papaya tree laden with fruit in the garden and began to weep. Sakuntala's father gave her the biggest papaya he could find, which only made her cry even more. She said she had a huge house in Lahore, 4 cows, her children only drank milk and she belonged to an aristocratic family, had lost everything and had walked all the way from Lahore…
Gandhiji's assassination is also a vivid memory. About 10 days before Gandhiji was shot, Sakuntala had attended his prayer meeting at Birla House. His teeth were gone and it was difficult to understand him (she imitated how he spoke like it was a recording in her head). And then followed the fateful evening – her mother was to perform on the radio and while the family waited to hear her, suddenly wailing music came on and the announcement that 'Gandhi had been shot' was made by Melville DeMello, the All India Radio broadcaster, who became known for his 7-hour broadcast of Gandhiji's funeral.
Sakuntala remembers their cook saying "aaj khana nahin banega" (today food will not be cooked), and she herself taking off on her bicycle, going round the colony shouting "Gandhiji ko maar diya," without really understanding the implication of it all. The entire country was drowned in a pall of gloom and sadness, a sense of complete loss and hopelessness.
Towards the end of her talk, Sakuntala wondered if we had really gained independence. Considering the lifestyle around her, she felt the colonization of the mind still existed all around. The atmosphere of national pride is gone now. She also feels that the younger generation cannot discern the real meaning of freedom. They would rather learn a foreign language than their own mother tongue, would rather go to the gym than get the same benefits from housework, were some of the things she mentioned.
As with vernacular architecture, where local resources are used and buildings are built conforming to local conditions, Sakuntala felt there was a need to increase sensitivity among youngsters for indigenous items and a sense of pride in what had been achieved by our great leaders for our country's freedom.
Listening to Sakuntala Narasimhan's nostalgic walk down memory lane was a wonderful experience for her audience, many of whom surely had their own personal and special memories of the time.
Photograph courtesy: Sakuntala Narasimhan
About Author