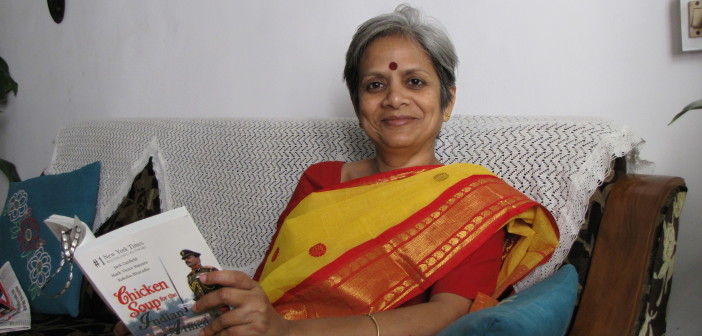 Mita Banerjee & The Miracle of Teamwork
Mita Banerjee is the energetic soul behind Team Miracle, the social support group in Pune, which helps paraplegic soldiers, destitute women and street children. Read on to know what she does and how you can help her too.
"It's about the joy of giving," says Mita Banerjee, the warm, affable driving force behind Team Miracle, a social support group in Pune. She's talking about the motivation behind the work she does, connecting organisations in need of support and benefactors who wish to help them.
Founded by Mita and her husband, Wing Commander (Retd.) Anup Banerjee, Team Miracle works as a social support group for Paraplegic soldiers and amputees, poor cancer patients, street children and destitute women. The support group has grown over of the years, both in terms of the activities they do and the people involved. Mita refuses to take any credit for it and says it has all been a miracle of teamwork. "Please mention the word team," says this soon-to-be-60 grandmother.
A New Road at 50!
Originally from Patna, Mita came to Pune after her husband retired from the Indian Air Force. A win at a newspaper contest led to her working as a freelance writer for various publications across the city. She was around 40 then and it was the beginning of learning new skills and starting a new journey professionally, one that would hold her in good stead in the years to come.
As she became a prolific writer and even headed a Mass Communications institute for a while, Mita and her husband also got actively involved with social issues.  "I had given myself a deadline. By 50 I wanted to start something," she says. That 'something' started with visits to the Artificial Limb Centre in Pune, where soldiers who have lost their limbs in service are provided artificial limbs and rehabilitative care. It was the beginning of a journey of giving for the Banerjee couple. Coming from a military background, they naturally gravitated towards soldiers, who had suffered hugely in the line of duty.  "These soldiers have to spend time getting repeated surgeries, fittings and sometimes, they are in terrible shape. There are lot of psychological issues to deal with. We used to go and chat with them and gradually, as we felt our interactions were making a difference, we expanded our activities." 
The Miracle of Teamwork
As Mita started reaching out to others in her network for help, she discovered there were many who were willing to extend their support. Sometimes the sources were completely unexpected, sometimes they came from closer home. An instrument shop in Pune's Camp area donated musical instruments like manjira and dholki for the soldiers to sing and play; Wng Commander Banerjee, who plays the Harmonica, formed a small band called 'The Enthooz,' with his musically inclined family and friends and organised musical evenings for the soldiers; other friends chipped in…the circle of goodness kept growing, much to Mita's surprise and delight.
Team Miracle, as Mita's daughter decided to name it, started extending its support to other organisations. Apart from the ALC, Team Miracle's helps the Paraplegic Rehabilitation Centre (PRC), which houses soldiers who have suffered severe spinal chord injuries. They also work with the Cancer Patients Aid Association (CPAA), assisting cancer patients from the poorer sections of the society. Maher, which works with women and children who have been victims of domestic violence and Sarva Seva Sangh (SSS), which works towards the educational rehabilitation of street children and high risk children with HIV/AIDS, are also supported by them.
Mita helps raise funds for all the organisations that Team Miracle is involved with. This could mean raising funds for infrastructure development and other activities, organising celebratory treats and entertainment programs; raising money for the treatment and nutritional needs of poor cancer patients and HIV positive children, as well as collecting food, clothes, medicines, books and utility items, whenever needed.
Mita finds out the requirements of these organisations and sends an email to her network, asking for contributions based on people's interest. Her ability to work towards finding willing donors and supporters has helped raise funds for children from SSS, organise treats and outings for poor cancer patients at star hotels and local malls and organise self defence workshops for young girls at Maher.
Supporters of Team Miracle, many of them Mita's friends, neighbours, her husband's former batchmates and sometimes even the local shopkeeper, contribute towards the cause, often surprising Mita. She shares a beautiful incident. "Once we were buying sweets and snacks to take to PRC from Khalsa Sweets, a store in Pune's Viman Nagar. When the owner came to know the reason behind the big order, he volunteered to sponsor the snacks and till date asks us if we need any help!"
The local sports goods store, from where Mita sources equipment to donate to PRC soldiers, always throws in extra goodies since they have come to know about Team Miracle's work.
For Mita, it's knowing about this goodness in everyone that has been the biggest miracle of all. "The support has grown by word of mouth. Whenever we are in need of something I get a phone call and someone comes forward to help!" Team Miracle has also received the support of hotels like Hyatt Regency, Courtyard Marriott, Novotel and few restaurants and bakeries in Pune, that help them out when they wish to organise celebrations.
"Now I have about 250 regular contributors in my network," says Mita, who keeps every supporter informed in a thorough and diligent manner. " I do a newsletter once every three months, so that people know what has been done and what is on the cards and what is needed, e.g., CPAA could need medicines, SSS could need stationery and so on…"   
A Positive Spirit
The results of this teamwork have been not just effective but also heartwarming. A generous contribution of Rs. 30,000 from a former classmate of Mita's daughter, led to the PRC constructing a badminton court for the soldiers undergoing treatment there. "They started playing badminton in March 2013 and by Dec 2013, they had participated in the National Paralympic Games and won 8 medals!"
Seeing how sports gave a much needed relief to the paraplegic soldiers, many of whom had almost given up their will to live because of a life confined to the wheelchair, Mita went on to organise sports equipment and activities for them with the generous help of her friends. "A friend of mine has a Kitty Party group and every year they organise celebrations at PRC around the festival of Rakhi, helping out not just the soldiers but also their attendants."
Recently, Mita added another activity to her ever expanding To Do List, by bringing in environment consciousness into Team Miracle's work. This eco-warrior, who has always been environmentally aware, feels it's something she was meant to do.
She works with Medha Tadpatrikar, founder-director of Rudra Environmental Solutions, an organisation that converts plastic waste into poly fuel, to create awareness on Waste Plastic Segregation & Recycling, as well as plastic collection in her neighbourhood. "After a year's effort, we have spread all over Pune and the monthly collection is almost 2000 sacks!" says an elated Mita.
Mita's biggest joy lies in bringing the needy and the benefactor together. "The one who receives is of course happy, the benefactor is even happier, because she realises what a difference she can make…and the happiest is me that we have brought the two together."
She also feels there is a lot to learn from the people she helps out. "The people we support are either sick or disabled; under-privileged children or women who have survived domestic violence. But they are so cheerful and brave in spite of it all that our little problems seem petty in comparison," she says, summing it up.
If you wish to help Mita & Team Miracle, you can connect with them here: www.facebook.com/Team-Miracle or read in detail about the people they help and their supporters in  The Team Miracle Blog
All photographs courtesy: Mita Banerjee
About Author