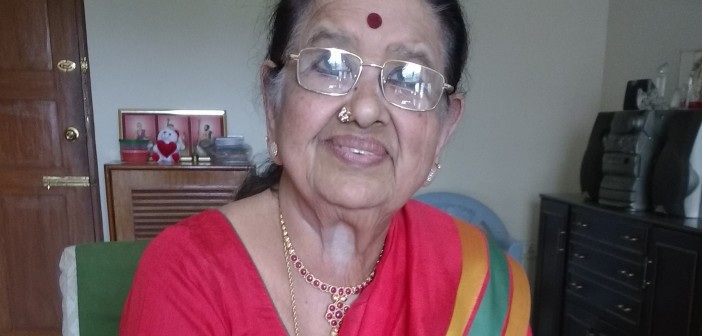 Neela Ramgopal: Music Should Touch The Heart
Senior Carnatic Vocalist Sangeetha Kalacharya Neela Ramgopal will be receiving the Sangeeth Natak Akademi award in July. On the occasion of World Music Day, Silver Talkies features an interview with the 82-year old musician who continues to teach music and performs occasionally.
At 82, Carnatic vocalist Neela Ramgopal teaches music for 8-10 hours a day both at her home in JP Nagar in Bangalore as well as over Skype. She has been teaching students since 1965, the year she gave her first public performance. The only time she took a break was when she was in the hospital for nine months undergoing treatment for cancer. Her voice has a strong timbre, and when she sings a krithi for us, it enraptures one with its bhava (emotion). "I am a musician 24/7. I have been doing it like eating or drinking or talking, it's just like the rest of my life – a very integral part," she says.
A Late Start
Born and brought up in Kumbakonam in Tamil Nadu, Neela lived next door to one of the greatest doyens of Carnatic music – Semmangudi Srinivasa Iyer. But in the 1940s, girls were not allowed to go out of their houses and even if she stood outside and looked at passers-by, she would be questioned. Ever under the watchful eye of her mother, she would watch many musicians come and go across the street, but did not realise the significance of having missed the opportunity of a lifetime, until she started learning music years later after moving to Bangalore.
It's been a long journey since she moved to Karnataka and started her life in Basavangudi. The life-changing moment came when after singing at the Navaratri kolu of an acquaintance, Neela found people ignoring her while they were all praises for a professional singer who had sung before her. "I was not good at singing. People praised the other singer and I felt bad. I took a vow to make myself somebody in music," she reminiscences.
Neela Ramgopal's music career has not followed the usual trajectory of classical musicians. She did not start learning early at home and then go on to a paat class and then on to a guru who would make her a professional performer. Her continued success as a performer and teacher goes to show that artistry and vocal ability are not limited or defined by biological age. She had a good voice and her guru recognised that.
"Normally singers start very early, at the age of 3 to 5 years. I started music learning after 23," says Neela. Unhappy with the unavailability of a guru in Bangalore, she was in constant search of a teacher and decided to start learning under N M Narayanan, a Chennai-based disciple of the legendary Carnatic vocalists Brinda and Muktha. However, this was easier said than done. In an age of no Skype or YouTube, it was challenging to learn from a master based in Chennai while the student resided in Bangalore. Neela's learning spanned over 15 years while spending only 15 days each year learning from her guru.
"I used to go to Chennai during the Music Season in December and stay in my guru's house for 15 days every year. Trained by Brinda, he opened my eyes on how Carnatic music should be. While it may seem that I did not have a regular guru, I was urged on by my vow to do something in music. That was my motivation."
Back home she would repeat everything he taught over and over, till such time that she sounded just like him and he would be taken aback at her ability to internalise his teaching.
A Stellar Career
While starting at the age of 23 is very unusual, it did not preclude a long career, now spanning six decades. On the rare occasions that her guru visited Bangalore, Neela would get a special session. It was a lesson in self-motivation and discipline. "I would head off to Chennai when I felt my motivation was dwindling and get back to my practice recharged."
Her views on learning and training Carnatic music are invaluable for students who stay far away from their gurus and have only limited access to their teaching. In her time, her source of music was the radio and the concerts that took place near her house. "Concert going was regular. Every day I would go to concerts. Those days there were many sabhas in Bangalore. We would take our two kids in the car, feed them and then listen to music. My husband would take care of our children when I was travelling."
After the death of her guru, she sought well-known musician T K Rangachary to come to Bangalore and teach her along with others. "I learnt from him for 3-4 years after which our standard went up dramatically."
Having sung and taught music for over five decades now, Neela Ramgopal says that the only key to voice culture is practice. "There are no special, secret tips to voice culture. Practice is the only aushadi (medicine). I teach 8-9 hours a day. While I'm not singing all through the day, I still do a lot of singing. I have managed to keep the shruthi because I use my throat in such a way that it does not get strained. If you practice well and use modulation, then you don't need voice culture or aushadi," says the octogenarian.
Music to her is primarily about touching the heart. "Music is not just about doing pallavis. There are artistes who do avadhani pallavis, keeping tala on both hands. But the bhava is lost. Music should touch your heart. If you sing, tears should come to one's eyes. That is why Carnatic music is a very difficult field. I may think I'm singing well. But you should tell me that I'm singing very well."
This July 24, Vidushi Neela Ramgopal will have her own 'Neela Ramgopal Parampara' series where 18 students of hers aged between 25 to 60 years will be performing at the Brahma Gana Sabha in Mylapore, Chennai. These students have been learning from her for several years and come from different areas in South Bangalore.
She devotes a large part of her time not just to teaching music but also helping students to understand it. "Having started late my only goal was to shine in the music field. I think I have achieved that. When I got Sangeetha Kalacharya from the Music Academy in 2012, I was immensely satisfied. Unless you are recognised by Music Academy, you have not made it. It was a dream come true."
Here's a short video of Neela Ramgopal singing during a recent visit by Silver Talkies to her home:
 https://www.facebook.com/silvertalkies/videos/1387216788033982/
About Author