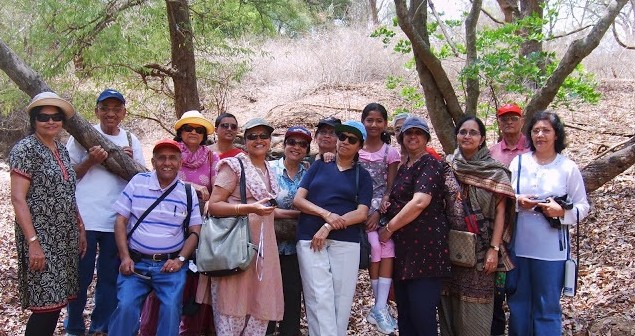 NRIPA – For The Parents Back Home
The Non Resident Indians Parents Association (NRIPA) in Bangalore serves as an extended family for its members. Over the years, we have met many of their active and inspiring members. Here's what this senior citizen's group is all about.
The most common question when members of Non Resident Indians Parents Association (NRIPA) meet is not 'how are you?' "Instead, it is when are you going?" chuckles MR Mahadevan, 77, secretary of the volunteer, non-profit organisation, whose main criteria is having one or more children living out of India.
Started by Ambuja Narayan in 1998 as a support group for parents of NRIs, the group has now grown to 360 members in Bangalore. Membership has mostly been through word of mouth. Most members are also encouraged to bring in other like minded friends or relatives whose children live overseas.
Mrs Narayan formed NRIPA by inserting an advertisement in the Times of India after seeing the facilities available for senior citizens overseas. The response was more than encouraging. "My phone wouldn't stop ringing," she says. Since then NRIPA has mainly grown by word of mouth, with members all over Bangalore and especially from areas like South Bangalore.
The group has an annual membership fee of Rs 1200 for both parents and Rs 800 for single parents. After one year, members have the option of taking a one time life membership, which costs Rs 6000 for both parents and Rs. 4000 for one parent.
Managed in quite a professional manner, every two years, NRIPA members select a new managing committee to oversee its affairs. "Our members include people who have been professionals and done very well in their life. Most are not dependent on their children for their day to day living but it does help to have a network of people who are also living far away from their children," says Mr Mahadevan. Members share tips and suggestions on everything from travelling to meet their children overseas to which retirement home to invest in. 
The group (25 per cent of our members are always away visiting their children, Mr Mahadevan says) meets on the third Saturday of every month for a Fellowship meeting followed by lunch. "It's a chance for members to socialise with each other and form friendships," says Mr Mahadevan. Each meeting usually includes a talk on health or other issues relevant to elders by an expert or an eminent member of the group. They also organise a picnic or outing every three months. Mrs Narayan, the group's founding member, adds that they don't expect any funding from outside, whether it is from their children or from elsewhere. The members try to help each other out whether it is during illnesses or for any other need. Once, when the US-based daughter of a member went through some trouble, it was the family of another member that reached out to help her after word spread through the group.
"We are a very social group," says Mr Mahadevan, who has been part of NRIPA since inception. He adds that most people look forward to the meetings. "When we first met, all of us were strangers. Now we are one big family."
The camaraderie is more than apparent when you watch them get together. Silver Talkies was once witness to a meeting at a member's home in South Bangalore. Notes were exchanged, jokes were cracked and an endless variety of snacks keep doing the rounds. There was a level of comfort that comes only from long association and sharing a common ground. In other words, he NRIPA members are almost like an extended family to each other.
"We don't have the empty nest syndrome," Mrs Narayan told us, adding that their kids are very happy about the group as it provides companionship to the parents who are often living alone in India. "They are amazed at our energy," she laughs. The group indulges in several activities, like contributing towards disaster relief funds, donating to old age homes and working for underprivileged children. They also organize activities with the help of their own members, many of whom are still quite active in their business (Mr Mahadevan runs a travel company, another member has a legal service) or keep themselves busy with social work, travel or hobbies like photography. "We support each other," says Mrs Narayan, adding that they like to keep in touch and meet often, especially during festivals. The group also travels a lot and have gone to several places in India. Mr Mahadevan, whose company organises most of the trips said the members travelled to Hyderabad, Hampi and Goa last year. That's quite an itinerary!
The idea, as the members chorus, goes beyond just companionship. NRIPA Bangalore is a close knit group of parents who offer each other mutual help, try out different ways to alleviate loneliness and keep the brain active. In other words, these are seniors who stay active and happy even if the kids are miles away.
The NRIPA website is being redone. If you wish to join the organisation, kindly email nripabangalore@gmail.com
About Author