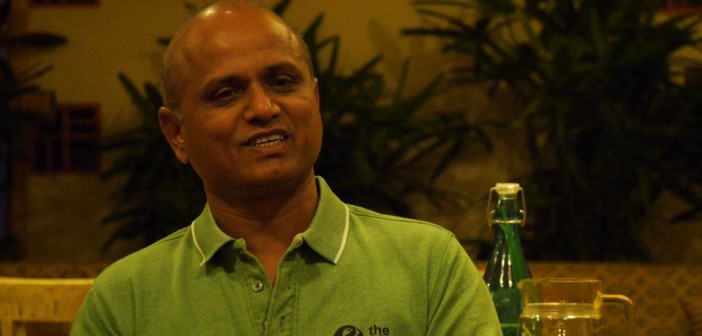 On The Green Path: H.R. Jayaram
Meet lawyer turned organic farmer H.R. Jayaram, who believes in giving back to nature and practices what he preaches.
Green revolutionist H.R.Jayaram was born in the lap of nature in a dense forest on the outskirts of Karnataka. It's no surprise then that he got into organic. It was always his true calling and is his way of giving back to mother nature and celebrating the endless happiness she brings. Jayaram, 60, is an organic farmer, environmentalist and seasoned marathon runner in Bangalore and the founder of Green Path, a set of diverse eco-initiatives. He gave up his lucrative career as a lawyer to take up natural farming and lead the gen next by example. Jayaram's mantra is, "celebrate life with nature!"
The Beginning Of A Change
As a village boy coming from a humble background with an inspiring mother and a strong passion towards nature, Jayaram says he always wanted to study, earn enough money and pump it back into his true love – farming. He gave up his career as a successful lawyer in Bangalore, to get his hands dirty and make the land we live on cleaner and greener. With all his savings he bought a barren piece of land on the outskirts of Bangalore in 1998 and started farming. This beauty of a land now is the Sukrishi Farm, which is also known as 'the food forest' "My mother is my biggest inspiration in life," says Jayaram. "Though she had a difficult life she never let that show on her children. She made sure we were well educated and always taught us to live a life without attachments and embrace minimalism. She made sure we connected with nature and learnt how to celebrate life in its purest form."
Building A Second Career
Jayaram discovered the benefits of going organic in a gradual way. In the first two years of farming his land, he started using chemical fertilizers and realised its bad side effects. He witnessed first-hand how the whole process contaminates the air we breathe, the water we drink, the soil we live on and the produce we consume. As Jayaram experienced the chemical side of farming and understood what's really happening to the earth under our feet, it helped him make the conscious choice of taking a leap into organic farming. While he started off using chemical farming methods, Jayaram remembers reading the book 'One Straw Revolution' by Masanobu Fukuoka, a farmer,trained scientist and philosopher born and raised in Japan, who shifted from chemical agriculture to natural farming. The wealth of knowledge from this book helped this Bangalore lawyer realise that the best way to approach agriculture was to abide by nature's own law. "I highly recommend this book to whoever wants to turn a new leaf into organic farming and be inspired," he says.
Once Jayaram embraced organic farming and a sustainable way of life, he decided to equip himself with knowledge. He traveled to Europe and attended BIOFACH, the world's leading trade fair for organic food to learn more about organic farming. That is where he met fellow farmers and activists from all over the world and decided to take organic farming ahead and reach more people in the heart of the city.
He then opened India's first organic food store called Era organic in Bangalore. This was in 2007. Jayaram has since then fuelled his green energy towards opening The Eco Hotel, Bangalore on the lines of organic sustainable living; The Green Path Eco Retreat in Coorg, which has won prestigious awards for its eco-conscious construction and responsible tourism; The Green Path, Bangalore, India's largest organic destination for shopping, eating and eco-friendly get-togethers.
Jayaram's mission is to create easy to replicate models of sustainable living through organic farming and inspire people, especially the younger generation, to pick the ropes of green revolution and pave the way for a greener and eco-conscious lifestyle ahead. He says "I measure my success by being able to create future leaders in the society."
You Are Never Too Old To Start Something New
When asked about his evergreen advise for seniors who wish to pursue their passion and second career opportunities, Jayaram says, "Every day is a new beginning. The opportunities are endless and nothing will come to you easily. Irrespective of your age, always work hard with true passion and just go with your gut." He says age is definitely just a number and the biggest gift each one of us have is the joy of being alive.
What keeps him going as a senior entrepreneur is good mix of constant learning, a healthy and active lifestyle and inspired living. He loves to read and makes sure no matter how long or tiring his day is, he reads something informative and inspirational every night before going to bed and always sleep likes a baby knowing his day was well spent.
The most influential factor in his business has been total dedication and keeping himself informed and aware. Even then, this green warrior feels he is yet to reach his greatest moment of success.
To know more about HR Jayaram's work, visit his website The Green Path.
All photographs courtesy The Green Path
About Author