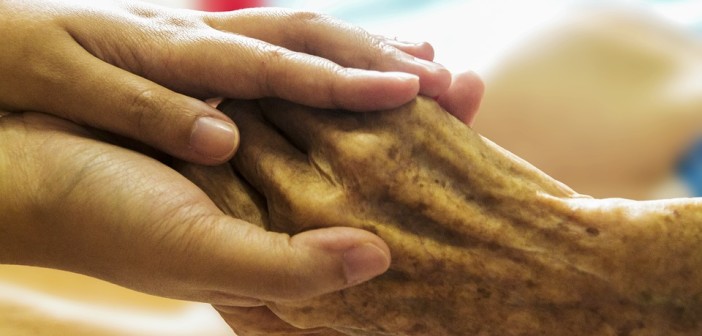 Why It's Important To Get Paid Attendants For Progressive, Degenerative Disorders
Using paid attendants for progressive, degenerative disorders is a decision family members often delay until they reach a critical situation. Swapna Kishore of Dementia Care Notes on the reasons why it's important to get an attendant for your ailing loved one.

When someone gets a fracture or a heart-attack, family members rally together to provide the care. They employ attendants if needed. But the decision-making related to paid attendants for progressive, degenerative disorders like Alzheimer's and Parkinson's is often different. Families usually delay using attendants for progressive disorders till they reach a situation where an attendant seems unavoidable. For example, when the caregivers are elderly and physically unable to help with tasks like bathing and toileting. In one instance, a son, who downsized his business and adjusted his life to care for his mother was forced overnight to get a helper because he developed a slipped disc. Another typical situation is when the family has several critical responsibilities and not enough home caregivers, like families with young children, new-borns, or other seriously ill family members.
In most cases, families keep adjusting their work and using part-time informal help to be able to provide care. They keep hesitating to get attendants. Some common reasons are discussed below along with aspects worth considering when deciding on whether to get an attendant.
Families can't decide whether their situation is "bad enough"
Initial symptoms of progressive, degenerative diseases like Alzheimer's and Parkinson's are mild, and care is low. Though the care work increases as the condition worsens, this decline may take years, making family members wonder about the need for a caregiver. The increasing impact of caregiving is absorbed by families by making many adjustments. These have a severe impact on various family responsibilities and work commitments, and on caregiver health and well-being.
For example, caregivers may reduce the time spent helping kids with exams. Work-from-home caregivers miss deadlines and important meetings and start losing assignments. Even going out for urgent chores becomes a struggle for a homebound caregiver. Busy caregivers may reduce necessary self-care activities. Morning walks get cancelled. Yoga classes are dropped. A perpetual sleep backlog is the new normal. They skip their own health check-ups.
In spite of this, caregivers continue to feel an attendant is "not worth it right now." It seems easier to continue the current arrangement rather than find and train an attendant, make adjustments at home, get used to a stranger, and redo the household budget. And what if the attendant is not good? And so, the decision to get an attendant is delayed one day at a time.
The more the delay, the more difficult it becomes to effectively use an attendant. The loved one's symptoms deteriorate and communication ability may reduce. A new attendant may not understand why Amma is upset, or how Amma indicates she wants to go to the bathroom, or how to coax her to cooperate for some daily task. If families periodically review the status and its impact, they can make conscious and timely decisions regarding paid attendants.
Getting outside help is seen as a sign of failure, neglect or lack of love
Caring for progressive conditions requires sustained effort for years, often without any break. It keeps increasing till it is full-time and exhausting. But family caregivers often try to provide the same intense care all through this as they would for shorter setbacks like severe infections. They may view the use of attendants as a sign of their failure.
Often, over time, one family member starts doing most of the care work. This person becomes indispensable and gets emotionally tied to the role. She feels that an outsider will not handle the work properly. Using an outsider may feel like neglecting the loved one.
Depending on a single caregiver is risky. The caregiver may sprain an ankle, fall seriously ill, or need to leave town for urgent work. No one else may know how to give Papa his bath or what his medications are. Even if an attendant is employed, who will train and supervise the attendant?
One such story is of an elderly husband who insisted he would look after his ailing wife because it was his duty. He refused to use helpers in spite of his daughter's requests. When he got a heart-attack suddenly, his neighbour rushed him to a hospital and informed the daughter, but could not help beyond that. The USA-based daughter struggled to arrange stop-gap help for her parents while arranging her flight back. Even after her return, she spent a frantic month coping with two ailing parents while trying to make suitable care arrangements.
Some caregivers feel that using attendants would stop their quality time with the loved one
This is not true. As care work increases, family caregivers spend more time on essential care tasks. Their quality time with loved ones reduces. If they are sharing care work with an attendant, they can (if they want) use some freed-up energy with Amma, listening to music, playing games, or whatever they enjoy.
Ailing persons may reject paid attendants
Some say things like "I don't need help" or "you want a stranger sit on my head all day." Some may push away attendants, or be rude and aggressive. Families therefore hesitate to use attendants.
Often the ailing persons are in denial about their symptoms, the care needed, and the impact on the family. If they understood and accepted their situation, they probably would be open to using attendants.
Some ailing persons are open to getting help for specific tasks, like bathing or assistance for evening walks. Families can use part-time helpers to begin with, and as acceptance increases, use paid helpers for more tasks. Unfortunately, task-based part-time assistance is difficult to arrange. Most home-nursing agencies supply attendants only for half-day or full-time work. So, families have to find ways to use attendants without irritating or imposing upon the loved one.
Amrita Patil-Pimpale (Founder, Echoing Healthy Ageing, Mumbai) recommends customising the attendant's training for the specific care-receiver. Attendants can be trained to maintain your loved one's dignity and independence. They can respect your loved one's personal space and remain "invisible" when not needed for active help, and also do passive monitoring as appropriate.
Practical adjustments required to use attendants seem intimidating
Arranging space for attendants is difficult in small homes. Cooking meals for them can be a problem. And family members also need privacy and safety given that there is an outsider present at home—this is especially challenging to arrange in homes with children or seniors. What families should remember is that attendants may be necessary for advanced stages when care is difficult. By starting using attendants earlier, you can find workable solutions before the situation gets overwhelming.
Families are concerned about the cost
Some family members can afford the attendant's salary but feel that attendants are not worth the cost. Adult children often face this when they have one elderly parent caring for their other parent. The caregiving parent says, "Why pay so much for such little work! That attendant will be idle most of the time." This "not worth the cost" perspective ignores aspects like caregiver health and stress levels, or the importance of sharing care work and having flexibility. Family members can discuss the workload and cost of the attendant along with the risks of not having one, to reach a suitable decision.
Maybe a family wants an attendant but cannot afford one. Not everyone can afford Rs 8000 to Rs 20,000 or more per month for an attendant. One possibility here is sharing the cost with siblings and relatives, at least for advanced stage care. Also, the family members can ensure that daily care tasks are shared amongst them to reduce dependence on a single caregiver.
In summary
Using an attendant is very helpful but requires major adjustments. It is useful if the family periodically discusses the status of caregiving and other commitments. This helps them understand the decline and its increasing impact. Depending on the situation, such reviews may be quarterly, monthly, or more often. Periodic discussions ensure that all family members are comfortable with the decisions taken and can work together for more effective care.
For more information on the topic, please read Swapna Kishore's blog which covers topics related to caregiving and dementia extensively, especially the article, Attendants for Dementia Home Care.
About Author