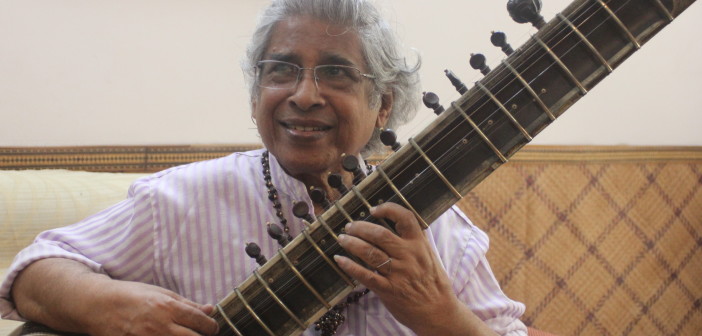 Pandit Debu Chaudhri – On A Musical High
Pandit Debu Chaudhri is one of the greatest sitar maestros of India and a leading musician of the Senia Gharana. At 80, he continues to play and shares his musical journey with Silver Talkies.
Circa 1940 – the very idea of learning music and dance was considered blasphemous in a conservative Bengali household. 'Maha paap' in the words of Pandit Debabrata (Debu) Chaudhri, Padma Bhushan awardee and renowned Sitar player. For young Debu however, it was love at first sound! He needed to pursue music whatever be the consequences and he did just that!
More than seven decades later, this octogenarian maestro is still following his passion with an innate desire to fulfil the promise made to his Guru – to keep the musical torch of Senia gharana burning, the school of music of the legendary musician Tansen.
We met Pandit Chaudhri at his home in Delhi. Let's take you on his extraordinary musical journey.
Seed of music sowed – Early years
Born and brought up in East Bengal and post World War II Calcutta, Pandit Chaudhri's father was businessman and mother, a devoted housewife. Among his seven siblings, Pandit Chaudhri was the first one in the family to have a musical ear. His love for music was seeded deep while listening to Rabindra Nath Tagore, Ustad Abdul Karim Khan and S.D. Burman, on disc records played by music loving neighbours. However, his own radical journey began in school. "I was wandering in the school corridors when I was drawn to the sounds of a melodious music emanating from one of the rooms. It was a class of sitar. The teacher asked me – Will you play little one? And I said, yes I will play." He was only 5 years old.
It wasn't an easy task to convince his parents though. With some persuasion by his Bhabhi maa and thanks to his mother's naivety to believe he will forget this mad vocation with passing age, Pandit Chaudhri became the youngest and the only male pupil in the Sitar class. "My elder brother even bought me a sitar for Rs. 25, which was a lot in those days," says the maestro, remembering his elder brother Arun Chaudhri. His father was tougher to appease and issued an ultimatum of discontinuing the music lessons if his son didn't clear matriculation exams. A young Pandit Chaudhri continued his studies despite lack of interest until completing his matriculation in 1948, a year that he considers to be the turning point of his life. It was in this year that he completed his matriculation, debuted as a radio artist and also met his Guru, Sangeet Acharya Ustad Mustaq Ali Khan, who would take him on a musical roller coaster ride.
Teacher and pupil – bond of a lifetime
Pandit Debu Chaudhri's eyes shine as he ruminates on his first encounter with his Guru, Ustad Mustaq Ali Khan. "I had been learning sitar from Pandit Panchu Gopal Datta for 5-6 years and used to listen to Ustad Mustaq Ali Khan, a very famous sitarist of those days, on radio. I had a burning desire to learn from him. I took a chance and wrote a letter to him and sent it to AIR, Calcutta. As luck would have it, the letter got delivered to Ustad ji's home and within a month I got a reply from him asking me to visit him on a Sunday when he took lessons."
"I remember receiving a very cold reception when I reached his home dressed in a half pant (shorts). He told his wife, Dekho ek aur Brahmin aa gaya! (See another Brahmin has come!) He was skeptical of my tenacity, as an earlier Brahmin student had left him without any notice and he expected me to do the same. I told him I will not go anywhere and he accepted me on the condition that I will unlearn what I knew and also stop playing on the radio. I agreed," says Pandit Chaudhri.
So started Pandit Chaudhri's journey as a student of the Jaipur Senia Gharana, named after Mian Tansen, the father of Indian classical music. The specialty of the followers of this style of music is that they play a 17 fretted sitar unlike the more common 19 or 20 fret sitar.
A decade passed and with it came disillusionment as Pandit Chaudhri found himself at cross roads of his career.
Then a pupil, now a teacher
"By 1958- 59, I was starting to feel frustrated with my career growth and wanted to give it all up," says the maestro. However, this was not to be. Pandit Chaudhri's elder brother was now working at All India Radio (AIR), Delhi and happened to notice an ad in the newspaper announcing the start of Faculty of Music at Delhi University. He applied for an opening and landed the job of a part-time teacher. With blessings of his Ustad, the young pupil moved bag and baggage to Delhi in 1960 and took over the responsibility of being a teacher to many young minds. The shift was not easy. "Leaving my parents behind, I wept through my journey to Delhi. Survival was tough as managing expenses with a salary of Rs. 200 was not easy and there was also lot of hostility from fellow musicians," Pandit Chaudhri reminisces. But he persisted and progressed to be a reader, followed by professor and finally the Dean of Faculty of Music & Arts, Delhi University, which he remained for three consecutive terms (nine years). It was also here that he met his wife Manju, who was his student in the first batch and whom he later married.
Seven years into his teaching career, Pandit Chaudhri got an opportunity to deliver a lecture in Paris and America and this stint not only boosted his confidence but also gave him much needed financial support. Since then Pandit Chaudhri has lectured at 115 universities across the world. He retired from his teaching career at the age of 65.
A promise to be kept, a legacy to be kept alive
Ustad Mushtaq Ali Khan continued to be very supportive of his pupil throughout his career and would spend time with him on his trips to Delhi. As a musician Pandit Chaudhri's education too developed further along the years. He has composed eight new Ragas and written seven books about music. Raga Bisweswari, named after his father and Raga Prabhati Manjari dedicated to his late wife Manju are his personal favourites.
Ustad Khan passed away in 1989. While on his death bed, he elicited a promise from his brightest pupil to be the torch bearer of the Senia Gharana and to keep his legacy alive. Seventeen years hence, the 81-year-old Pandit Chaudhri is the last student of Khan Sahib alive from his generation and ardently working at keeping his promise. He was honoured with the prestigious Padma Bhushan award in 1993. He started UMAK Centre for Culture in Jasola, Delhi, where as many as 80 students continue to learn sitar in the Senia gharana tradition. Pandit Debu Chaudhri's son Prateek Chaudhri is an accomplished sitar player and also a professor at Delhi University. His grandchildren are starting their training in classical music with their legendary grandfather. Pandit Chaudhri continues to perform live and does riyaaz daily for three hours despite a deteriorating eyesight.
"Respect and dedication towards the Guru are the most important virtues that a student must have. For learning, one must surrender themselves to their teacher," says Pandit Debu Chaudhri steadfastly about the teacher and pupil relationship while perched on his seat below the portrait of his own Guru, the only place where he sits in his living room.
He leaves us on a musical high as he plays Raga Rageshwari on his sitar, on our request. You can watch the video here.
Photography & video: Nidhi Chawla
About Author