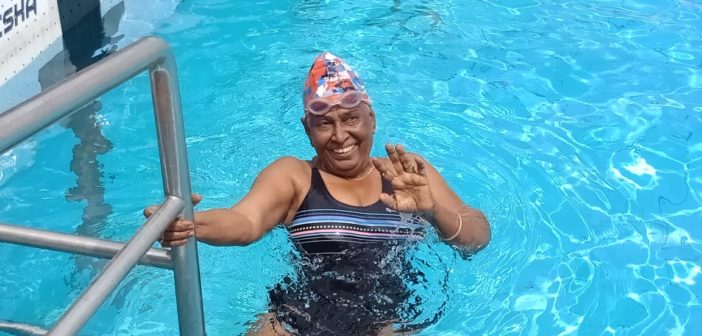 The Pathbreakers: Meet India's First Female Swimming Coach
The Pathbreakers Series:

Stories of senior women and men who were the first to try their hand at something new and brave and paved the way for others to follow. Here's Rajyalaksmi Singh Shobhawat, 76, India's first female swimming coach.
Her earliest memories of splashing in the water go back 65 years or more. Rajyalaksmi Singh Shobhawat was only nine years old when her father, an army man, taught her to swim in the Karamana aar (river) that flowed behind her home in Thiruvananthapuram, Kerala. Five years later she was headed to Mumbai for her first National Meet. She was the only girl participant.
The fervour continues. The Matunga Club Annual swim gala in Mumbai draws over 100 swimmers every year. They come in all age groups starting from under 5 to the oldest being in their late 70s. For three years in a row, I have watched 76-year-old Rajyalakshmi Singh Shobhawat swim in the 60 plus category and win.
She stands out in the crowd, walks tall — taking quick, bold strides as she marches in and out of the venue. Her formidable powder white hair tucked up neatly in a bun, she is the woman of the moment. As she readies to dive in for perhaps her 500th race or even more, you can see participants young and old and their parents and the coaches attentively stand in to watch the diva swimming, with awe and admiration writ large on their faces. The race is over. She has as always won and before you know it, showered and changed and is on her way out even before you realise it.
From her first national meet in 1956, Rajyalakshmi Singh went on to become India's first woman swimming coach in 1963. Born into a traditional Nair family in Thiruvananthapuram in October 1943, she took to swimming early. She was 15 years old when she boarded the train to Mumbai along with the Kerala Sports Council representatives for her first national meet. She was the only girl among the 16 to represent Kerala that year. "My father was in the army and was a big sports lover," recalls Rajyalaksmi. "My sister, Vijayalaksmi, too was a sportswoman who represented Kerala in athletics and continued to participate in various meets across the world, the last one being in Perth, Australia, till she passed away at 82 years, last year." In those days, it was not easy for Nair girls to step out and seek an education, leave alone take up any career or sport. Swimming as her choice of sport raised many eyebrows.
But Rajyalakshmi's father was broadminded and was determined to give his equal best to his six children, three girls and three boys. Of the six, five took to sports and were all gold medallists — the oldest Vijayalaksmi was an athlete, middle sister, Sharada Merchant was a lecturer in physical education was also an athlete, Rajyalaskmi went on to become India's first woman swimming coach, younger brother Venugopal, a veteran athlete, participated in the Asian Athletics Championship in 2011 and the youngest brother Prem Kumar is a retired basketball coach of the Kerala State Sports Council.
"I lost my mother when I was very young and I grew up with my siblings," says Rajyalaskmi. "Our amooma (grandmother) brought us up. However, my father was always there for us and he was keen that we all do well." That explains how Rajyalakshmi landed up in Patiala in 1963 to join the first batch for swimming coaches' programme at the National Institute of Sports. She graduated as the first female swimming coach in the country.
"I had offers from various states but I opted for Rajasthan because my father felt women were safer there," she says. Rajyalakshmi lived and coached in Rajasthan, alternating between Jaipur and Ajmer, from 1964 for four years.
"The year I joined the Rajasthan Sports Council, for the first time in the history of Rajasthan, they won the championship when I trained swimmers like Rima Dutta. There were not enough swimmers or women swimmers in the state and this was a great achievement for me," she recalls with pride. It was also here that she met her future husband, another champion swimmer and also a national coach, Kishan Singh Shobhawat. He had come to train for the nationals and was junior to her.
"We met at a camp in Pilani and he later proposed to me," she says. They got married on May 17, 1969, and are all set to celebrate their 50th anniversary soon. The two have twin girls and a son, who plays water polo for Maharashtra.
Through the years, Rajyalaksmi struggled to balance her career with her family life. She sought a transfer to Mumbai from Delhi to be with her husband, who was then posted with the Mafatlal company after his diploma from the National Institute of Sports in Patiala. "It was not easy but we somehow managed," she recalls. Appointed national coach for the 1982 Asian Games, she had to attend a two-year camp and was also sent to Germany for training for eight months.
Looking back, she says, "I just left my kids and went to Germany. I used to sit and weep thinking of my children every evening. They were only seven or eight then. My pregnancies were not easy either. Through all this, I had an ovarian cyst which had to be operated, then carried my twins to full term but that did not stop me from my work. I kept one of my twins with my mother-in-law and sent the other to Thiruvananthapuram."
While Rajyalaksmi is the first woman to be awarded the Dadoji Kondev Rajya Kreeda Puraskar award for 2005-06, her husband, Kishan Singh too was one of the early recipients of the now discontinued award from the Government of Maharashtra, and the two have won several national awards in recognition for their contribution as national swimming coaches.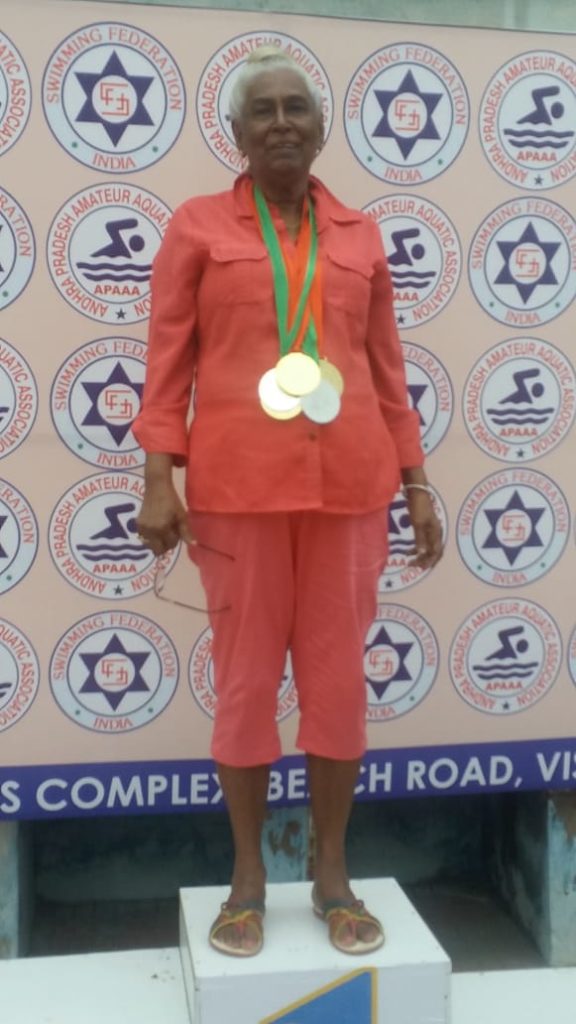 Rajyalaskmi now lives a retired life in their home in Dadar, Mumbai. Her last international competition was in Perth five years ago. Her septuagenarian husband continues to coach at the Radio Club in Colaba. "I am a full-time farmer now," says Rajyalaksmi gleefully. "We have a farm in the outskirts of Mumbai where we grow fruits and vegetables and I spend two to three days a week there. Other days when I am in Mumbai, I swim 1.5 km daily at the nearby Mahatma Gandhi Swimming pool at Shivaji Park." She also tries to divide her time between her three children; two of them are in Mumbai while one daughter is in Australia whom she visits often.
From the time she started her career as a coach, Rajyalakshmi says she has seen a positive change. "Things were different then. Now with increased awareness and exposure, it is easier for sportswomen. But I still feel we will take another 10 to 20 years to get at our women swimmers at par with the international standards," she concludes.
---
Like this story? You may also like to read: Meet Sunalini Menon, the First Lady of Coffee in Asia
About Author