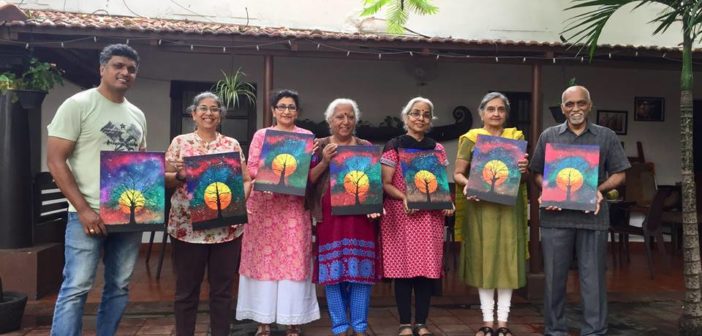 PICASSO PAINT PARTY BY BRUSHWORKS
As part of Silver Talkies Events, Silvertalkies together with Brushworks bring to you the most vibrant Picasso Party in town. Ditching technology. Ignoring distractions. Putting paint on canvas and creating beauty. That is how we roll!
Brushworks brings the artist experience to everyone through a guided painting session. Rathish is the Main man/Artist and Ivy the catalyst behind Brushworks! It's the perfect activity to relax, socialize and flex your artistic muscles. The best part? You need NO EXPERIENCE. You will be patiently and clearly guided from a blank canvas to a masterpiece. After an easy going session, you get bragging rights to a painting that no one will believe you painted. We'll bring the paints, palette, brushes, canvas and all the necessary art supplies. Most of our participants had their first brush with paints, mixing colors, touching a blank canvas and the works at our Picasso party. But at the end of it all, they were awestruck by their own masterpiece! In the words of Picasso "Turn off the gray of your life and light the colors inside you." and "…remember, the only person that stays with you forever is yourself. Stay alive, whatever you do!" If you would like for us to bring a Picasso party to your community or join our next one, hit us up now!
For more pictures, see our FB albums Picasso Paint Party, May 2018: The Blue Door and Picasso Paint Party, June 2018: The Cosmic Moon
About Author