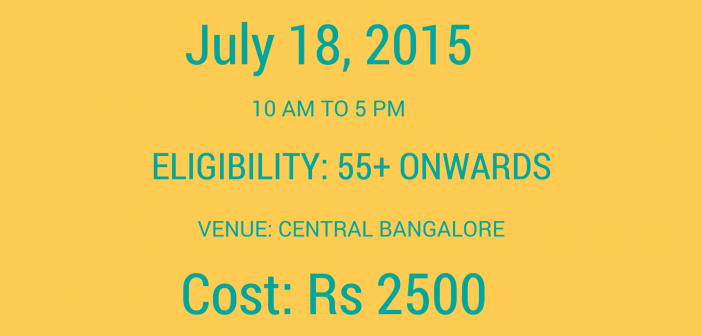 Interested in a career post retirement?
Are you retired and looking for an opportunity to start a post-retirement career? Read about our upcoming workshop to know if this can get your second innings on track! 

Unfold Consulting in collaboration with Silver Talkies is delighted to invite you to a workshop that aims to ease the process and equip you for the transition into a post retirement career. 
Unfold Second Innings Transition Program 
In association with Silver Talkies
Are you 50+ and looking for an opportunity to transition into a second career? Unfold Consulting in collaboration with Silver Talkies is delighted to invite you to a workshop that aims to equip you for the transition into a second innings at work, especially post retirement. 
Workshop Details​
Date & Time: July 18, 2015 from 10 am to 5 pm.

Venue: ​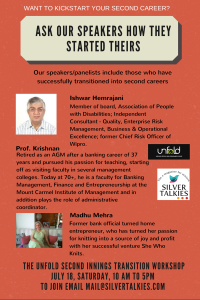 United Theological College, 15 minutes from MG Road, Bangalore. Ample parking space available
Cost: ​As an introductory offer, the full-day workshop is priced at Rs 2500, including lunch. 
​What's on offer​

​ Self-reflective and informative workshop​ with assessment tools to gauge your expectations and interests. We shall discuss opportunities, age-inclusive work environments and highlight ideas and tips that can equip you better for a second innings. 
​
Sectors covered in detail would include:
• Teaching: in schools and colleges

• Social sector: consulting and short-assignment opportunities
* Entrepreneurship: home business, lifestyle business & professional services
​Speakers/Panelists

Our panelists include those 
who have successfully transitioned into second careers and the opportunities they have received or can enable. Brief profiles follow:
* Ishwar Hemrajani: Member of 
board, Association of People with Disabilities; 
Independent Consultant – Quality, Enterprise Risk Management, Business & Operational Excellence;
 former Chief Risk Officer of Wipro. 
* Prof. Krishnan: Retired as an AGM after a banking career of 37 years and pursued his passion for teaching, starting off as visiting faculty in several management colleges. Today at 70+, he is a faculty for Banking Management, Finance and Entrepreneurship at the Mount Carmel Institute of Management and in addition plays the role of administrative coordinator. 
* Madhu Mehra:
 Former bank official turned home entrepreneur, who has turned her passion for knitting into a source of joy and profit with her successful venture She Who Knits.
Key takeaways

* Charting the new retirement workscape and opportunities in sectors covered in the workshop

* Re-Entry: motivations, risks

* Success Stories: ideas & tips from second career transitions 
​Past Workshops for retirees by Unfold
Career Transition Development Program for Ex Servicemen (Officers of the armed forces) sponsored by Sainik Welfare and Resettlement Services 
The aim: Support aspirations for those who have retired and are looking towards building a second career. The workshop covered aspects of life after retirement and factors for second innings that help define success. The attempt was to deconstruct what to expect from civilian careers (corporate), work environments, understanding opportunity landscape and steps to navigate to find the right opportunity through various channels, both online and offline. The workshop was followed by individual Coaching sessions that were voluntary post the program for those who wanted to explore the type of career that was suitable for them more deeply.
Registration Details
Join us on this first step with a one of a kind workshop and save the date on your calendars! For more information on the registration process, write to or mail@silvertalkies.com or call on 9900025525 (Reshmi) & 9980508000 (Nidhi).
For more information on Unfold or transitioning into a career post retirement, read this feature here or visit them at unfold-consulting.com.
About Author