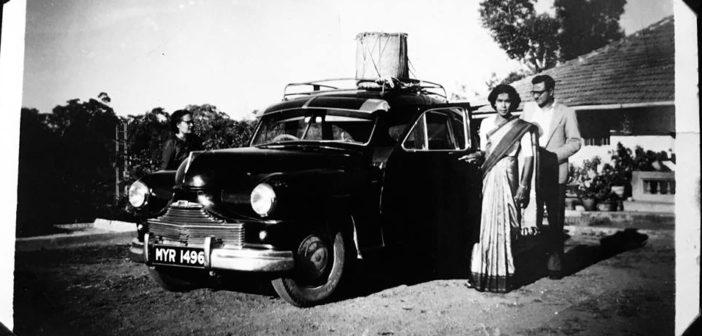 Her Psalm For Life: Celebrating A Century
Clara Pinto, 99, from Fraser Town, Bangalore, will celebrate a century of life on November 27, 2018. Her dear friend Jacqueline Colaco shares a moving account of their friendship over the years and the story of a woman who trailblazed in her own way driving cars and running a coffee estate.
Always game for gallivanting, both me and my friend Aunty Clara, on the cusp of her century on November 27, recently agreed to a lunch rendezvous at Catholic Club, Bangalore. So cozy was this tete-a-tete in the company of her three youngest daughters (she has six)! We settled for simple fare in this familiar ambience, simultaneously exchanging reminiscences and listening to Aunty's captivating stories of her life!
Even at 99, Aunty Clara's mind is crystal clear as is her impeccable sartorial style, whether she drapes herself in crisp cottons or smart silk sarees. In recent times, she has adapted to the salwar kameez for less formal occasions. Of late, she sports a fancy walking cane. The latter I understand, after much persuasion from her progeny, as it irks her streak of independence….!
I have been a regular at this family's home for over five decades. Aunty Clara's seemingly stern demeanor intimidated me when I was ten. During teenage years and in my twenties, I matured into realizing how genuinely welcoming was this charming family of nine, who resided in a chic house and garden, presided over by this matriarch and her husband, who embraced with aplomb, a coffee estate as well! Consequently, celebrations were always on the cards and it still continues to be open house for all.
Elders played Bridge, while we engaged in Rummy sessions, or gathered around the piano for singsongs, organized barbecues, housie parties, went boating on Ulsoor Lake or ventured out for late night drives and even estate trips in their Mercedes Benz. Often, we got up to minor pranks for which Aunty Clara, ever so understanding of youthful vagrancy would first chide, but then bravely fend off the ire of other parents on our behalf! Under a tough exterior she displayed a heart of gold!
As decades drifted and their children flew the nest, Aunty Clara and I strengthened our deeper personal friendship through many shared interests like gardening, music and interactions about bygone eras. When illness struck me mid life, she was extremely supportive. She reached out to my endeavours, encouraging me to do what I still could and discard what I could not. When I needed a pullover, she knitted me one. She was all of 94 then, this maestro who still engages with a craft needle.
Aunty strikes the perfect balance in life — imagine managing home and family alongside coffee estates for decades; driving a jeep when no lady ever ventured into those isolated territories. A graduate of an era that's now history, she exudes social graces, is still seen engrossed in her gorgeous garden and attends daily mass at a chapel near home. Often spied at a play, a concert, at the forefront of social outreach, above all a friend in need, be it illness or death, or a celebration of life's events.
She is industrious to the extreme point of never pleading tiredness or making excuses. What an example for Gen Next, Next and Next! The icing for me from that afternoon's outing and one to remember, was her 'off the cuff' flowing recitation of H.W. Longfellow's 'A Psalm of Life…'
Tell me not, in mournful numbers,
Life is but an empty dream!
For the soul is dead that slumbers,
And things are not what they seem.

Life is real! Life is earnest!
And the grave is not its goal;
Dust thou art, to dust returnest,
Was not spoken of the soul.

Not enjoyment, and not sorrow,
Is our destined end or way;
But to act, that each to-morrow
Find us farther than to-day.

Art is long, and Time is fleeting,
And our hearts, though stout and brave,
Still, like muffled drums, are beating
Funeral marches to the grave.

In the world's broad field of battle,
In the bivouac of Life,
Be not like dumb, driven cattle!
Be a hero in the strife!

Trust no Future, howe'er pleasant!
Let the dead Past bury its dead!
Act, act in the living Present!
Heart within, and God o'erhead!

Lives of great men all remind us
We can make our lives sublime,
And, departing, leave behind us
Footprints on the sands of time;

Footprints, that perhaps another,
Sailing o'er life's solemn main,
A forlorn and shipwrecked brother,
Seeing, shall take heart again.

Let us, then, be up and doing,
With a heart for any fate;
Still achieving, still pursuing,
Learn to labor and to wait.
Featured Image: Clara Pinto with her car. She drove at a time when very few women did. 
All photographs courtesy: Jacqueline Colaco & the Pinto family
---
Liked this article? You may also enjoy reading How a great-granddaughter discovered her ancestor's legacy to Bangalore 
About Author