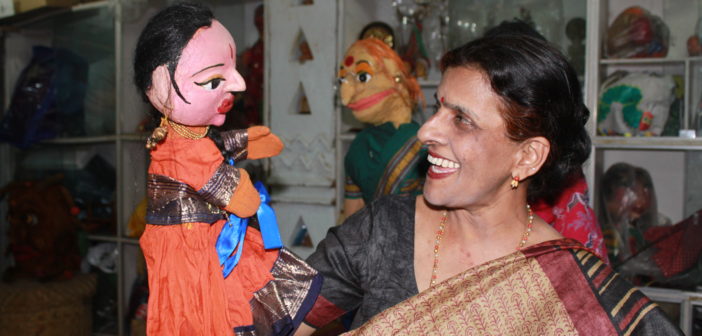 Strings Attached: How Ratnamala Nori Is Using Pupppets To Create Awareness
Ratnamala Nori, 68, lets her puppets do the talking when it comes to spreading important messages about the environment, health and other issues. 
Ratnamala Nori, 68, has degrees in the fine arts, Ancient Indian History, Culture and Archeology. She also has diplomas in Montessori training and Mass Communication. All these stand her in good stead in the art of puppetry that she practices. Nori started the Nori Art & Puppetry Centre, (NAPC), a Hyderabad based NGO registered in 1994, trying to make a difference with her craft.
NAPC believes that puppetry is about creativity, education and entertainment. A synthesis of various art forms like sculpture, mime, music, design, dance and theatre, they use puppets to express ideas in a manner that can be both entertaining as well as inspiring. 
Nori's Puppet House is the outhouse of her home where Vishnu Sharma, the storyteller puppet created by her, sits on a chair by the door. Step inside the Puppet house and you are in wonderland! There are puppets and more puppets and Nori, the master puppeteer and wonder craftsperson knows all of them by name. Another version of Vishnu Sharma is being renovated and lies on the floor as Nori picks up the puppet Radha and breaks into a smile while saying 'hello' to her!
In 1998, Nori was recognised by the Madras Telugu Academy for Innovative use of Puppetry. She was given the National Council for Educational Research & Training (NCERT) award in 1987 and a Nandi award for the Puppet play –"Maya – oka Japan katha", made for Hyderabad Doordarshan in 1992. After having worked at the Hyderabad Public School, Ramanthapur for 20 years plus, Nori is now retired and continues to do puppet shows in schools and at various organisations.
"Puppetry is not just about making a puppet—anyone can do it. There are books, there are do-it-yourself guides. But there is so much more beyond that — in fact, it is an integrated approach to all the arts, both visual and performing ones."
Nori was introduced to the world of puppets in 1986 and interacted with puppeteers from all over the world at the National Puppet Festival. After that, puppets and puppetry became her hobby.
Her first puppet theatre for kids was an adaptation of one of Leo Tolstoy's short stories 'The Radiant Child.' The kids loved it, overwhelming Nori with the response. Slowly and steadily, the projects kept coming in, and Nori had her hands full, working at her teaching job in school, training teachers to use puppets and getting out there in the field, conducting workshops.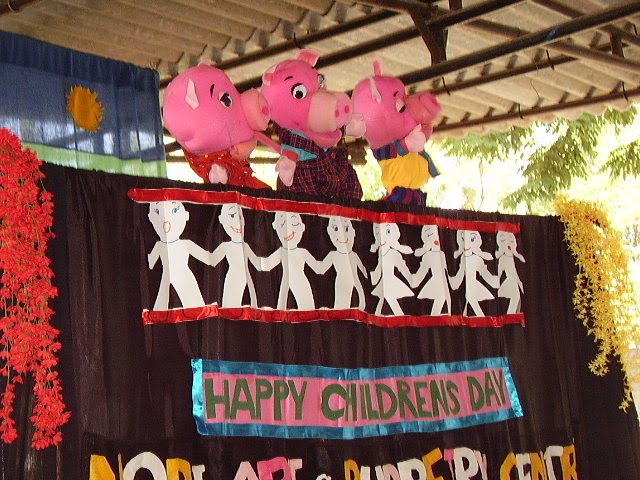 Around 1995, the Sangeet Natak Akademi called her group to present puppet theatre on stage to represent Andhra Pradesh.
Nori has been making almost all her puppets, and Radha is her favourite. Her family has been a great support. Her husband, Sarma,75, "is a great performer and shares my enthusiasm equally." Sridhar, her son, provides all the digital music for her shows which is a great help, as she hardly gets any money out of these shows and it would be unfair to ask others to do things without being paid. "The advantage of getting the family involved is that I don't have to pay them!"
Over a while, Nori has evolved her own form of puppetry which deals with contemporary issues. Her production, 'Buddha and the Garbage Monster' was all about the garbage being chucked into the Hussain Sagar Lake in (a water body in Hyderabad). The garbage rose in the shape of a monster and Buddha used a gun to kill it while he extracted a promise from the children that they would never throw any more garbage into the lake, nor allow anyone else to do the same.
Nori has also done a show on Dementia and Alzheimers' Disease called the 'The Lady in the mirror.'
According to the ARDSI (Alzheimer's and Related Disorders Society of India) Dementia is a progressive, incurable disease of the brain that causes deterioration in thinking, memory and everyday abilities. About 3.2 million people in India are affected by Alzheimer's and other forms of dementia. Nori created The Lady in the Mirror as part of ARDS I'S Brain Campaign in 2014. The poignant story of Grandma with Alzheimer's and her friend in the mirror left the audience spellbound when it was performed. This craft was always thought to be for kids but Nori, with her innovative ideas touching on current issues of ageing, pollution and the environment, has brought a new perspective to the world of puppets.
About Author