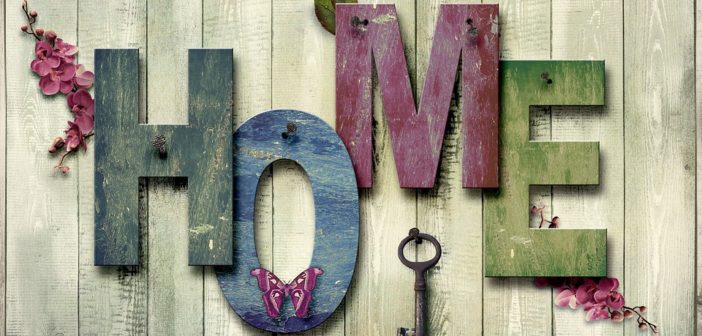 Retirement Communities in South India
This is the finale to our three-part series on Retirement Communities/Senior Living Homes in India. In Part 1 of this article, we discussed what retirement communities are, the facilities they offer and what they cost. In Part 2 we listed communities in North, West and East India.
Now, in Part 3, we bring you a comprehensive list of communities located in South India.
Most retirement communities are senior friendly and offer facilities such as grab rails and anti-skid tiles in bathrooms, wheelchair-friendly campus, doctor on call, 24×7 nursing staff, ambulance on premises, proximity to a hospital, housekeeping and laundry facilities, community dining and a clubhouse offering various activities. However, please check the websites of the communities listed below for more details and please research the place according to your needs before selecting one.
CHENNAI
Located on the Coromandel coast, Chennai is one of the biggest educational, economic and cultural hubs in South India. It has good connectivity to the rest of India and international destinations and excellent medical facilities and hospitals. The weather is extremely hot and humid though.
Serene Senior Living Projects: Serene Senior living, a retirement community developer of repute, has the following projects in Chennai – Serene Hub with units priced from Rs. 30 lakhs to Rs. 70 lakhs, Serene Pushkar, and Serene Adinath. Of these, the first is an ongoing project while the other two have been completed.
---
Ashiana Shubham: Ashiana Senior Living communities have over 1800 residents across India. Ashiana Senior Living is more than just a lifestyle. The thoughtfully designed homes give a contemporary edge to senior homes with world class amenities like club-house, swimming pool, walking tracks etc.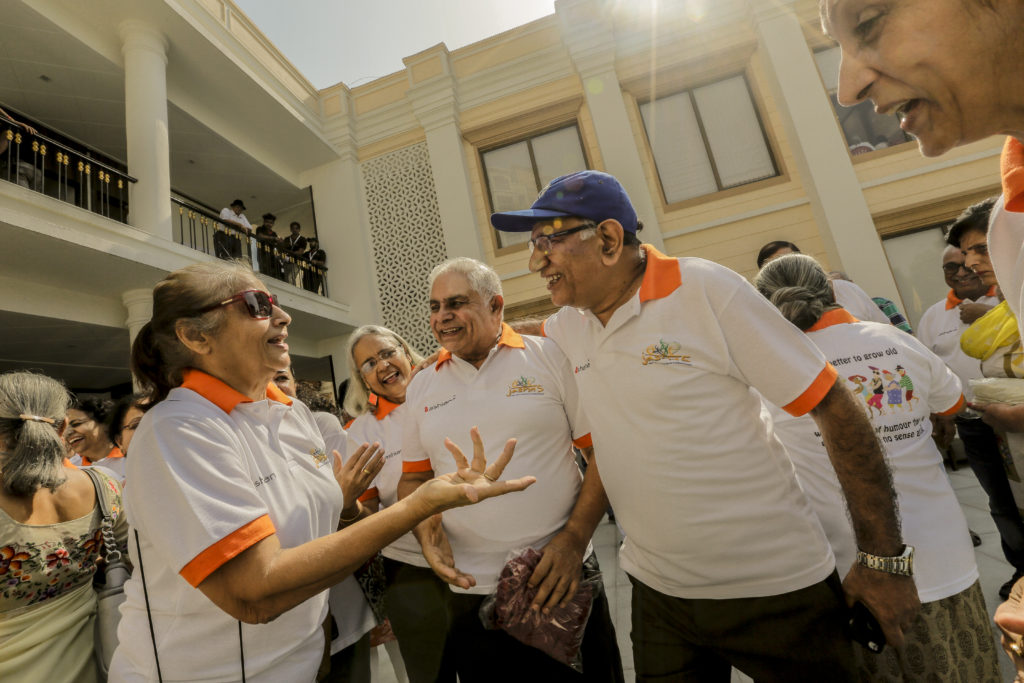 Located in Maraimalai Nagar, Ashiana Shubham is one of the first forays into the south by Ashiana Housing, a North Indian developer of senior living communities. The low-rise apartments are priced between Rs.26.22 lakhs and Rs 67.38 lakhs. Phase-01 is delivered and more than 110 seniors are residing in the community.
Find out more: https://www.ashianahousing.com/senior-living-india/chennai/ashiana-shubham-maraimalai-nagar-gst-road
---
The Chennai Homes Aishwaryam: The project has furnished cottages with eight different plans from 470 sq. ft to about 1100 sq. ft. Prices range from Rs. 29.5 lakhs to Rs 54 lakhs. Located 90 km outside Chennai, the closest hospital is PIMS in Pondicherry – 30 km away. There are limited availability staff quarters for people who would like to have 24×7 nursing assistants.
COIMBATORE
This was the first city in India to get a retirement community. Blessed with good climate and excellent medical facilities, the region is home to the largest number of retirement communities in the South now.
---
CovaiCare: CovaiCare is the pioneer in senior living and care in India. They are also the world's first retirement community to integrate care centres for seniors having special needs children (PsWD). CovaiCare takes care of the PsWD after the demise of their parents. Care Centres by CovaiCare also include assisted, palliative, memory, preventive, home health care and polycare or the Family Doctor Concept. In Coimbatore, their projects include the following:
Covai Chinmayam: IGBC pre-certified platinum rated retirement community with assisted, palliative and PsWD Care Centres. Phase I handed over and services are ready. 1 BHK apartments start from Rs.26 lakhs and 2 BHK villas from Rs.48.91 lakhs.
Covai Ultra: Located a short distance from the city and close to Sulur. It consists of row houses and affordable villas integrated with assisted and PsWD Care Centres. Row houses start from Rs.21.70 lakhs and villas from Rs.47.55 lakhs.
Covai S3 Senior Care Centre: Started in 2004, it recently became the first retirement community to receive a Platinum rating by IGBC (Indian Green Building Council). 2 BHK villas on resale available at Rs.60-70 lacs. An Assisted Care Centre will also be operational from the first week of April 2019.
To find out more: https://covaicare.com
---
Serene Senior Living: Has 4 projects in Coimbatore – Serene Shenbhagam, Serene Rose, Serene Idagarai and Serene Indus Valley. The various cottages, villas, row houses and apartments range in price from Rs. 25 lakhs to Rs 1.18 crore. All communities have medical facilities close by.
Melur Meadows Retirement Village: Unique units that combine the openness of a villa with the cosiness of an apartment – designed by an Auroville resident. Leasing, owning and long term and short-term renting options available. An organic garden is part of the attraction. Short- and long-term rentals available.
Hyderabad
According to the Mercer Quality of Living Rankings 2018, Hyderabad is the most liveable city in India due to its low crime rate and pleasant weather.
Pranamam: This property includes 480 flats of 1, 2 and 3 BHK in four ten-storied towers. It has been built in a 5-acre plot, giving ample space for seniors to enjoy their surroundings.
BANGALORE
Bangalore, the garden city of India, has been suffering from traffic and water availability problems lately. However, the city's clement weather and vibrant lifestyle make it a popular choice for young and old alike. It has a high number of retirement communities for seniors, spread out on the outskirts.
---
Brigade Parkside: With a tagline that says Zindagi ab milee dobara, Brigade Parkside presents Independent Living for Seniors in North, East and West Bangalore. The core idea behind the project is that we all reminisce about the good old days, when we had no worries; when all that we cared about were the good times we spent with our besties. The project aims to give those golden days back to its senior residents. They offer 1 and 2 bedroom luxury homes that are quite unlike the usual retirement homes and also complemented by 8 specialised services to ensure an enriched lifestyle. These gated communities are decked with all desirable luxurious amenities, including a gymnasium with senior-friendly equipment.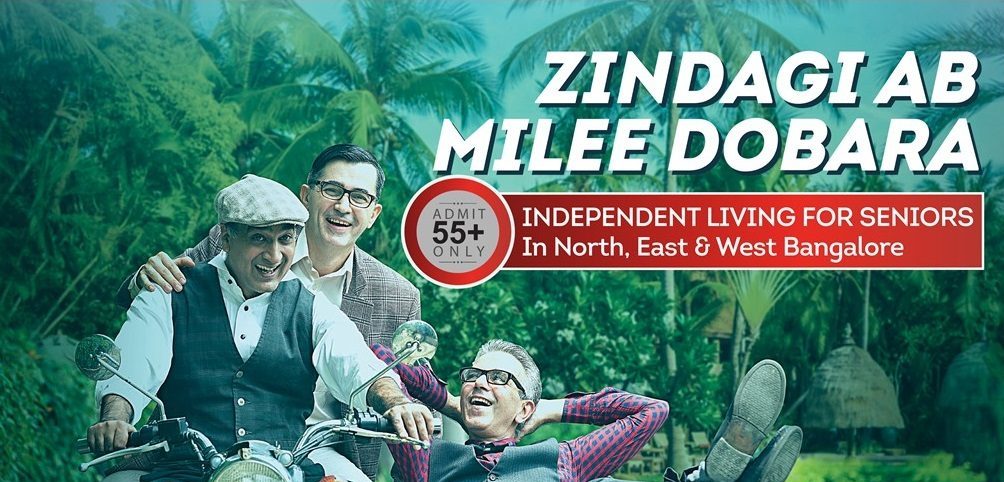 Parkside is thoughtfully designed for the forever young at heart and located strategically across prime locations. Effectively, these Parksides are the only senior centric homes within city limits of Bangalore. Parkside North is in Jalahalli, Parkside East is on Sarjupur Road while Parkside West is located on Mysore Road.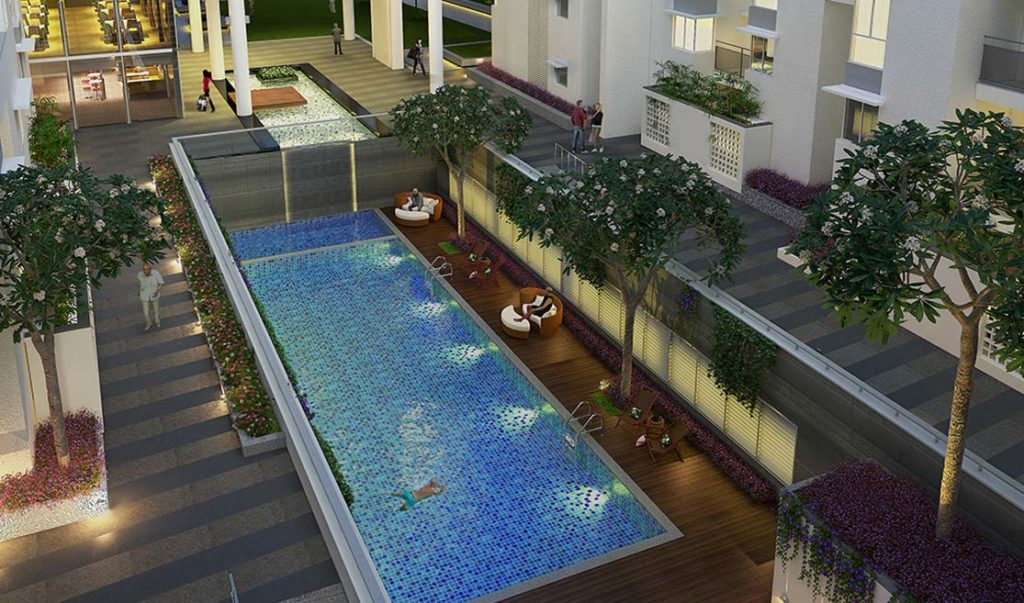 All Parkside properties are under-construction and priced almost similar. 1 Bedroom homes are priced at 40 Lakhs onwards while 2 Bedroom Homes are priced at 63 Lakhs onwards.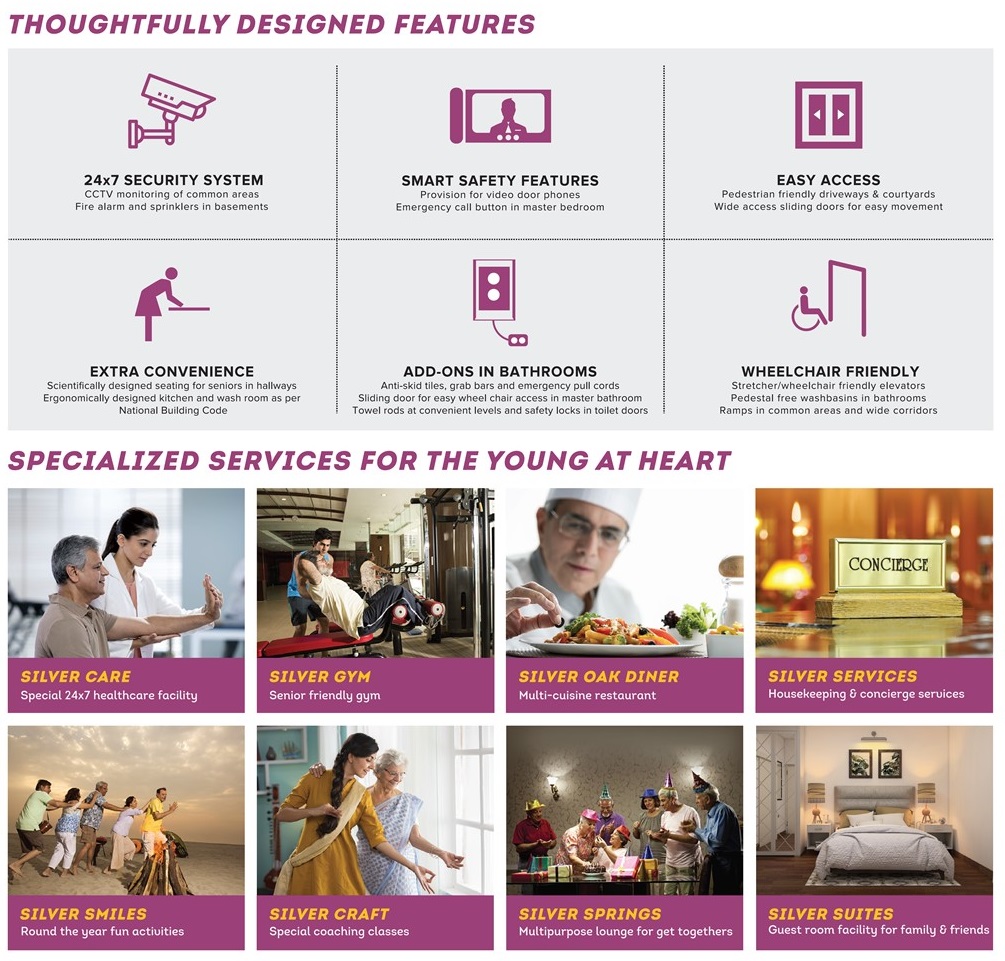 Find out more: www.parksidebybrigade.com
Call 1800 102 9977
---
---
Urbana Irene by Covai: With 170 senior friendly apartments it is a part of 200 acres integrated township with a multi-speciality tertiary hospital, 5 Star Hotel, and other amenities developed by the Ozone Group near the Bangalore International Airport. Block C is handed over already and basic services are in place. Full-fledged services will be available from the first week of May 2019. A few 2BHK apartments costing Rs.44.89 lakhs (approx) are available for sale.

To find out more: https://covaicare.com
---
Athashri: Located in Whitefield, this is another known name in retirement homes. Prices range from Rs 12.8 lakhs to Rs 71 lakhs. The construction is senior-friendly, with regular maintenance and housekeeping provided. Add to that, medical facilities, bill payment and other services.
---
Mantri Primus Eden has two senior living properties in Bangalore. 
Primus Reflection – The idea here is that you don't want to worry about mundane things like maids, cooks, cleaning or chores any more, having arrived at a certain stage in life. Instead, you want your home to be your haven; every meal to be an experience; and every errand to be executed at your convenience. Primus Reflection enables all this for you, through a lifestyle of complete convenience that requires no effort.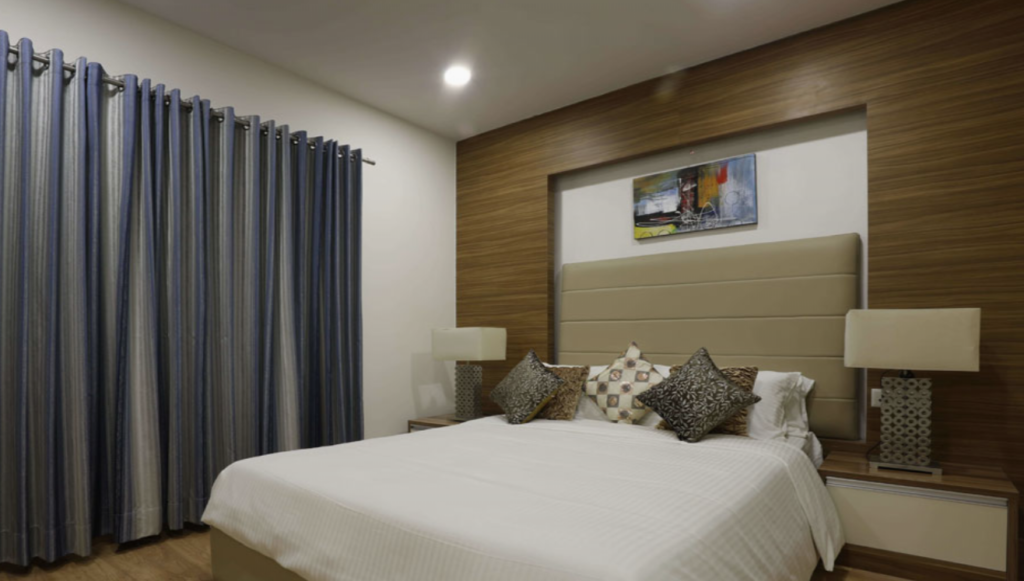 From cooking, cleaning, chores and more, everything is taken care of, so that seniors residing there can dedicate their time to things that matter.  Primus Reflection is located on Kanakapura Main Road, opposite the back gate of the Art of Living Ashram and just 5 kilometres from NICE Junction and the Metro Station. Interested seniors could purchase of 1BR and 2 BR with a study, with prices ranging from Rs. 47 lakhs to Rs. 85 lakhs. Monthly maintenance charges for a couple are Rs. 30,000. Proximity to Apollo and Fortis Hospitals.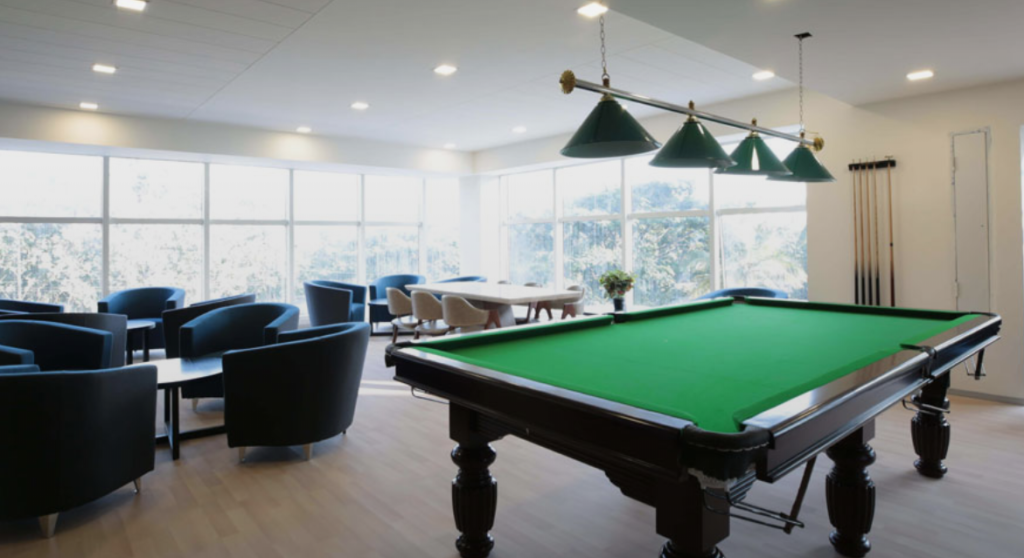 Primus Eden: A luxurious residential community, exclusively for seniors, that offers resort-like amenities at the push of a button. Ready to move in, Primus Eden offers world-class services tailored to individual needs. Available on a lease, these homes come with a wide range of services. Everything is taken care of here, from your daily chores to your diet. It's a safe and secure environment where you can truly enjoy life. Senior residents can choose from a single bedroom or studio living space.
Monthly charges for a couple amount to Rs. 60,000 (approx) including food, club, electricity. etc. Single occupant monthly charges – Rs. 40,000. Apollo and Fortis hospitals within a few kms. They offer a 10-year lease and you need to deposit Rs 25 to Rs 35 lakhs (kindly check exact rates), which is refundable. Monthly charges for a couple are around Rs. 60,000 including food, club, electricity and services mentioned. Single occupant monthly charges – Rs. 40,000. Apollo and Fortis hospitals within a few kilometres.
To know more: http://primuseden.in/
---
Manasum Avighna: An experienced developer who has been running Sukh Shanti retirement home in Bangalore for 5 years already. Manasum Avighna will be ready by October 2019. Flats are available on ownership basis. A 620 sq. ft. 1 BHK would be priced around Rs 29.83 lakhs and a 750 sq.ft 1 BHK around 34.95 lakhs. All the units would be facing a central courtyard with Narayana Health City just 8 km away from Manasum.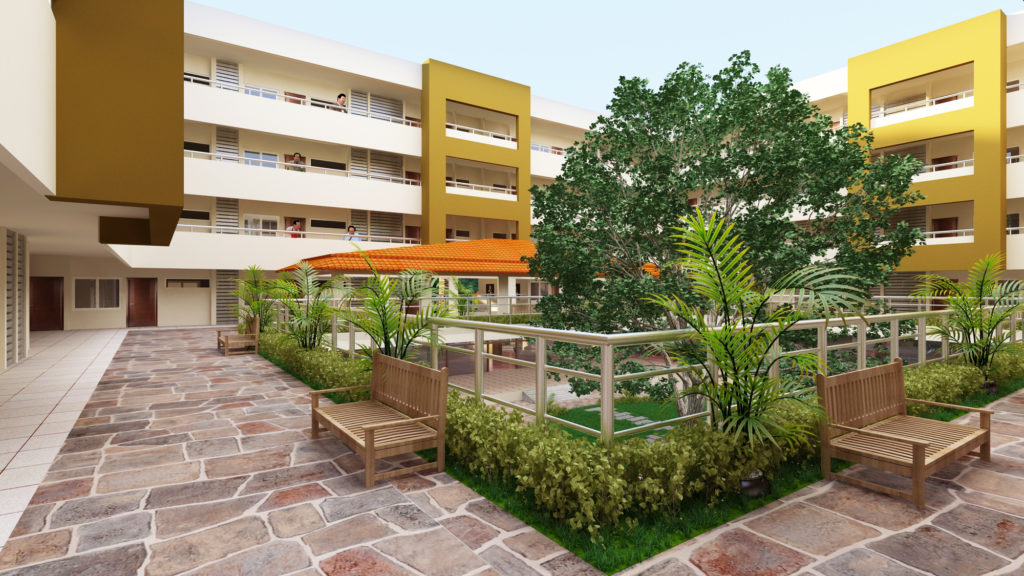 Easy access to Vijayashree Multi Speciality Hospital and S-Vyasa Yoga university, 50-year-old naturopathy and Ayurvedic treatment centre. The project will have all senior friendly specifications like Anti-Skid tiling, wheelchair friendly doors, radium lit switches, round-cornered walls etc. You will get to experience all the amenities and services that are essential for a luxury retired life.
Find out more: http://www.manasum.com/ 
Sukh Shanti Retirement Homes: Located inside Jain Farms, Bagalur, 15 km away from Sarjapur. Rental option is available. Access to Jain Farms' facilities which is an integrated farmland community of about 750 acres with a resort and club facility tucked in next door. Centralized vegetarian Dining, 24×7 Ambulance, Doctor's Clinic with an in-house nursing facility, indoor games, Huge Library, Indoor Gym, shuttle service and many more facilities available. Units are available on short term and long-term rentals.
http://www.sukhshanthi.com/
---
Tata Riva: Riva the Tata Group is a senior living township that is integrated within a regular township on Tumkur Road. 1 BHK and 2 BHK flats for Rs 45 lakhs and Rs 70.5 lakhs respectively. Several hospitals, including Columbia Asia, in the vicinity. The project has a 'Relationship Manager' and 'Recreational Therapist' for residents.
Vedaanta Vaibhava: Vendaanta Vaibhava is a senior living community at Anekal. It is 6.8 km from Narayana Hrudayalaya hospital. Vedaanta@Vaibhava is wi-fi enabled campus and all its apartments come with a tablet PC installed for video calling, Skype and emergency requirements.
Tranquil County: Located in East Bangalore, this community offers rental options for long term stay, short stay, assisted living (with dedicated care) and post-operative care. Other options are an 'own your home' model, which presently works on a security deposit model and a leaseback model. The closest major hospital is 20 minutes away.
Serene Ozone Urbana: Units are priced from 25 lakhs to 90 lakhs. The community is part of an integrated township that is located just 5 km from the international airport. It has 2, 2.5 and 3 BR flats.
---
Suvidha – Premium Retirement Village: Set up by doctors from the Bangalore Hospital, this community is located on the outskirts of the city, in Thalaghattapura village. Distance from MG Road – about 20 km. The 30-acre property has 180 cottages and a 3-acre water body. Cottages are priced at Rs 75 lakhs. The closest big hospitals are Apollo and Fortis – about 20 mins away.
Anandam: Retirement community by Bahri Estates in Chikballapur district near the airport. 1, 2 and 3 BHK villas from 21.95 lakhs to 60.87 lakhs.
---
CHIKKA TIRUPATI
Aarra Springs: Aarra Springs is a quality retirement home under construction. The first 2-3 hours is most critical in treating health issues and Aarra offers that through their tie-up with Vydehi Medical College and Hospital, which will operate the in-house medical facilities and provide super speciality services to the residents. The super speciality Hospital is in close proximity.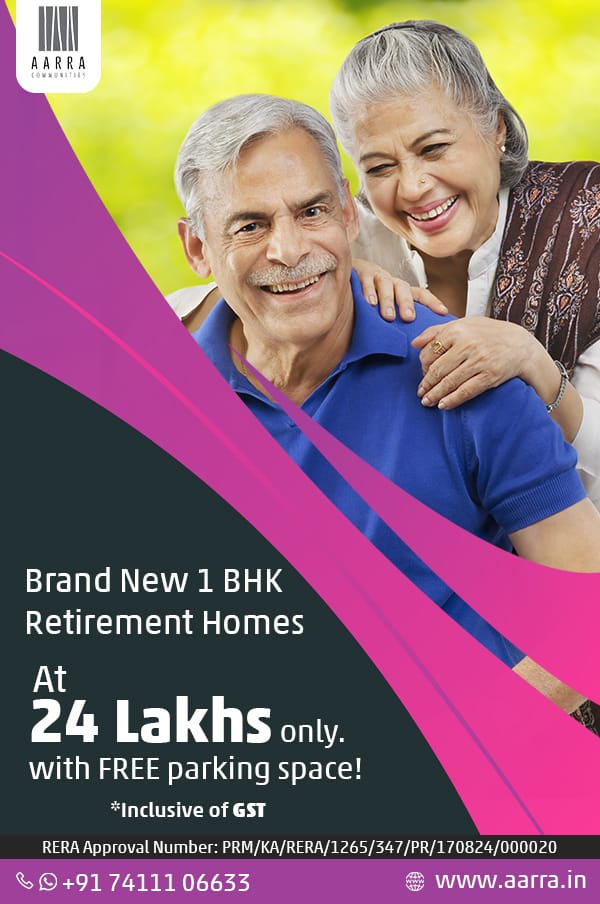 The project is located in Chikka Tirupathi on NH 207, with easy access to Whitefield, Bangalore International Airport and Sarjarpur. Banks and convenience stores are close by and for those who are believers, the famous Chikka Tirupathi temple is 500 meters from here. The Retirement Community consists of 144 one-bedroom units with five stretcher lifts, large corridors, extensive open spaces, and best in class amenities.
The project has obtained the statutory Real Estate Regulatory Authority (RERA) and has been approved by leading banks. Aarra Springs would be ready for possession by end 2019.
To know more: www.aarra.in
---
PONDICHERRY
Pondicherry has some of the best and cheapest medical facilities available in the country perhaps at the JIPMER hospital. This union territory was a French colony once and the influence shows in the lifestyle and food habits of its residents. The weather is extremely hot and humid though.
---
Covai Pelican: First affordable retirement community located on Puducherry-Cuddalore highway. It is a part of 50 acres township, named Pelican Belfort, developed by Pelican Projects. You get the choice of 1 & 2 BHK apartments with access to assisted, palliative and PsWD Care Centres. 1BHK apartments from Rs.20.73 lakhs* and 2BHK apartments from Rs.29.93 lakhs*. GST payable is 1% only.
Find out more: https://covaicare.com
---
Serene Pelican Phase 1 and 2: Located in Adhingapet, a 2 hour drive south of Pondicherry, this development has low rise units priced from Rs. 25 to 70 lakhs. The closest big hospital is JIPMER in Pondicherry.
Ville Franche: This development by Harmony Eldercare is located 16 kms short of Pondicherry on the ECR. Closest hospital is PIMS (3 kms away). The 10-acre property has independent and semi-independent villas and cottages, as well as apartments, priced from Rs 25 to Rs 49 lakhs.
KOCHI
Kochi is a bustling commercial port located in Kerala, the state with the highest literacy rate. It is well connected to the rest of the country by land, air and sea and boasts some extremely scenic locales in its backyard.
Graceland: Located about a 2-hour drive from Kochi airport, this low rise community has fully furnished villas and apartments priced affordably between 22 and 55 lakhs and an excellent clubhouse. It is run by an independent non-profit foundation. Their clinic has a doctor's room and 3 beds. Doctor is on call but two nurses are on duty 24/7. The closest hospital is a mission hospital 3 km away called A P Varkey and other big hospitals are 20-30 kms away.
KANCHEEPURAM
Peaceful living in the heart of Tamil Nadu. Cost of living is not high.
Serene Kshetra Kancheepuram: This property has units priced from 26-68 lakhs.
GOA
Life in Goa, India's most well-known tourism destination, can be as relaxed or as crazy as you make it. Unfortunately, there are hardly any retirement communities in this union territory.
Bougainvillea Hermitage: Retirement Village with senior friendly amenities and features in Nachinola, Bardez. Has only 60 rental apartments in 4 sizes (studio, superior, super superior and executive). Prices start from 3400/- a night upwards for short term stays. Ayurvedic Centre on premises.
KODAIKANAL
This beautiful hill station is located in Tamil Nadu.
Anandam: Developed by Bahri Estates, Anandam claims to be the "most awarded retirement community" in India. Located in Genguvarpatti Villag, Theni district in the Kodai foothills, the community is a 2.5 hr. drive from both Kodaikanal and Madurai. Madurai has good medical facilities and Anandam plans to have its own hospital too although that is sometime in the future. Spread over 120 acres, the sprawling community has 1, 2 and 3 BHK villas priced from 33 lakhs to 76 lakhs.
Santosham Retirement Community: Located within the 120-acre campus of Anandam Retirement Community, Kodaikanal. Also developed by Bahri estates. 1 and 2 BHK villas for about 15 lakhs and 22 lakhs respectively.
MYSORE
This pensioner's paradise is blessed with good weather and infrastructure. The heritage city is not overpopulated or over polluted and has been recognised as the second cleanest city in the country.
---
Covai Tapovan Solace: This retirement community is located in the heart of the city of Mysore provides access to assisted and PsWD Care. Services will commence from May 2019. Only a few apartments are available (1BHK apartments from Rs.48 lakhs*).
This is one of the few retirement communities located in the city itself instead of on the outskirts. Apollo hospital is 1.5 km away.
Find out more here: Covai Tapovan Solace Website
---
Sharadindu: Developed by Sree Senior Homes, this community is located in Pandavpura, on the outskirts of Mysore. Cottages and apartments are priced from Rs. 29 lakhs to Rs. 55 lakhs. The closest hospital is Columbia Asia, about 20 km away.
---
Read Part 2 of the series here: Retirement Communities: An idea whose time has come
Read Part 1 of the series here: Retirement Communities in South India
Note to readers: We have tried listing most of the existing projects and some upcoming ones. However, this may not be an exhaustive list as there are several more in the pipeline. Do check back for any new inclusions and please do notify us if you have any update about the properties on this list. You can write to us here: mail@silvertalkies.com
---
About Author