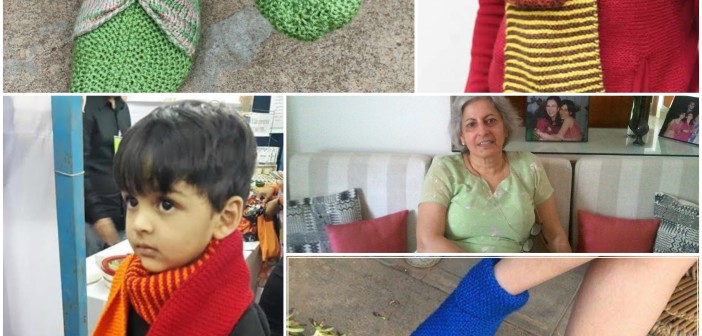 Economic Times – Jan 18, 2016
Retirement is for the weak-hearted, seniors make passions work for them
By Ipsita Basu
BENGALURU: At 64 years, ex-banker Madhu Mehra never thought she would have a flourishing career as a knitter. Mehra, who runs a Facebook page called `She Who Knits', makes scarves, foot warmers, baby wear and other products that have become a huge hit both for personal use and as gifting options.
"I always loved knitting and would keep gifting friends and family. When I quit my full-time job, my daughters urged me to take this up to keep myself occupied. Soon, orders multiplied through word-ofmouth. In 2010, I launched a Facebook page, which contributed immensely to more people getting to know of this," offers Mehra.
Second careers for seniors are on the rise as more and more of them turn to small businesses in training and creative arts such as knit ting, sewing and cooking in their silver years.
This is not only to keep themselves occupied but also to pursue an interest they were unable to do so in their working years. With social media to promote them, second careers have emerged quite a lucrative option.
Nidhi Chawla, cofounder of Silver Talkies, a forum that connects people over age 60, says: "My partner Reshmi Jain and I came across many seniors launching their second careers and pursuing them passionately . That's when we decided to highlight their achievements through our online magazine to inspire many others who are sitting on the fence, afraid to take the plunge."
Their event Anandam offers elderly entrepreneurs a platform to showcase their products and find a market, adds Chawla. The event has completed two editions in Bengaluru, held in collaboration with Suchetadhama, a support network for people with dementia and their caregivers.
Sixty-five-year-old Dilip Patel, who previously worked in the engineering industry , now trains people on Zentangle, a meditative art form. "I was drawn to Zentangle after I saw my wife practising it.Both of us received our certifications from the creators of the art in the US. We now train about 10-15 students a month, which includes IT professionals, doctors and architects." One of his most memorable experiences was working with a cancer survivor who was able to overcome her anxiety about the illness after practicing Zentangle.
While many seniors pursuing second careers say this has more to do with keeping oneself occupied than raking in big money , the extra income doesn't hurt, said Patel.
To read the complete feature go here http://articles.economictimes.indiatimes.com/2016-01-18/news/69870410_1_zentangle-facebook-page-second-careers
About Author