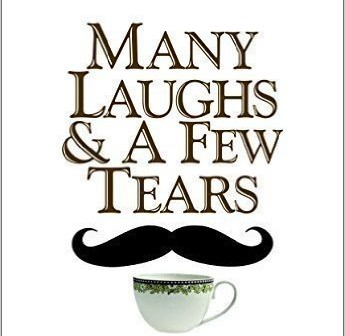 Review: Many Laughs & A Few Tears
Retired army man Brigadier Suryanarayanan's book Many Laughs and A Few Tears is a fascinating account of life in the army and after it. It is also an observation of society, people and cultural norms.
Many Laughs and a Few Tears is a book that has something for everyone. Memories of a life in the army? Check. Musings on social norms and ways of life? Check. Stories from a time gone by? Check. What made the book very interesting was to see the wealth of memory that is stored in this veteran's mind. His ready wit is also on hand to add a dash of humour to a number of observations — right from hard to pronounce notes in Tamil to Talkative Indians chattering away on their mobile phones!
Brigadier Suryanarayanan is an acclaimed writer of middle columns in newspapers. Many of his articles have appeared in Silver Talkies too and you can read them here. What makes the 53 stories in this book stand out the most are his army recollections. Accustomed to reading humour laced pieces by him, it was rather touching to read the chapter on his 'Reminiscences From War.' There are recollections of colleagues who fell to an enemy bullet, snatches of guilt at having survived while a friend fell and a peek into how transient life can be for army personnel, especially those facing the enemy.
The Brigadier has suffered two personal tragedies in life. Yet as you read his writings, what shines through is his spirit and positive attitude. He seems to see humour in almost every situation. It is also perhaps the best way to deal with the cards that life has dealt him. As I read his tongue-in-cheek musing on retirement and its after effects, what stood out for me was the light for him at the end of the retirement tunnel – time spent with his granddaughter!
There are some endearing glimpses into the Brigadier's personal life, like an account of how he became a grinder for Idli-Dosa batter, until he bought his wife a Sumeet mixer. Like everything else, this too is edged by subtle, unmistakable humour. You can almost imagine the Brigadier sitting on an easy chair, remembering old times with a chuckle. Other endearing accounts include meeting his wife in Dehradun in 1966, when he would rush 14 ams each way on his Lambretta, just to see the love of his life walk to college and back. The innocence is what stood out for me here. What simple times! Which ardent admirer would battle traffic and do that now? The simpler times and days gone by are aptly represented in this book and readers will enjoy glimpses into slices of history here. The retired Brigadier is also a person who can laugh at himself and makes light of awkward moments in one chapter. At the same time, he is also observant of the society around him, as evident in chapters like 'Dignity of Labour.' His thoughts on 'Who is a hero?' is as poignant and incisive and makes you think of the brave people in the army, many of whom are never recognised despite making the ultimate sacrifice.
Brigadier Suryanarayanan's observant style of writing is echoed through the book, which makes for an interesting read, especially for those who are curious about life in the army, encounters with legends like Sam Maneckshaw and others and memories of a time gone by. Brigadier Suryanarayanan has self published this book and the proceeds from its sale will go to AVN Foundation, an educational trust for poor and meritorious students in Chennai. It's an interesting collection of tales from a life well lived, with dignity, courage and good humour.
You can buy the book directly from Brigadier Suryanarayanan by emailing him on surivini@gmail.com or calling him on 919845254542.
About Author