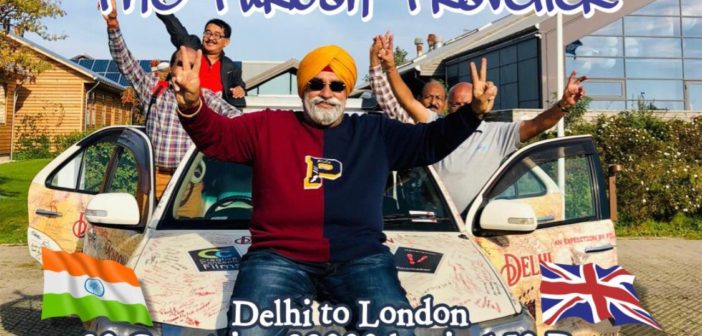 Road Tripping Around The Globe: Meet The Turban Traveller
At 60, Turban Traveller Amarjeet Singh Chawla is fulfilling a long-cherished dream – of road tripping around the globe. Here's his story in his own words.
I am Amarjeet Singh Chawla, a 60 years young retired businessman turned filmmaker from New Delhi. I am now also known as 'The Turban Traveler' who is following his passion and dream to travel all around the globe by road in his own car.
I love my new identity, as this is where and what I wanted to be — A traveller, who wants to see the whole world before he closes his eyes for the final time and meet God's beautiful creation — people.
What has been my objective and motivation behind this journey?

I am a strong believer of the Indian philosophy of 'Vasudhaiva Kutumbakam,' which means 'The world is one family' and the saying of our 10th Guru, Sahib Sri Guru Gobind Singh ji that 'Manas ki jaat sabhe eke hi pehchan bo' or 'All human beings are the same. There is no distinction between one and another, no caste, no creed, no religion.' I am spreading out these messages to the world through my road journey.
My other objective is to tell people that age is just a number and nothing can stop you to achieve and conquer what is yours. One should live their dreams and experience this beautiful world of ours. As that saying goes, the world is a book and those who do not travel read only one page.
My Journey So Far
Most people in India and abroad still don't know that one can travel from Delhi to London by road. Therefore, making a travel documentary on this road journey is also one of my objectives. It will let people know what kind of homework and preparations are required. Through the documentary, I also wanted to share my lifetime travel experiences about driving, border crossing, food, culture, health, challenges and the stories of the nice, beautiful people of this world who helped me in each and every country unconditionally.
I started my dream expedition on July 7, 2018, from New Delhi. It's a dream I have chased for 40 years now. 
I drove from Delhi to London in my 2013 model old Toyota Fortuner SUV and travelled approximately 40000 km across 30 countries and more than 150 cities ‪in 135 days‬. I was the sole driver and had a crew of two guys with me who were shooting my documentary film — Luqmaan Malik was the camera person and Dev Malik the assistant director. I started from India to Nepal, covering China, Kyrgyzstan, Uzbekistan, Kazakhstan, Russia, Estonia, Lithuania, Latvia, Finland Sweden, Norway, Denmark, Netherlands Germany, Czech Republic, Poland, Hungary, Slovenia, Liechtenstein, Austria, Switzerland, Italy, Monaco, Spain, Portugal, France, Luxembourg, Belgium and finally reached London (UK) on December 16, 2018.
I fulfilled my dream of travelling by road as a solo driver from Uzbekistan onwards with lots of serious health issues. This journey was very challenging physically, emotionally and professionally but with God's blessing and my family's support, I was able to finish it gracefully.
I shipped my car from London to Mumbai and drove from Mumbai to Delhi on Feb 20. En route, I visited Ahmedabad, Jaipur and Amritsar and reached Delhi on March 1, 2019. My total journey from Delhi to London is now 39,508 km.
The Experience
This journey of mine was magical and filled with self-discoveries. I met more than 700 people and more than 400 people have signed the car, starting from Arnold Schwarzenegger, one of the biggest Hollywood stars to politicians, ministers, ambassadors, mayors, Bollywood Actors, directors to the common man.
I found that this world is full of very nice human beings who gave me unconditional love, respect and support. My colourful turban and white beard with a car full of signatures become the centre of attraction everywhere. When people met me, their first reaction is WOW and then HOW and finally WHY. After explaining and signing on my car, my journey becomes their journey and their journey becomes our journey.
Unknown people who became my friends invited me for lunch, dinner and to stay with them and helped throughout in my journey selflessly. I realised that this world is full of kind-hearted, helpful, caring, loving and compassionate people.
My family was of great support to me. My son took care of my parents who are 84 and 80 and live with me and told me to chase my dreams. My daughter took care of my wife who has diabetic foot and couldn't accompany me on such a long trip. Both my daughter and wife came to London to receive me and stayed with me for two weeks.
The Challenges I Faced
Being vegetarian, I had to face problems with food in China, Central Asia and Russia. Western toilets were another issue on this route until I reached Russia. I also met with three road accidents but God was kind and we were back on the road within 15 to 20 minutes each time. After every accident, I did not stop and think about what happened and worry over it. Instead, I focused on what could have been happened and the fact that we were all safe with God's blessing.
In Central Asia, diesel was also not available everywhere and people were selling it in the black market.
In Tibet and Kashgar, you can't take video interviews or photograph government officials and government properties. Our phones were tapped and cops were following us. Chinese immigration people were not polite in all the check posts. But in spite of all these challenges, I never stopped my journey.
What's Next
Now I am ready to drive to all 7 continents and travel to 100 countries covering 2,00,000 kms in the next 18 months. I will be starting my next journey in August 2019 from New Delhi and cover all the 29 states of India. I'll then visit Singapore, 10 countries and after that ship my car to Los Angeles to cover North, South & Latin America, Antarctica and from there to Australia, New Zealand and Africa.
How I Managed My Expenses
We had lots of sponsors who supported us by giving equipment, hard drive, food and hotel stay, covered one of the major expenses which were obtaining China road crossing permission of Rs
7 lakh, Carnet certificate (International Customs document)of Rs 1.5 lakh and approximately Rs 2.5 lakh car shipping cost from London to Mumbai. My total cost for this trip would have been approximately Rs 35 lakh for which I used my life savings. My sponsors included Swiss Films, Austrian Tourism, Uzbekistan Film Promotion Board, Sony, DJI China, Edelknore USA, ZNIYUN China, Hakko, LaCie, Seagate and G.K.Fashions Pvt Ltd.
The Message I Want To Spread
People are very nice all around the world and we just need to be more interactive with them to explore this. The whole world should be one global village without the visa and boundaries this is my dream. You can follow my journey on my Facebook page: The Turban Traveller
Liked this story? You may also like: Road Tripper Seniors & Naanis On The Highway
About Author