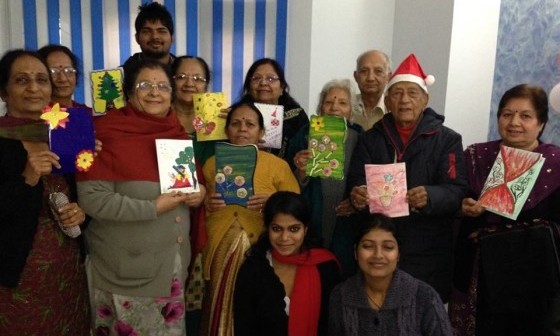 Samvedna, the Senior Activity Centre
Samvedna Senior Activity Centre in Gurgaon is a happy place for seniors to spend time relaxing or learning something new. We talk to its founder Archana Sharma to find out what it has in store.
Whether it is Valentine's Day or Mahashivratri, every event is celebrated with equal panache and joy at Samvedna, a senior activity centre in Gurgaon, near Delhi, that aims to provide an environment that is relaxed yet engaging enough to keep elders occupied. Started in November 2013 by former IT professional Archana Sharma, Samvedna offers active seniors an opportunity to meet others of their age and try their hand at various things, from learning computers and playing a game of carom to taking Yoga lessons.
"Samvedna is an organization that was setup to provide services of two kinds to seniors," says Archana. They provide both community and individual service. Apart from the Senior Activity Centre, they also offer at home services for elderly individuals who are not mobile or living alone and in need of help.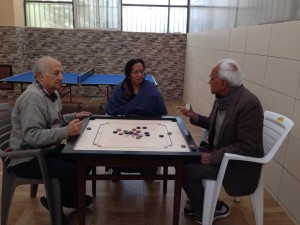 The activity centre is located in Sushant Lok, Gurgaon (Haryana) and functions from Monday to Saturday, from 10 am to 6 pm. Membership is kept at a very nominal Rs. 1500 to encourage everyone and members can come and go as they please, depending on their schedule. There are no restrictions on how much time one wishes to spend here, says Archana.
The Activity Hub
The centre has various activities going on. There is a library and interested elders can play table tennis, carom, scrabble and chess or try exercising on the treadmill. Birthdays and anniversaries are also celebrated on a regular basis.
Archana says that they plan the activities for a month based on festivals and upcoming events, while there are different activities designed every week. Yoga classes are held thrice a week and are specially designed for seniors. Recently, the elders at the centre were taught how to do Suryanamashkar while sitting down, instead of the usual pose that requires lying flat on the back. There is a computer room open throughout that can accommodate six people at a time if they wish to learn how to use the computer or simply browse.
Much thought has gone into designing the activities, so that older minds here are kept agile and alert.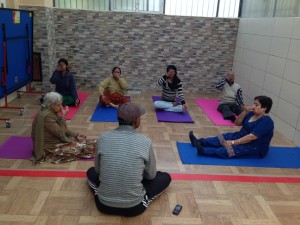 "We conduct regular quizzes to challenge their mind because at this age it is important to use your brain. Our quizzes are on a variety of topics and sometimes more of a recall," says Archana. For instance, personality identification quiz, identifying logos or advertisements along with quizzes on popular culture, such as Ramayan and Mahabharat.
Archana mentions that there are also workshops and talks held regularly on topics such as relationships, dementia or issues like generation gap that worry many an elder. The in house team or experts in fields like preventive healthcare, law and finance conduct the lectures.
Activities are designed to stimulate the mind. The centre has recently started Spanish language classes as research shows that learning a foreign language may slow down the advent of dementia. "Our members are really enjoying it," smiles Archana.
Currently, there are 15 regular members at Samvedna Activity Centre, while there are some who join for a short period. What Archana finds heartening is that in many cases, it is the children who are keen on their parents coming to the centre to have a good time. "It shows that the children are concerned, which is a good sign," she notes.
Focus on Seniors
With a background in the IT industry for 22 years, Archana always wanted to do some kind of work for the elderly. So when she took a break to spend time with her son who was then in high school, she thought of starting something that would have an impact on the society. "As a daughter, I know how difficult it is for seniors to live on their own so I felt that if we could provide any kind of service in this area and create an impact that would be good."
Terming senior care services a silent need for the middle class, Archana mentions that a centre like this also gives her the opportunity to understand seniors more closely. While eldercare services and opportunities may be opening up in India, she feels we still have a long way to go in terms of setting up the right kind of infrastructure for the elderly and removing the stigma that many still associate with old age.
Archana is all praise for her members at the centre. "Fortunately all the people who are here have a very open and broad outlook," she says, giving an example. "We have a 73 year old cancer survivor who lives alone with husband. She drives around and goes to cancer support meetings to counsel patients and relatives, which is commendable." The members are from all walks of life, from former servicemen, army wives, former government employees to housewives. People join for various reasons. "There's a lady who doesn't know how to read or write and has joined to improve her life skills. There's a couple who come because the gentleman is an introvert and his wife would like him to meet people and stay happy."
The monthly membership at the centre covers all the recreational facilities offered as well as one monthly outing that could be a picnic, movie or play. Samvedna's Home Care service aims at providing intellectual companionship, where volunteers can spend time with seniors, talk to them and engage them in activities. Their general wellbeing is also looked after in terms of runing errands, supervising housekeeping jobs like plumbing or repairs. They also offer tech support, wherein seniors can learn computers or how to use email or video chat services.
Samvedna's future plans include having a team of doctors to do at home visits once a month for general health checkup and setting up a helpline for their members, to deal with any inquiry. Samvedna's Home Care services come as a package and depending on the service required could be anything from Rs.10,000 to Rs. 15,000 a month.
You can contact Samvedna Senior Care at:
G-7, Sushant Lok, Phase -3, Sector 57, Gurgaon, 122002
Tel: 098100 42947
091 98184 21446
Email: contact@samvednacare.com
Website
www.samvednacare.com
(All images courtesy Samvedna Senior Activity Centre)
— By Reshmi Chakraborty
About Author