Kickstart your Second Career with our Workshop
Presenting the SECOND INNINGS TRANSITION PROGRAMME by Unfold in association with Silver Talkies on December 12, 2015. A great programme for retirees thinking of a second career.
One of the most frequent queries we get on Silver Talkies is about jobs and opportunities available for retirees. While many are looking at the option of additional income, a large number of retirees are keen on utilising their time and skill in a gainful, productive manner. Our first Second Career Transition Program, conducted with Unfold Consulting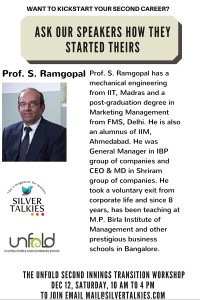 on July 18, highlighted not just this need but also the interest among retirees in exploring new avenues, especially in areas like academics, the social sector and entrepreneurship.
We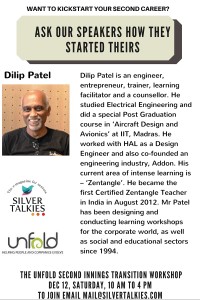 are happy to announce the next SECOND CAREER TRANSITION WORKSHOP on December 12, 2015, from 10 am to 4 pm, at United Theological College, Bangalore. Registrations are on now. The workshop is priced at Rs 2500, including lunch.
The speakers at the workshop will highlight the best way of transitioning into a second career with examples from their own illustrious innings.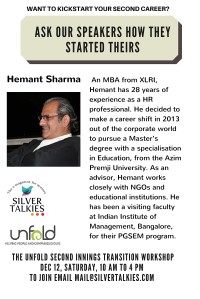 Here' what some of the participants at our last workshop had to say:
TR Rengaswami: The workshop was a good experience that helped me understand the requirements in case of self employment, social sector and networking.
Jayakar R: It was the first step towards creating a second innings for himself.
Ganesh S: A deep insight into the social sector and the different levels of opportunity available within it.
To book a seat at the workshop, mail us on mail@silvertalkies.com or email prarthana@unfold-consulting.com 
To know more about the workshop and its key takeaways, do read a report on our last workshop here:https://silvertalkies.com/kickstarting-second-career-retire…/
About Author