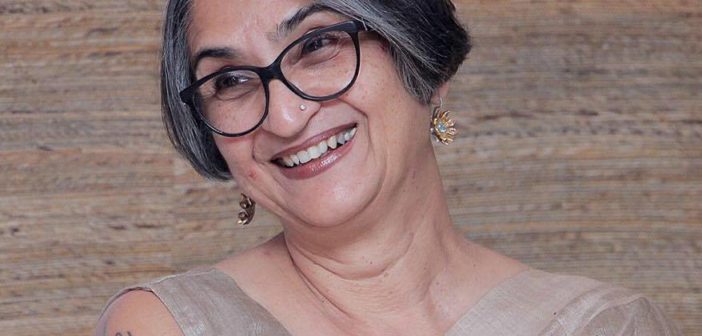 Second Innings Stories: Finding Your Dream Job In Your 50's
Finding a vocation you love late in life can be a challenge but it can also be the best thing that happened to you. In our new series, Second Innings Stories, we speak to people who moved into very different roles in and around 50 years of age and are living examples of following their passion. 
It's never too late to start a Second Innings in life when it comes to work. It could be a professional role you had been waiting for your entire life; a newly learnt hobby you decided to turn into a profession or an inherent skill you thought of using for the greater good. Whatever your second innings may be, there has to be passion behind it and no thought of age ever coming in the way. We start this series with Viji Venkatesh, Region Head, India and South Asia, Max Foundation; a social media whiz and to our minds, a complete fashion icon who wears her 66 years with pride and grace and her own inimitable style. Over to Viji!
Starting My Second Innings
I was 50 years old when I joined The Max Foundation and this is my sixteenth year with them. I began working when I was 35 and a mother of two. I had been a full-time homemaker until then. I have a BA in English Literature. Before joining Max, I had been working with another non-profit organization working on cancer issues for about 13 years. In between these two jobs, I'd also managed a bookstore in Mumbai and had worked with an independent TV company in Delhi helping them produce a weekly show for Doordarshan on the Indian Diaspora. I took a break from cancer, never realizing I would come back to it in just two years in such a big and all-consuming manner!
What My Work Involves
I am Region Head for India and South Asia. I have a team of 18 people working with me. I'm actually switched on 24×7 because I have to be available to my patients at all times and also because I work on international timelines. It would be accurate to say I have a 14-hour work day. I travel a lot as I manage all the countries in the region and have patient support groups in different Indian cities. This is apart from visiting hospitals, training coordinators, networking with physicians, presenting in conferences and so on.
Slipping Into My New Role
My role in Max Foundation was to set up a patient access program like none other. The donation of a drug for a chronic blood malignancy that had to be taken lifelong keeping the life-limiting disease at bay. It was an unprecedented program that meant setting up guidelines, implementing them, establishing relationships with various stakeholders like physicians and industry partners, finding, training and retaining a team, establishing and strengthening budgets and accounting processes – the whole works. And most importantly, being there for the rapidly increasing number of patients newly diagnosed and helping them and their families cope with the trauma; ensuring they were compliant and promoting good adherence. I had to find skills within myself and develop competencies to do this. It was a challenge but one I met headlong.
New Responsibilities At An Older Age
It's important to keep learning. Age has no place here but it is important to be fit both physically and mentally. Be ready and willing to learn every day. There are no external factors and it is all inside you. You need to have the hunger and growing old does not mean you stop being hungry. I think it is important to know, recognise and appreciate one's own strengths. And to accept that there is no perfect job waiting for you. You go out there and make it yours and perfect. Confidence in oneself and the desire to better oneself and absence of fear of failure are important.
Bridging The Generation Gap At Work
I work with a young team. I never call myself their boss. Team leader is more like it. I make sure they know I am also learning alongside them. They are involved in most decision-making processes and know they have my respect and I have their backs covered. A non-profit does not mean non-professional. I can be a very demanding task master to my team but the rewards (for them) are many.
They are receiving training in so many facets of work life and accumulating several skills that are going to be great assets to them.
Is there something I have consciously worked on while taking on a new role in my older years? Yes. My physical fitness. Keeping up with technology. Embracing all new fads. Learning to use all tools at my disposal. Making social media work. Never hiding my age but wearing it well. Being well-groomed and being well read and informed.
What Age And Experience Brings To The Work Table

Being older has so many advantages, yes. But the trick is not to use age as a crutch but a multi-purpose tool. I think my age gave me great confidence and advantage in my new role. I made sure I did not get pushed around. I was never the old woman but the older person if you know what I mean. And I did not try to look or behave or dress younger. I always wear all signs of ageing with great pride, both physically and otherwise.
How Has Finding My Dream Job At A Later Age Made A Difference
I am living my dream job because I created it for myself and therefore I am also responsible for it. This job has allowed me to bring my inner me out there into the open. I am my best friend and my favourite companion. To be at ease with oneself is the greatest strength. People see you the way you see yourself. I see myself as a professional who will never compromise on delivery and performance. At home, at work, my job has allowed me to be.
Liked this story? Read more Second Innings stories here: Sarla Mukund's Volunteering Story
Featured image courtesy: Mayur Chandranee Photography, Bangalore. Taken at a Chai For Cancer event hosted by Silver Talkies in Bangalore on March 24, 2017.
About Author