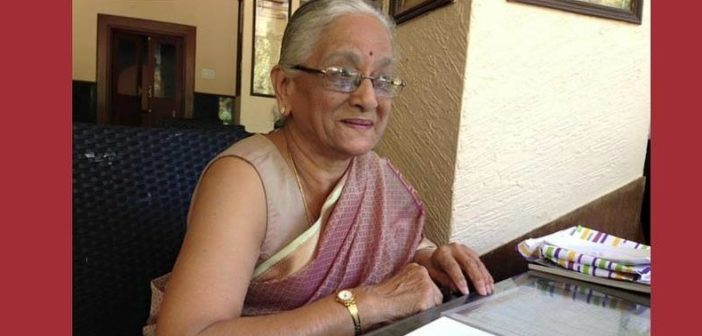 Second Innings Stories: Working Towards A Cause
Sarla Mukund, an employee with Dignity Foundation, has always believed in working for a cause. At 77, she works eight hour days and is never caught without her gentle manner and pleasant smile. We find out how a Second Innings evolved for Ms Mukund.
Like many others Bangaloreans at work, Sarla Mukund clocks in at least eight hour work days. Unlike many other Bangaloreans at work though, the affable Ms Mukund is only 77 years old. The septuagenarian is an employee of Dignity Foundation, a non profit organization working for senior citizens and one of the best examples of age never coming in the way of what she wanted to do. Here's the story of her second innings:
I joined Dignity Foundation at the age of 68. But I've had work experience prior to that as well. Before joining Dignity, we (me and some relatives) even got the necessary permissions and started a school and Pre-University College. I worked there as a librarian and administrator for 17 years and finally resigned because of a change of residence.
Following My Passion In The Silver Years
After my husband's death, I decided not to stay ideal and do something with my time. I have always loved to volunteer for social causes and joined an NGO called iVolunteer. I was awarded Star Volunteer in this organization and was also judged to be among the 10 best volunteers in India. In 2008, I applied for an opening at Dignity Foundation for volunteers. My job was to look after an elderly gentleman who had dementia. He was a very sweet gentleman, talkative, humorous, knowledgeable and looking after him helped me get an insight into problems such as these.
A New Role In The Silver Years
In 2011, I joined Dignity Foundation as full-time staff. I was given the responsibility of preparing Senior Citizen Cards for people above 60 years of age. I had no apprehensions in taking up this role. In fact, I preferred taking up a desk job as I was getting older. My role is like that of a secretary and involves a mix of things. I work for more than eight hours in Dignity Foundation. My energy comes from the fact that I enjoy helping others. The other upside has been that through this role, I have had the opportunity of meeting all kinds of people — young and old.
Bridging The Gap
I don't work with a younger team. Most people I work with are above 50. But I also have a big group of friends across ages from my NGO days and don't find any generation gap with them. In fact, I find that younger people love to mix with older citizens.
How Has The Job Made A Difference To My Life
Working at an older age has certainly made a difference to my life. I worked as a volunteer earlier and have always enjoyed helping people. Now I'm at a desk job but I'm still helping people essentially. I am more relaxed and despite my work, do have a lot of free time. The biggest difference has been the exposure. Working and interacting with people across ages, some closer to my age, some younger, gives me a lot of joy.
Should Older People Take Up A Second Innings
Yes, I would urge older people to think of a second innings. It could be a job or a volunteering option that keeps them occupied. Volunteering especially is not difficult to do if you are open to the idea. When you become older, you have a lot of time in your hands. It can be used to help others. Seniors can go to an old age home, talk to the residents there, play some games with them, perhaps gather their friends together and take senior residents of old age homes on a picnic. You can also choose to volunteer with younger children from economically weaker backgrounds or orphaned children. You can volunteer to teach them art and craft, escort them to a park outing, organise birthday celebrations…the list can be endless.
There is so much one can do when there is time on hand. I believe in the saying: Volunteers don't get paid, not because they are worthless but because they are priceless.
To read other stories in the Second Innings Series, click here: Viji Venkatesh's story
About Author