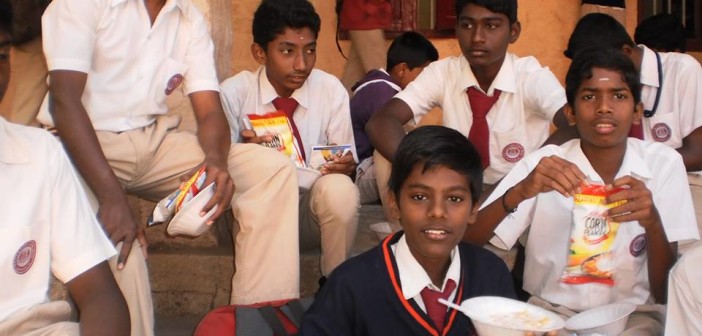 Senior Citizens Bangalore – Lighting Up Lives
This Diwali, we bring you the story of a group of senior citizens in Bangalore who are working towards enriching the lives of students from poorer sections of the society. Meet Senior Citizen's Bangalore and the inspiring range of work they do to enable this.
It all started with a few pair of shoes. Four retired men sitting together and discussing how they could contribute to the society, suddenly saw a group of schoolchildren pass by barefeet and decided to give shoes to them. One thing led to another and soon they were helping out local schools in looking after the children's health, nutritional and academic needs and had formed an NGO called Senior Citizen's Bangalore. Founded in 2001, this group of senior citizens who wish to give back to society, has today grown from four founding members to almost 70 members and more. Senior Citizen's Bangalore (SCB) is located in Indiranagar, Bangalore. Their objective is social work for the underprivileged and the members have done exemplary work to achieve that.
Widening Opportunities
Today almost 4000 children and young adults are being helped by the group, which supports 14 primary and upper primary schools. Thirteen of these are in and around Bangalore and one is in Hoskote. They also support three PU colleges and 1 degree college, apart from running a skill development program and supporting a home for destitutes in Hennur.
"Our recent additions include professional courses and post graduation," says Chairman BS Lamba, whom we meet along with Shyam Agarwal, the Vice Chairman. Dr VA Shashtri is the secretary. "The addition of colleges is because we found out our students were doing extremely well and they needed a support program financially and also mentoring for further courses." Mr Lamba adds that some students have gone into professional courses, including engineering.
In keeping with SCB's aim for their students to have better and brighter careers, they have also opened a Skill Development Centre, in association with Unnati Foundation which was offering basic skill development courses already at RBANMS School premises on Dickenson Road, Bangalore. "One of our members, 93 year old Mr Parthasarathy, was a founder member of Unnati. He proposed the idea," Mr Lamba adds. The Skill Development Centre, which started in 2015, offers a 50 day soft skills training program for students at PU level and above. The training is imparted by a professional soft skills trainer, along with support from SCB member Arun Sinha, a personal executive trainer himself. Placements are taken care of by SCB and the last batch of almost 85 students were placed at salary levels of almost Rs 30,000. What's noteworthy is that the course is a free one, envisioned as an industry need by the SCB members, having been at the helm of various fields themselves. "We are looking at future industry requirements," Mr Lamba and Mr Agarwal add.
In addition to skill development, a huge chunk of the group's funds are kept aside for scholarships. "Our budget is 15-16 lakhs for scholarships," Mr Lamba adds. The introduction of scholarships has brought about a huge improvement in higher education especially among students in rural areas.
"In 2012, we gave scholarships for the first time in the school we support in Hoskote Taluk. We gave it to five girls. Today, one of them is doing engineering and the other is doing final year of BCA," Mr Agarwal informs. "This year scholarships have been given to 106 girls, doing PU 1 to Degree 3. Their average result is around 80%."
His and the group's dream is to see at least 3 girls become professionals every year. "This year, out of 15 girls appearing from the rural area for PU 2, one has gone for medical, three have joined engineering, one has joined CA, 2 have taken BSc cardiac care and one has joined Visual Arts," he adds with justifiable pride.
Generous Hearts
Scholarship amounts are collected via member contributions and also corporate support. There are scholarships which were instituted by members, such as a Post-grad Math scholarship instituted by their late member Col. Murthy. Three members have also funded a 45 lakh corpus for scholarships.
It's interesting to see how the group has delved into their own experiences in school and life to improve things for the children they support. Mr Agarwal has come up with an award for Most Improved Student to encourage slow learners. "In a school, the teachers only know the top 10 students. The award is for those who are at the bottom of the class but have improved the maximum. Ever since we started it we have seen two advantages: The bottom of the class has come up and the teachers have come to know the weaker students better," he tells us.
The group has also worked towards organising summer workshops in computers, tailoring and beautician courses for girls from RBANMS High School this year. "The aim of the 6 weeks program was to enable children to learn a skill during the holidays," says Mr Lamba, adding that some of the girls now work as part time beauticians and earn enough during weddings and festivals in the areas they live in.
It's impossible to write down every little thoughtful thing that the SCB group does to empower, educate and enable children from underprivileged backgrounds. Their aim is wholesome development and with each year, the members of this group have incorporated programs that has added to that.
Holistic Development
Once they started working with children way back in 2001, the members realised that many of the children came hungry to school. They have been instrumental in facilitating an Akshay Patra Mid Day Meal scheme through which the children are also provided breakfast. "It's a nutritious mix of Ragi and jaggery," said their former chairman Bharat Sarronwala, when Silver Talkies met SCB for the first time many years ago. Introducing the breakfast resulted in not only an improvement in the health of the children but also in their attendance. Now the group has gone a step further and introduced an award for maximum attendance as well!
The group's different members and their families contribute in several ways. One member visited a school aided by the group and personally designed 60 benches for children in the classrooms. Another donated an office space absolutely rent free. Some members have spearheaded educational campaigns, while others have lobbied for corporate sponsorships and got their former employers to donate generously. Organisations like Kelloggs, Sankara Netralaya, Chinmaya Mission Hospital and Dettol among others have helped towards the cause by providing food and health check ups. The group consists of an executive committee of 15 members, most of whom are extremely active. They meet once a month, apart from get togethers and group meets. The membership fee is Rs 5,000 every year with income tax exemption under section 80G of the Income Tax Act of India.
With an average age of 75 plus years, it's amazing to see the extent of community service and social empowerment that the members of Senior Citizen's Bangalore have been able to achieve since their inception. Each of them have retired from distinguished careers, with many of them having defence services backgrounds. While the need to give back something to society keeps them going, it also fosters a sense of fellowship they derive from each other. With scholarships awarded every year and more in the offing, skill building programs, nutritious food for children, computer training, medical checkups and other help, members of Senior Citizens Bangalore have dipped into both their pockets and hearts to make the lives of students from poorer backgrounds better. Theirs is an example worth emulating many times over.
SCB members are now looking for volunteers to help educate children and support them in their cause. To know more about their work, we would request you to visit http://www.seniorcitizensblr.com/index.html
About Author