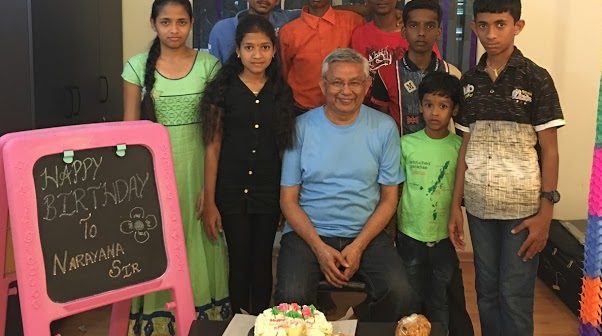 Why This 'Tuition Uncle' Should Be An Example For Senior Citizens Wishing To Volunteer
'Tuition uncle' CS Narayanan has been teaching underprivileged children in his neighbourhood. His is an example of a senior citizen volunteering and using his skill and expertise for the greater good. 
On his 74th birthday in November this year, CS Narayanan got a wonderful surprise party. It was thrown for him by his students, children from the slums near his South Bangalore home, whom 'Tuition Uncle' Narayanan has been teaching for almost 5 years. "I was touched but told them they don't need to do anything like this to make me happy. Their good results and success is what I want to see," says Narayanan who shares a close connection with his ex-students and the seven he currently teaches.
Breaking the cycle of poverty and illiteracy, that's what Narayanan, a Radiation Physicist who practiced in the US for years, had always wanted to do. His vocation in the retired years is a testimony to that. Narayanan teaches English and Math to children from underprivileged backgrounds. Most of them are children of maids and drivers who work in the South Bangalore condominium where he lives with his wife. It's amazing to see the changes Narayanan has brought about in these children's lives (and also his, he is quick to add) with what he does.
Narayanan moved to USA in 1971 and went on to do his MS, specializing in Medical Radiation applicable to Cancer treatment. He retired in 2012 and returned to India after almost 40 years overseas. Once here, Narayanan wanted to give something back to the society by sharing his skill. Teaching was something that he liked doing. He approached hospitals offering to share his expertise but bureaucratic hurdles ensured that it came to nothing. It was then that he met Usha Rajagopalan, author and chairperson of the Puttenahalli Neighbourhood Lake Improvement Trust on his morning walk around the lake in his neighbourhood. It was a perfect fit. Rajagopalan was looking for a volunteer to teach the children from the slum adjoining the lake and Narayanan had time on hand and a desire to do something meaningful with it.
"I felt that there was a need to educate our young children who have no support mechanism at home. I thought if I could help them and motivate them to study, they could become somebody in the future and stand on their own," he says. There was only one problem though. After years in the US, Narayanan thought he spoke English with a "funny US accent," one he felt the children might find difficult to understand.
Five years later, the American accent hasn't proven to be a roadblock.
Narayanan started classes at the tiny gazebo next to the lake with two girls. The news caught on soon enough and his students increased. Though his classes at the lake have stopped now, Narayanan teaches a large number of students from his home in South Bangalore. It's a path he didn't foresee taking but is one that he is immensely connected to: "I feel a sense of responsibility towards these children."
Narayanan's volunteering effort has not been without its challenges.
"The big hurdle has been the fact that all the children go to different schools and have different books. The students range from Grade 5 to Grade 10 and with different books to teach different children, it becomes a problem," he says. The other big problem is that Narayanan does not speak Kannada, the local language in Bangalore and speaks English with a mixed American accent that can sometimes become hard for the children to follow, as most are not well versed in English.
Narayanan, a man of science, has worked around the challenge by getting technology to come to his rescue. "I use my iPad to teach and use YouTube and Google heavily. I use YouTube lessons and also lessons from websites like Khan Academy. Technological resources deviate from the old-fashioned way of rote learning. When you see me with my iPad and iPhone with a bunch of kids, we are not just playing but learning!
Narayanan has also invested in the students in different ways and says it has been possible with the support of his family. "The children often have food with us, if their classes run on late," he says, praising his wife Kamala, who always asks them to stay on after class and eat. He also buys them English to Kannada and Kannada to English dictionaries. "They have to select 10 words and write 10 sentences every day. I give them topics to write and since they are weak in English I also help them with Social studies and Science, the text books being in English."
Help and support has poured in for Narayanan's work from friends in USA and also some residents of his apartment. While he arranged for two laptops and some funds through his friends overseas for the students, some local residents help Narayanan each year with donations of books, school bags and some money when he sends out an appeal. With his landlord's permission, he has also rented out the garage allocated to him in the building where he lives and uses the money collected for the children's education.
Despite his age, Narayanan puts in a lot of hard work every day. "I teach from 4.30 PM to 8.30 PM every day and also on weekends. Since these students are from different schools and grades, I have to run different sessions. Weekends are always busy." He travels to US every year but is mindful of matching his travel dates with his students' vacation time. "Since I have taken on the responsibility to educate them, I also need to fulfill it," he says.
His hard work has not been without rewards. The two students he started teaching with have gone on to study in college, with one doing Computer Science and the other studying Commerce. There have been "success stories" too. "Of these, two siblings stand out. Their mother is employed in our house as a cook. Her children were studying in a Kannada medium school in the village and she brought them here (Bangalore) and asked me to teach them. They did not know a word of English. Now they are able to converse in English and doing well. The girl is doing her Second Year PUC (Pre-university) and the boy is in Grade 10. He has got scholarships and some monetary award by writing an exam I helped him prepare for."
Narayanan feels such success stories are because of the students themselves, who are motivated to learn and do well, despite difficult circumstances that often prevail in their homes. "It is very enriching and rewarding to see them progress," he says, adding that he does weed out students who are not really interested and keep missing class.
One of the best parts of his work with students has been getting a chance to refresh his knowledge. Narayanan does a lot of research online to understand certain concepts as the method of education is very different from the time when he studied. He hasn't stopped being a student himself and perhaps this is the attribute that endears him to those he teaches.
Narayanan was recently honoured by the Millennium Elders' Forum (an active network of senior citizens in the neighbourhood) with the MEF Unsung Heroes Award 2017. While rewards and gratification have come in the form of his students doing well, what makes Tuition uncle Narayanan's story stand out is the amount of effort, responsibility and initiative he has put into his volunteering activity to ensure he is able to teach these children the right way.
Whether it is getting them dictionaries, organising computers or helping them write an exam, Narayanan's idea is to see his students through their educational journey. He also thinks knowledge and experience should be put to use. "My advice to retirees would be to make use of the knowledge and experience you have gained during your productive years and help others who need a helping hand. It will be the most satisfying thing you ever did."
About Author