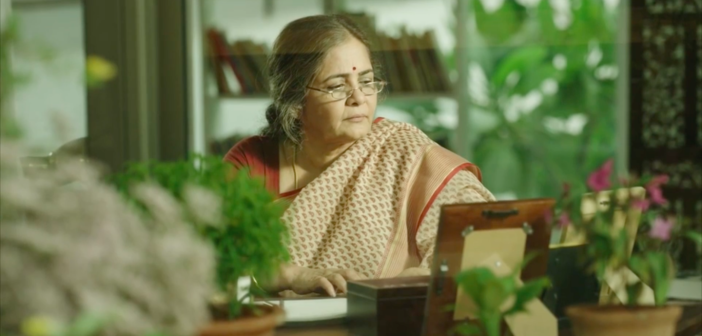 Senior Models: First Takes At Fifty!
As a teacher in Dubai, modelling was never a career option for Rama Srinivasan. She spent 20 years teaching and moulding young students. And when she did retire nearly a decade ago, she returned to her hometown, Bangalore to lead a quiet life with her husband. Then a chance offer from her daughter in law's friend's production company opened up a whole new world for her. "They asked me to audition for a television commercial and I said NO," recalls Srinivasan, now 62 years old. "I just didn't know what to do in an audition." Facing the camera was the next big worry. She was asked to introduce herself and speak in English for a Malayalam television commercial that was to be dubbed later. The commercial for a matrimonial site, M4 Matrimony, had her as a girl's mother looking for a prospective son-in- law.
"It sounded all too simple but when I faced the camera I froze, I was too astonished to say anything," laughs Srinivasan, who was finally selected for the ad. Just when she thought she was comfortable with the camera, the reality hit her on the actual day of shooting. "I froze at the sight and size of the production unit; the room was swarming with over 25 odd people comprising spot boys, camera men, makeup artists, etc. I was then shocked to see who I was shooting for. Amal Neerad (well known cinematographer and director) was too big a name for me to even imagine I would be working with!" says Srinivasan who has since then shot for the Himalaya range of products and Kalyan Jewels, and is a popular senior model.
A New Innings 
Like children, seniors too appeal well on screen and are capable of selling anything from insurance to beauty products. You could be the face on a catalogue, television or then print advertising or be even walking the ramp. A designer in New York got three 70 year olds to walk the ramp recently, while closer home in neighbouring China, actor Wang Deshun, 80, set the ramp on fire at the China Fashion Week last year. What with silver haired men and women selling everything from wrinkle creams to fitness clubs internationally, India too has seen a surge in demand for senior models in the recent past.
It's been nine years and Srinivasan has done over 25 commercials and a whole lot of auditions ever since. She has been the face for the Unilever brand Indulekha and has also acted in several films like Charlie and Pirav, both in Malayalam. "It helps to be a known face. The visibility is important but your face has to suit the requirement also," she says, explaining why there are numerous auditions to go through before bagging the job. One has to keep in mind so many things. First, one has to be comfortable in front of the camera and Srinivasan claims it is not everybody's cup of tea. "You cannot be camera shy and also need to understand that a lot happens from time of the audition right to the final shoot. There are a whole lot of people who are involved, right from the client, the agency, the director and the camera guy, after you have gone past the casting agency, that is."
All this, however, came easy for 90 year old Vidyadhar Karmarkar who was already a known name in Marathi theatre when he started modelling. You can spot him in ads for Helpage India and Crack Jack biscuits. This Mumbaikar is the oldest living television actor, and has, besides working in television serials, also done films like I (a Tamil film) with director Shankar and more recent, Ritesh Batra's The Lunchbox. "Acting has been a passion and I am happy to be alive doing what I love doing most," says Karmarkar who retired from the Central Telegraph office in 1984. In his free time he acted as well as directed plays and was also a known puppeteer. "I started modelling at the age of 82," says the pensioner who has ever since done over 125 commercials besides a host of Hindi and other regional language films. Theatre stays his first love but it's his screen presence that makes him a known face and gives him more visibility. Money is incidental, says Karmarkar, who claims that he never got into the line to make money. The perks come when the ad one has shot for gets an award or two, like his first ad for Helpage India did.
Like him the 60 plus Sunita Shirole has been a household face because of her roles in several television serials. Yet she too needs to audition every time she has to get work, and it's the same with films, television serials or commercials. "The times have changed. Earlier we used to get work through word of mouth, now audition plays a very important role."
The Way It Works
If auditions are common, so are payment delays. "It is also a fact that kids and seniors are not paid at par with the other models," says Kavish Sinha, a casting agent who runs his own firm called On My Kayroll. "Let's face it, modelling is for the upwardly mobile and independent seniors. Besides it is amazing to work with them as they are so young at heart and so vibrant and dynamic." Sinha recently did the casting for an upcoming Mcdonald ad which required him to get models in the age group between 70 and 90 years. "On the day of the auditions, they actually come and line up and go through the entire process very patiently," says Sinha who has even cast his own mother for an ad when he found she suited the role. "Of course in the process they have fun and make a lot of friends amongst themselves."
In reality most of the seniors come with the hope to be seen on screen, admits Sinha. It can sometimes be a challenge to bring their talent out as many may not have faced the camera before. The seniors get paid based on experience, but the sad reality is that this age space is not really valued high when it comes to financial compensation and is based on subject demand. "It cannot be the sole career option for seniors, they should look at it more as an opportunity to go out and do something," Sinha warns.
The good news for senior models? Consumers are increasingly being wooed with emotions. "The fact is seniors also work as emotional hooks and are more convincing since this age group has the capability to bring to the fore a whole range of life experiences, a treasure of emotions that can portray abandonment, joy, sorrow, happiness, paranoia in a single shot," says Sinha.
Putting across examples of ads about investment securities or security against burglary etc, Sinha says a senior citizen will emote far better than any other age group because they understand the gist and need not act to show their anxiety or emotional upheaval connected to such situations. Also in ads like the MTR Upma or then the more recent British Airways ad, only a grandmother can bring out the empathy that is needed in such a situation. "This generation understands the value of family ties and relationships and that get easily gets translated to the screen when they emote," says Sinha who recently cast for the QUED family planning ad. "The casting eventually is a blend of both age and emotion."
That should explain Shirole's presence in the recent Sunny Leone ad on No smoking. "It is a fact that it is difficult to get ad films since the competition is very high. It is entirely dependent on what the client wants and many a times they prefer to give the opportunity to their own people," says the actress who was a full time employee at Sreeram Fertilizers and Chemicals. Her career as an actor took off really after retirement and it was need based because of the financial setback in her family. She turned the adversity into an opportunity and strived hard to keep her family going. She has done several roles in television serials and commercials. "We do have to wait but they treat you with respect. It all depends on your attitude. I don't feel that I am old," says the chirpy Shirole. When asked to compare between ad films, serials and cinema, Shirole admits, "the atmosphere is very good in commercial shoots and the payment is instant, and it is over in a day, or maybe two."
For Bangalore's Manjul Menon, 54, it was a chance event that got her first and only break. "It had always been my dream to face the camera at least once and it did happen but quite serendipitously," she recalls. "I run a clothing related social enterprise called Bead and had a stall at an event when someone came up to me and asked me if I would like to model." She sent in her photographs but it was a while before she bagged the ad for Housejoy, a local startup. She was given a script and asked to send a video of her reading it. She was then called for a screen test. "On the first day of the shoot, I reported for work at the designated remote location that had no cell signal. There was a lot of make up to be done, and most of my shots took several takes. And since I refused to colour my hair (she has beautiful grey hair) for the final scene, we actually used marmalade on my hair to show the colour change!" In the final ad, Menon is shown to be a woman in her early seventies or late sixties when in real life she is not even 55. That is what comprises the make belief world of advertisements. Menon now hopes she will be able to continue with more assignments as and when they come her way.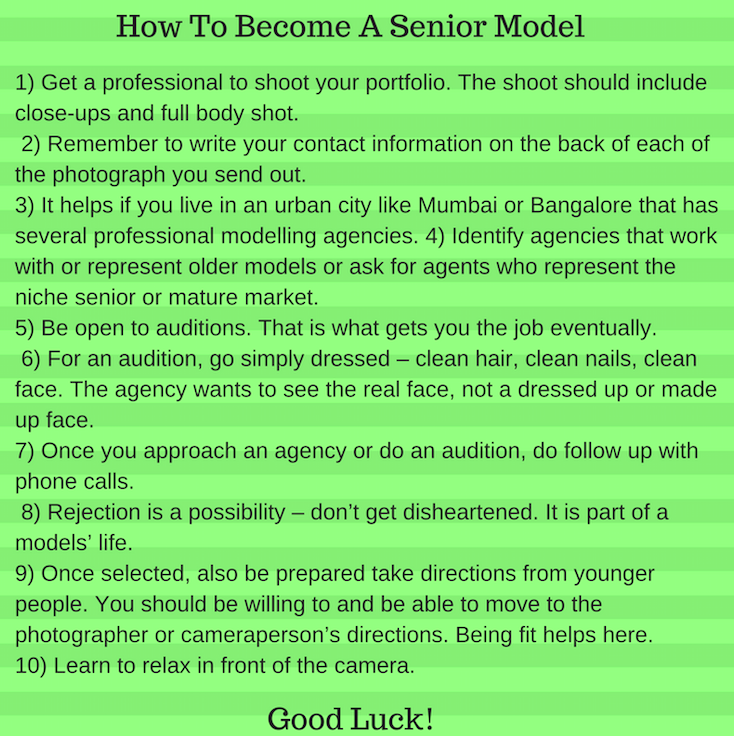 Not An Easy Road
It may have its share of fame, fun and even financial benefits but modelling or acting is not an easy path to go down. If modelling is a path seniors wish to try out, it all really depends on how committed you are with your time and if you are alright with waiting for your chance. Unlike any other work place, there is no time limit and you can expect hours of waiting around and even shooting for something that may be axed on the editing table. Also, the payment is never what you want, it is the visibility that gives satisfaction, says Srinivasan.
But the upsides are great too! "Looking back now I feel I was so naive," says Srinivasan. "It only gets better and better. When I first started, I took over five hours to shoot for my first ad, today I do the same within an hour or two. I have begun to enjoy my work. People respect you for your age and this has by far been the most colourful work experience. I have never regretted it."
About Author