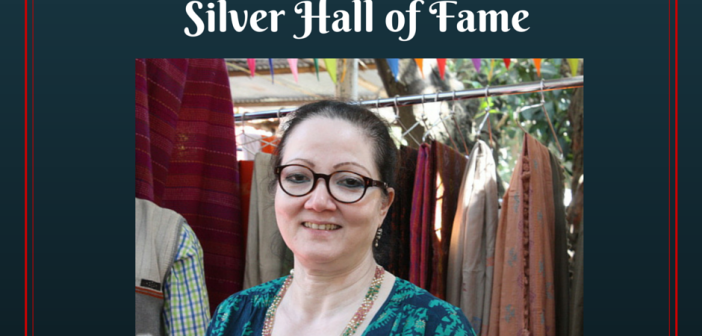 Shabnam Ramaswamy, Empowering Women
This month the honour goes to Shabnam Ramaswamy.We met her when she showcased her organization's fabulous collection of Kantha at A Hundred Hands. This super vibrant, spirited senior's life could be an inspiration to many. She is the force behind the project Street Survivor's India, based in Katna, a small village in West Bengal's Murshidabad district. SSI focuses on education, justice for abandoned or ill treated women and runs an empowerment project throughkatna's kantha, which makes use of the inherent kantha (a traditional Bengali form of threadwork) making skills of rural women and generates not just income for these women but also empowerment. Shabnam's latest project is the Jagriti Computer Training Centre, where educated unemployed rural youth are trained in job oriented courses to create sustainable livelihoods and employment opportunities. More power to this firebrand!
Silver Talkies presented a voucher for audio books sponsored by Reado.com to Shabnam Ramaswamy.
About Author