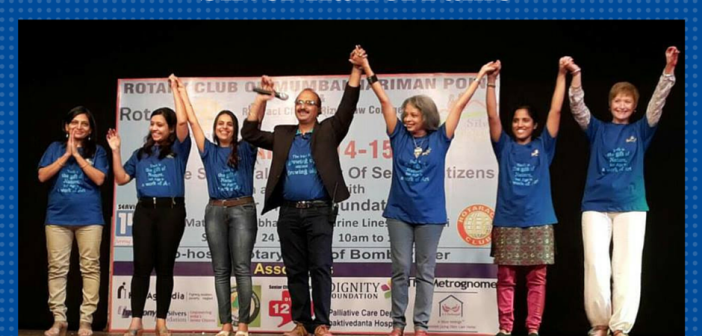 Silver Innings, Supporting Elders
Every month we choose an inspiring senior citizen or an organisation working with them for our initiative Silver Hall of Fame. It's our small way of honouring those who defy their age in many ways and recognising those who work towards bringing about a change in a much neglected area. This month we chose the multifaceted Mumbai organisation Silver Innings, a pioneer in many avenues when it comes to working with seniors. Silver Innings is a social enterprise (for profit), formed in April 2008 to provide need-based services to elders and their family members, along with a dedicated and comprehensive website for senior citizens.
According to the founders: "The social enterprise opened a platform for discussing issues regarding the elderly and soon a need for an NGO (Not For Profit) emerged. Taking on this need, Silver Inning Foundation was set up to address the micro and macro level issues of the elderly to create an elder friendly world. In Aug 2013, we started the one of its kind 24×7 assisted living elder care home named A1 Snehanjali at Nalasopara West in Mumbai. In Feb 2014, we started our exclusive referal search portal 'Silver Innings Helpline', filling up a long felt need."
The services provided by #SilverInnings include Dementia & Alzheimer's Counselling and Training of caregivers, Elder Helpline, Matrimonial & Companionship, Talent Show, Training and Education, Counselling, Volunteering, Workshops & Talks, Dementia Management Services, Missing Seniors Alert, Inter-generational Programs, Networking, Advocacy & even a Youth Football Club!
Silver Innings has also featured in a 'Satyamev Jayate' 2012 episode on senior citizens and in 2011, got accredited as an NGO for Open Ended Working Group on Ageing (OEWGA) at UN, NYC.
Their mission? Working towards creating an elder friendly world where ageing becomes a positive and rewarding experience.
you can visit them on www.silverinnings.com.

Silver Talkies presented a voucher for audio books sponsored by Reado.com to them.
About Author