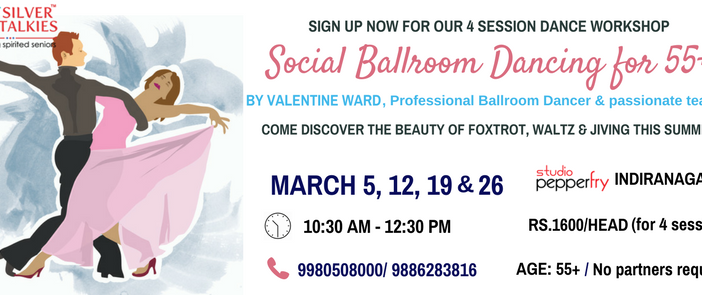 #Silver Talkies Events: Social Ballroom Dancing For 55+
If you've always wanted to learn how to dance now is your chance. Join our upcoming workshop Social Ballroom Dancing For 55+
Valentine Ward, Bangalore's most loved Professional ballroom dancer and a passionate teacher is here to show you that you are never too old to dance to a new tune.
So if you love the idea of twirling with confidence, learning something new, and above all enjoying yourself, our 4 session Social Ballroom Dance for 55+ is your answer.
This dance workshop is specially tailored for the young at heart who have never learned to dance before. Regular exercise is important to staying healthy, regardless of your age. If you're a senior, ballroom dancing is a great way to get fit and socialize
Ballroom dancing is beautiful to watch and even more beautiful to learn. So sign up now!
1. WHAT TO WEAR
For a dance class, it's appropriate to wear something comfortable and easy to move in. As far as shoes go, make sure they're clean and comfy. Shoes with thin, smooth soles are great for dancing.
2. WHAT TO BRING
All you need for your first ballroom dance class is yourself and an open mind.
3. MOVE THOSE FEET!
As long as you are able to easily move around with no case of injuries or body pain you are good to go. You're in a safe space and we want to see you participating and having fun!
4. DON'T BE SHY, BE SOCIAL
Ballroom dancing is a social dance form and that means, you will be dancing with people! To help you learn better, your instructor may dance with you too. Don't be afraid of dancing with an instructor or having him correct you. In a group class setting, most likely you'll be asked to trade partners and dance with someone new. It is all part of the experience and that's how you get better at leading and/or following. So don't be afraid of practicing with a new partner. You might even make a new friend!
5. HAVE FUN!
Need we say more? ☺
WORKSHOP DETAILS
WHEN: March 5, 12, 19 & 26 (Mondays) 10:30 AM to 12:30 PM
WHERE: Studio Pepperfry, Indiranagar
FOR WHOM: Anyone who is 55+ and loves to have a good time
COST: Rs.1600/head (for 4 classes)
TO REGISTER: Call 9980508000 or 9886283816


About Author