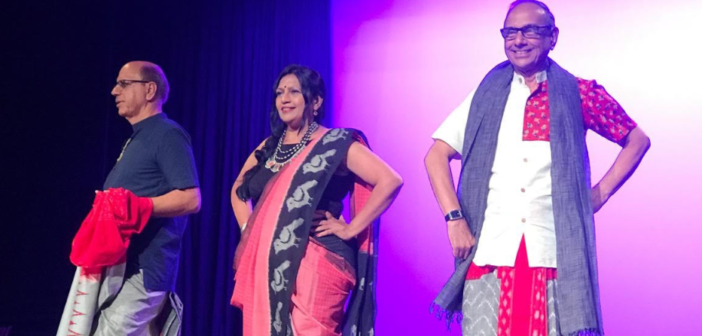 Silver Talkies' LET'S GET SOCIAL Celebrates Active Ageing And Young-Spirited Seniors on November 5
From senior dudes and divas rocking the ramp to active senior achievers sharing their awe-inspiring experiences and a musical performance by vibrant young musicians for young-at-heart older adults, Silver Talkies celebrated active ageing with 'Let's Get Social,' at Bangalore International Centre on November 5.
The evening was full of surprises with young-spirited 'seenagers' setting the ramp on fire and twirling to some foot-tapping music. Loaded with energy, excitement, laughter, dance, conversation, fashion show and soul-healing music, the evening brought forth the charisma of silver years and showed #agenobar in action.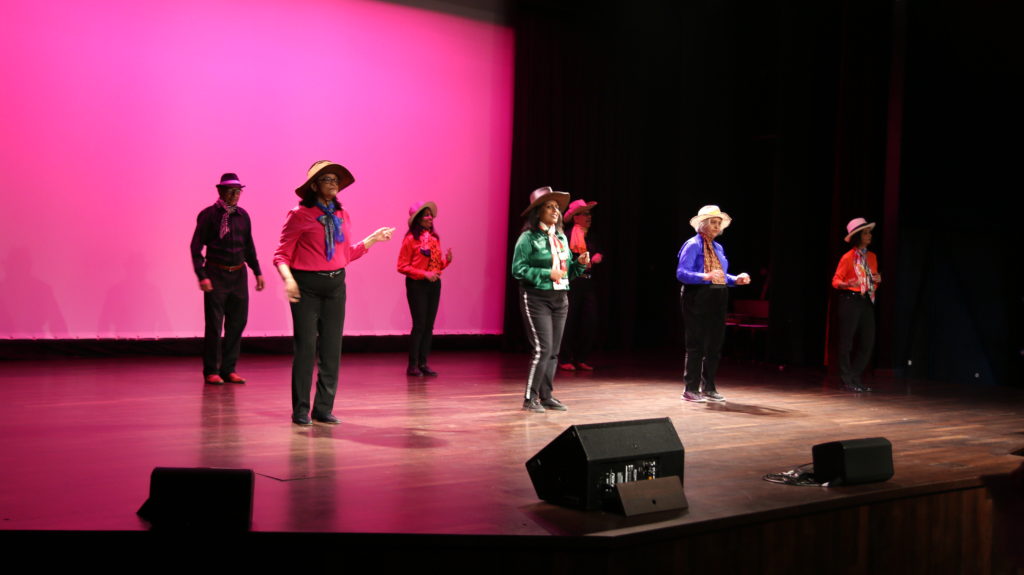 The gala evening kicked-off with 'Dancing off those years', a line dance performance by Silver Talkies' Socialites led by ace senior dancer, Valentine Ward. It was followed by a panel discussion on active ageing practices, the most affordable and effective form of preventive healthcare. Our eminent panellists including Dr Dominic Benjamin, Geriatrician, Bangalore Baptist Hospital; Dr Sowmya Hegde, Geriatric Psychiatrist; Mr. Basav Mukherjee, Chief Revenue Officer, Columbia Pacific Communities and Mrs Sharada Venkatraman, senior marathoner, yoga expert threw light on various aspects of active ageing and how it can be the apple a day therapy to keep ageing at bay.
The party began after the panel discussion. The auditorium cheered to Silver Showcase, a dazzling fashion show by the 60+ super enthusiastic models from our social-engagement clubs – Silver Talkies Social and Silver Talkies Adda, flaunting dresses by Timri, choreographed by Reshma Sachdev Rajpal and styled by Aparna Viplov Rao.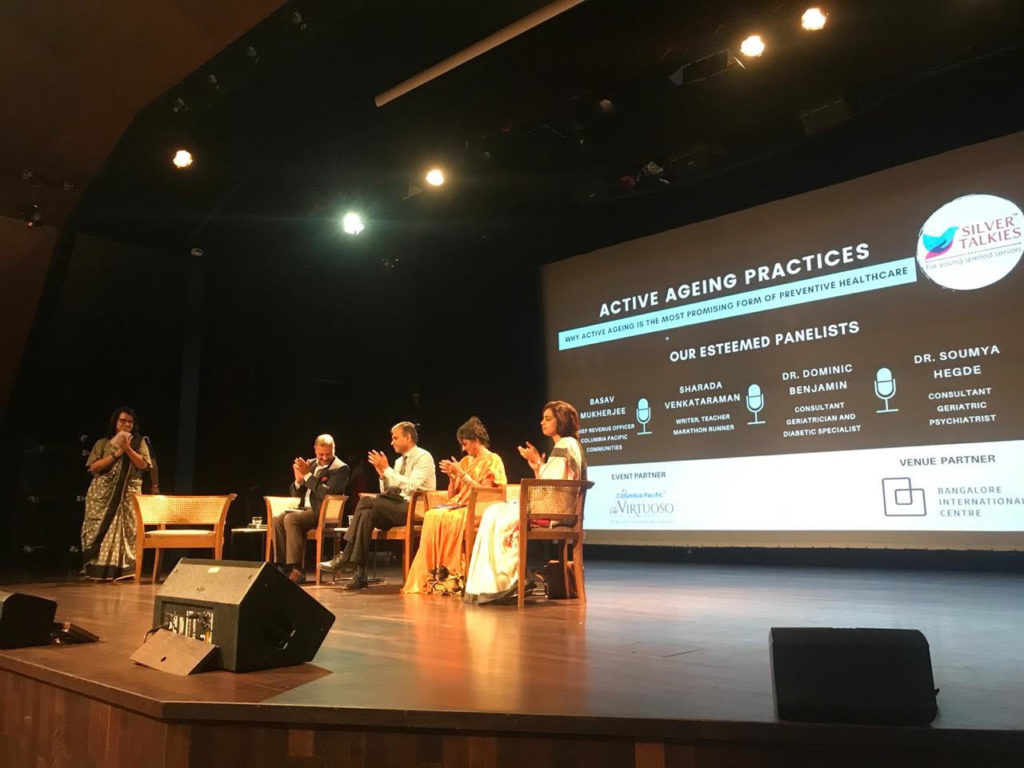 The final attraction to this gala evening was an eclectic musical performance by the Thayir Sadam Project, by Bindu Subramaniam, Ambi Subramaniam and Mahesh Raghavan. The trio played an experimental blend of Digital and Electronic Music which adds a technological twist to the traditional genre. The event was hosted by Shekhar Vijayan, an entertainer, actor, author, motivational speaker and comedian.
Raghunandan Sharma, 68, one of the members of Silver Talkies who took part in the event, said: "I fully enjoyed the event, LET'S GET SOCIAL presented by my most dear Silver Talkies. I have been lucky to be associated with them from quite some time and they have infused so much cheer, confidence, happiness, laughter and have gifted so many lovely friends that I can easily say that at least 10 more years have been added to my life. The fashion show and line dance, in which I had also participated, were done by us for the first time. It was a wonderful moment dancing and walking the ramp thinking that yes, I finally did it. Thank you Silver Talkies for the hope that we can do so many more nice things together."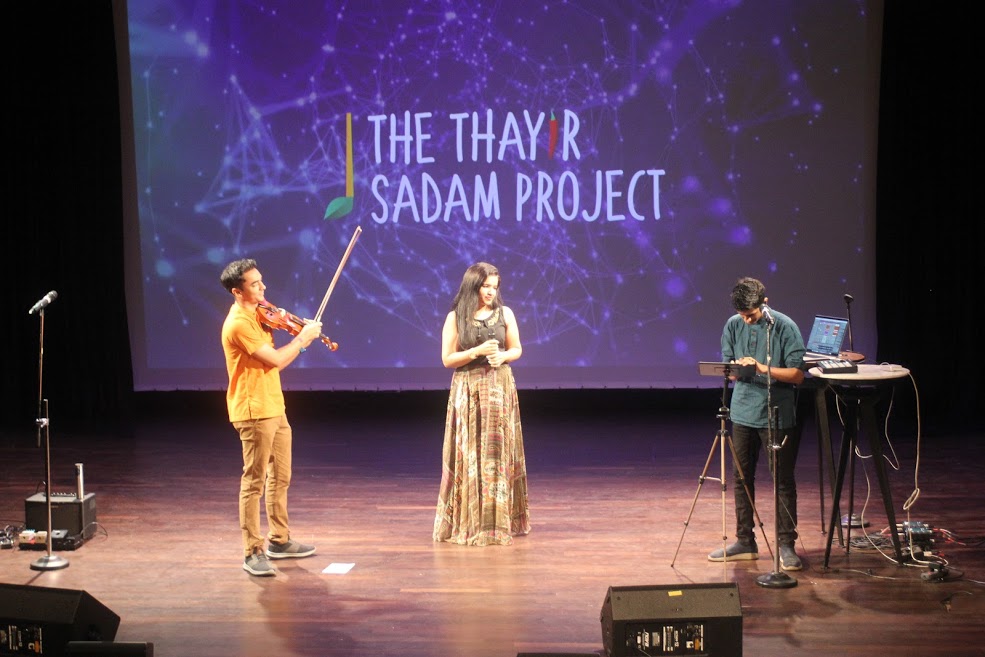 The free for all event has been organized by Silver Talkies, the social engagement platform for 55+. With a fast greying demographic, Silver Talkies has always focused on Active Ageing, with an eye on creating resources that encourage social engagement and highlight talent and passion among older adults. Our 'Let's Get Social' was a step towards enabling this.
About Author