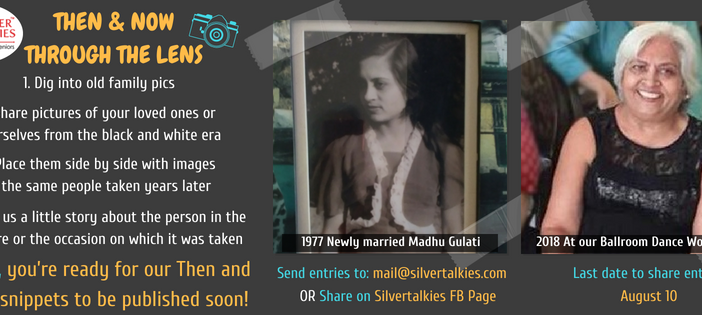 SILVER TALKIES MEMORY DRIVE: THEN AND NOW THROUGH THE LENS
As part of Silver Talkies drive, Silvertalkies put together a photo sharing series called Then And Now Through The Lens for our silvers. 
Silvertalkies presents Then And Now Through The Lens HERE IS WHAT WE ASKED FOR It's time to dig into old family albums or even those shoe boxes with stacks of photos (yes, the time before digital cameras) and bring out pictures of parents, grandparents, and yourselves from the black and white era. Place them side by side with images of the same people taken years later, tell us a little story about the person in the picture or the occasion on which it was taken, and voila, you're ready for our Then and Now snippets to be published soon! AND PUBLISH WE DID! Take a look at all the timeless and priceless entries we received 5 Lucky winners were picked through a lucky draw and the winners got wow goodies sponsored by Seniority.in and Primus by Mantri Seniority.in an online retailer of products for seniors, gave away 2 vouchers of Rs. 2000/- each. AND Primus by Mantri gave 3 winners complimentary one-night stay vouchers for Primus Eden, a premium retirement community in Bangalore.
For more pictures, see our FB album Then And Now Through The Lens
About Author