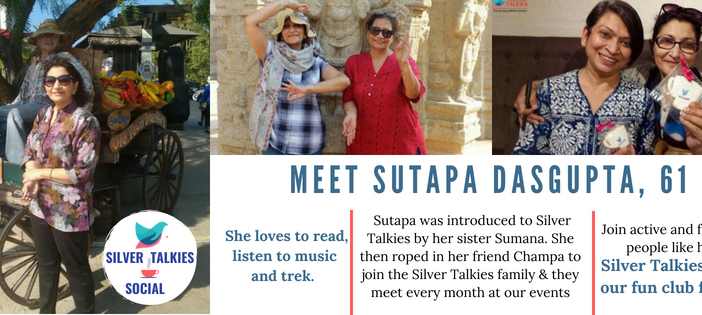 Let's Get Silver Talkies Social: Meet Sutapa
Have you thought of joining Silver Talkies Social yet? Silver Talkies Social is a fun club for 55+. Making it even more fun are our super awesome members. Come and meet them.
Meet Sutapa Dasgupta, member at Silver Talkies Social. At 61, this former content writer's next goal is to do a Kailash Mansarovar trek. Sutapa loves trails and walks and tries to fit these into her travel schedule whenever she can and enjoyed our recent fitness session for Stronger Seniors – Exercise and Fitness Tips for Seniors by Ritesh.
"I like easy to medium treks.

It gives me a good feeling when I complete them that I can also do it at this age."
Sutapa enjoys reading and listening to music and is also a caregiver to her mother-in-law and occasionally her mother. Despite her busy schedule, she manages to take short breaks for herself, like attending the activities at Social.
Though she calls herself an introvert by nature, Sutapa does love the Silver Talkies Social activities and interactions because of their unique factor. What she loves the most is the introduction to new things, the Painting session with Brushworks for instance, though she regrets missing the Ballroom Dancing session with Valentine Ward and is looking forward to another one soon.
"It's always better to go and get active even as you grow older," she says about being a part of interesting activities, "Go with an open mind and do the best you can."

Silver Talkies Social is a group of active, energetic, fun-loving 55+ like Sutapa. To know more about Social, click here. To join, send us an email on mail@silvertalkies.com 
About Author