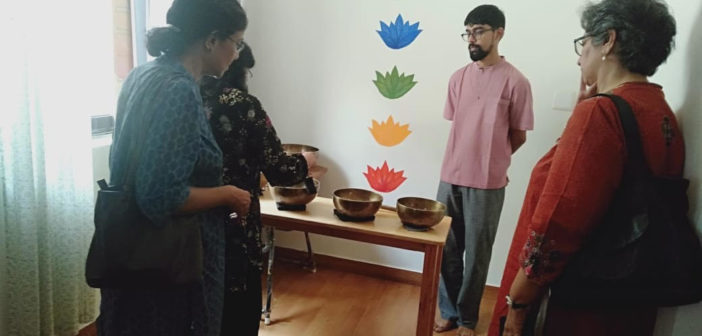 SILVER TALKIES SOCIAL MEMBERS MEETUP, AUGUST 2019: SOUND HEALING FOR SENIORS
As part of Silver Talkies Social Monthly Meetup For Members, Silver Talkies Hosted A Relaxing Sound Healing Workshop 
Silver Talkies Social members only meetup in August was a morning of complete relaxation. All credit goes to sound healing, one of the ancient therapeutic use of sound frequencies that has been prevailing since the dawn of human civilization. Silver Talkies, with the help of Srinivas Vrupadishta, a young embracer of sound therapy, gifted the super silvers an hour-long session of sound healing and meditation at Dhyaana School of Well-being.
The curious participants had a wonderful experience of de-stressing and keeping calm while meditating to the sound of brass-made Tibetan singing bowls along with the soothing and soft sound of waves lapping on the shore. It was an informative session as well. The seniors went back home with a better understanding about sound healing.
Srinivas explained how the application of sound frequencies to an individual's body and mind creates balance, harmony and health. He made use of the bowls of various size, each of them with different vibrational frequencies to help the participants relax and repair their mind along with reducing stress, anger, depression and fatigue.
Sound healing not only provides the mantra of active and healthy ageing to the seniors but also works magic in tackling conditions like depression, post-traumatic stress disorder, dementia, autism and learning difficulties, behavioural and psychiatric disorders and cancer. It can be practiced by everyone, irrespective of age and has no side-effect.
For more pictures, see our FB album Sound Healing For Seniors
About Author