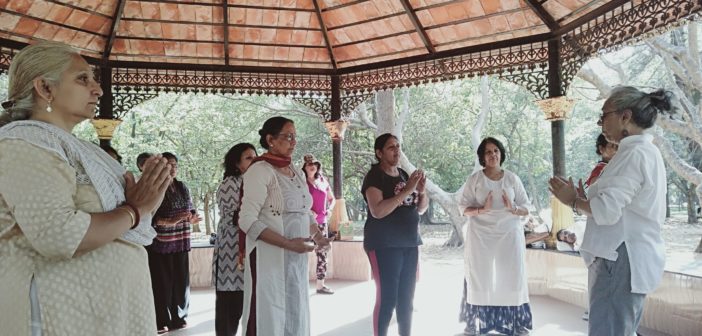 SILVER TALKIES SOCIAL MEMBERS MEETUP, JAN 2020: QIGONG IN THE PARK
As part of Silver Talkies Social Monthly Meetup For Members, Silver Talkies Hosted A Qigong In The Park Workshop  
This Qigong Workshop was conducted by Malini Mundle, Qigong practitioner and Silver Talkies Social Member. Followed by members meet and greet. QIGONG Chi or Qi means energy. In Yoga it is called Prana. Kung or Gong means work. Therefore Chi Kung also called Qigong means the work one does to cultivate energy over time.
The benefits of Qigong, also called standing meditative practice, are increasingly recognized for enhancing fitness in mind and body, developing vitality, and helping in the cure of stress as well as degenerative and chronic diseases. By practicing Qigong, the level of Chi increases substantially. That means that the immune system will become stronger. The body is a great healer. Therefore, when the immune system is strong enough, it can heal many physical problems
This was our monthly members' only meetup and every month we bring something new, fun and interactive for them. Not a member as yet?
Read on to know more and become a member now!
Become a Silver Talkies Social Member Now
About Author