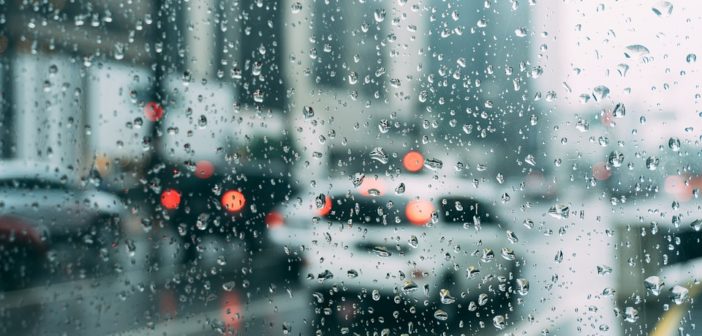 How To Stay Monsoon Ready & Safe
Monsoon is here in full force. Here's what older adults could do to stay monsoon ready and safe.

Rains bring in a change in the environment, a smile to the face and joy in our hearts. After a hot summer, the monsoon is always a welcome relief. However as the rain can be a boon, it can also be a bane. It can particularly be threatening for the elderly. There is an increased risk of infections especially the common cold, flu, pneumonia, malaria and dengue. The wet weather acts as a haven for bacteria and viruses which lead to these common health issues. As age increases, the immunity also reduces, making older adults most susceptible to the monsoon.
Apart from the former, rains also make it more difficult for older adults to navigate and be mobile due to wetter surroundings. Slippery surfaces can lead to falls. Prevention is better than cure. Hence these tips should be handy for all, especially older adults:
Diet
-Eat a balanced healthy diet
-Increase the fibre content
-Eat plenty of fruits and green vegetables and wash them properly
– Do not consume cold food
– Avoid street food during monsoon
Water
Water is one of the most important requirements in life. It is also the most easily contaminated in the monsoons leading to increased risk of water-borne diseases like typhoid, gastroenteritis and others.
– It is best to consume warm water
– Also to take a bath in warm water
– Drink water from safe sources
Hygiene
-It would best to keep cleanliness both personally and also surroundings. Such as if your shoes are muddy and wet, clean and dry them out instead of storing them as is.
– Keep surroundings clean as a wet environment is a harbinger of many germs.
– Rains can cause pooling of water and lead to breeding of mosquitoes, flies, bugs and other insects. Keep surroundings dry wherever possible.
– Take all precautions against these by installing nets and repellants
– Try to keep your home as dry as possible. If carpets are smelling damp, store them away carefully. Reduce your laundry load if possible as clothes may not always dry on time and it is not advisable to have damp laundry drying indoors under the fan over few days.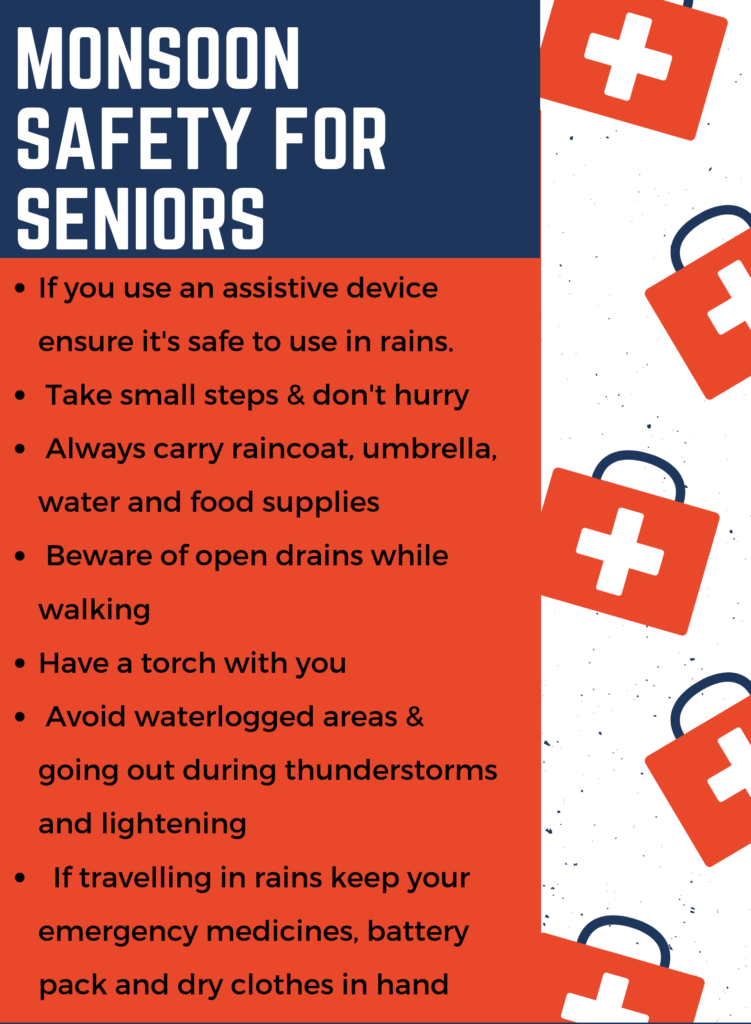 General tips in monsoon season
– Walk slowly do not be in a hurry, especially in slippery surfaces
– If you use an assistive device, makes sure you can use it carefully in the rains outdoors
– Take small steps
– Avoid getting wet in the rain as much as you can
– Always carry with you a raincoat, umbrella, water and food supplies
– Beware of open drains while walking
– Have a torch with you if you are going to be out till late
– Communicate with relatives regularly about your whereabouts
– Avoid going out in heavy rains
– Avoid waterlogged areas
– Avoid going out during thunderstorms and lightning
– If you have any fever, rash, vomiting or any other bothersome symptoms contact your doctor immediately
– If travelling in rains, keep your emergency medicines, battery pack and dry clothes in hand
– Keep your medical kit in handy
---
For more monsoon tips, click here: How to get through monsoons safely
About Author