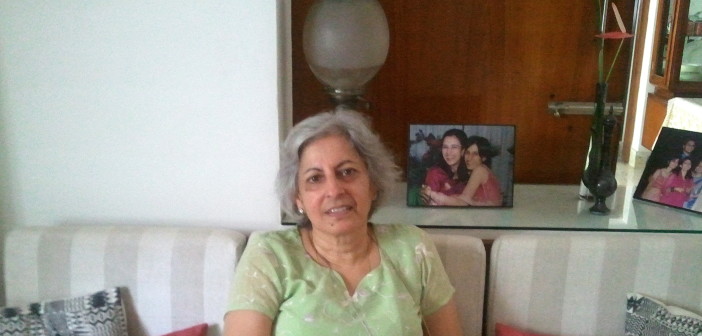 She Who Knits Stays Happy
Madhu Mehra creates beautiful and unusual designs with her knitting needle. Meet the lady behind the brand She Who Knits.
While growing up I have seen my grandmother, mother and aunts happily clicking away their knitting needles, assiduously creating winter wear for their loved ones. They would be knitting tirelessly while watching television, while travelling and even while basking in the winter sun. It was almost an obsession. However, these scenes almost vanished in the 90's when readymade winter wear hit the markets and for the ease of convenience, everyone moved to buying rather than knitting. Therefore, it came as a pleasant surprise to find Madhu Mehra, whose hobby of knitting is now also a profession. A post-graduate in Physics who made a career in banking, Madhu has been knitting for the last 6-7 years. It started as a pastime at the behest of her daughter Sucheta Mehra, after Madhu gave up her banking job to spend more time with her ailing mother-in-law and her husband, and has now grown into an established brand She Who Knits, launched in 2010. "She Who Knits is a team as I knit, my daughters and their friends model in my creations and Matt, my son-in-law, takes the photos."
Madhu does not knit sweaters as she confesses, "they can be very tiring for my shoulders and are tougher to accomplish as it's all about measurements. Unlike tailoring you have to undo all your knitted work for any alterations." She makes knitted accessories like mufflers, caps, beanies, foot and leg warmers and ponchos, and also specialises in baby winter wear with mittens, booties and caps all included. Her creations appeal to the youngsters, as they are trendy, versatile and colourful. She has been adapting her styles and designs to the current times, assisted by younger daughter Smriti Mehra, a video artist, with colour schemes and trends. "It was not easy initially. The first muffler I knitted for my daughter was a disaster, as I had no idea of the dimensions. Then I started looking up designs on the internet and in books. Had initial hiccups of understanding the terminology but gradually got a hang of it and started doing better." "I remember for a certain design I was stuck with a term 'wrap and turn.' In the middle of the night it dawned upon me what it meant and I woke up and completed my work," she remembers with a laugh. Today Madhu can read instructions with ease and has been adapting them as per her style. So when asked if she has thought about writing her own knitting manual she gets lost in thought, seriously considering the proposition and responds saying, "May be, some day." Right now, she is still coming to grips with losing her husband to cancer three months ago and her long ailing mother-in-law just a couple of months before that. "I still need to figure out how to best utilise my newly found time," she says.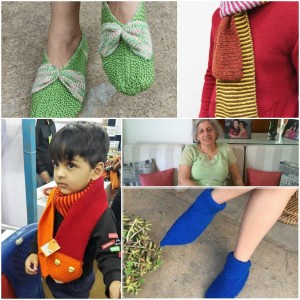 An erstwhile Delhiite, Madhu is more a Bangalorean at heart having spent 40 years of her life in the city. "I feel like an outsider when I go to Delhi now." Her sister, based in Delhi, is an ardent knitter too but unlike Madhu finds it "difficult to understand instructions from books and is not very tech savvy." Whenever Madhu meets her, they work together at accomplishing new designs and patterns. The sisters even collaborate to deliver orders. Recollecting, she tells us how for an order for 50 pieces of return gifts the two sisters split the work to meet the deadline. Madhu hopes to do something together with her sister in the future. However, Madhu is very clear that she will never let her work become a production factory and would like to retain her independence and flexibility. You may see her work at exhibitions like A Hundred Hands where she exhibited in 2012 but you may not find her work in a shop. If you want to lay your hands on a piece of Madhu's chic and trendy work, you can reach her through her Facebook page She Who Knits or mail her at mmmadhumehra@gmail.com.
About Author