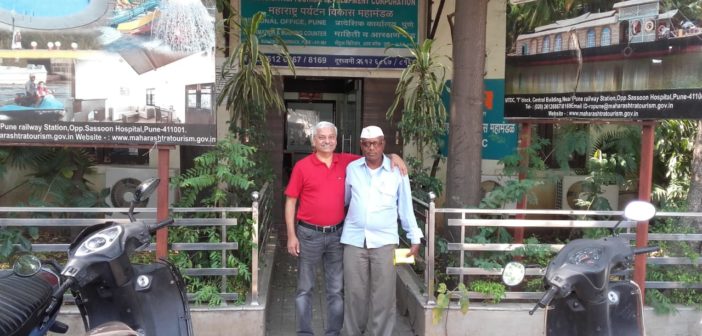 Angels Among Us: The Story Of A Miracle Worker
Sometimes in life, we meet some unexpected miracle workers. Here's the story of one.
It took me 11 years. Finally, I met Yashwant for the first time on Oct. 31, 2018, at the Maharashtra Tourism Development Corporation (MTDC) office in Pune.
Our story goes like this:
It is May 22nd, 2007, two days before our silver jubilee on 24th. My wife proposes a visit to Matheran, a small hill station in Maharashtra. She had seldom asked me for any gift like that having walked with me on an interesting tough road of life. I had to put all my resources to use ensuring that I get a booking.
I call up every resort. Rooms are not available. Not one to lose hope, I dial MTDC, Mumbai. Yashwant, an office attendant, picks up the phone. After an honest introduction of my being a no-body, I tell him about my emotional need. And that my wife for the first time in 25 years had asked for something from me. He listens to me and decides to help me talk to his boss who is out for lunch and offers me his mobile number as it was easy for him to get me connected to his boss.
After 30 mins, when I make the call, he connects me to his boss who confirms that they could offer me a smaller room and asks me to deposit Rs.700 at their office. I express my inability as I am 8 hours away. Well, he too regrets and I ask him to give the phone back to Yashwant. I needed to say thanks to him for the effort. Yashwant, a complete stranger, on finding what had happened, offers to pay on my behalf. I sit overwhelmed with goose-bumps appearing silently.
I say: NO. He listens not. I give in. He pays and faxes my receipt.
We visit Matheran on 24th May and have a wonderful holiday.
---
Yashwant Bhadwalkar lives in Chiplun near Goa after retirement. He is around 65 years of age now. For the reasons best known to him, which I never dared to ask, he has wished me on every festival, every year without fail. I wait for the call this Diwali having already received it on Dussehra. I often wonder what energies are at play. On getting a call that he is in Pune, I make a plan to meet this angel for the first time.
As we talk, I ask him -"What had made you pay for me that day?"
"It was my heart directing," he smiles.
A rare one, I hug him and leave but not before capturing the moment.
Thanks to the miracles at work in life!
For more such stories of magic working its way into life and human connections, follow Ramesh Sood here.
---
Liked this story? You may also like to read the story of a library where you can read people, not books.
About Author