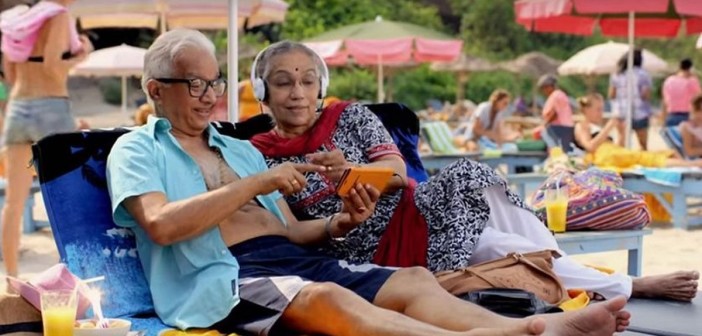 Meet The Dhananjayans: Opening Minds & Winning Hearts
The Vodafone ad may have turned celebrated dancing duo Shanta and VP Dhananjayan into household names but the acclaimed artists have been winning hearts way before that.
Simple. Gentle. Humble. The Dhananjayans could be your neighbourhood grandparents. She getting up at 6 am to make sure the house and kitchen are in order; he, passionate about politics and social reforms, writing letters to the editor and sharing his views. But Shanta and VP Dhananjayan, 74 and 78, go beyond that. They are one of the most well-known artistic couples in India, having been partners and collaborators in Bharatanaatyam and life over the last 50 years. Padma Bhushan recipients in 2009, they run Bharata Kalaanjali, an academy of classical dance in Chennai. Despite their illustrious career, the Dhananjayans have charmed India and gained instant popularity because of the role they play in a recently launched Vodafone ad during the Indian Premiere League season. In the ad, they are the cute elderly couple visiting Goa on a second honeymoon and living it up – from grooving on a boat to parasailing.
Living it up and not letting age get in the way of their passions is how the Dhananjayans are in real life too. Given their credentials, it perhaps speaks volumes about our lack of cultural awareness that most of the country has got acquainted with them only after the ad and a Whatsapp message forward about the couple's achievements has gone viral. But the charming Shanta is gracious and happy about it. "I never expected the kind of recognition we got after the ad. The appreciation has been terrific and can be overwhelming sometimes. We went for the IPL finals in Hyderabad and were mobbed!" she says, adding after a pause, "It's a different kind of experience and I am enjoying it. It's a very different kind of feeling!"
Going Beyond Age
It was the storyline of the ad, the credentials of the director (Prakash Varma) and the agency (Nirvana Films) that made the Dhananjayans take it up. That and a chance to visit Goa, where the ad was shot. Though they have travelled across the world on their dance tours and also on family holidays, they had never been to Goa when they were approached by the agency through their son Satyajit, a photographer based in Chennai. Dhananjayan has shot for a regional ad film earlier but for Shanta, this was a first time experience. She was glad to have taken it on and says being with the unit and its younger members was like being part of a big family. "Being dancers, we have had some exposure to acting so we decided to take it up as a challenge. There was almost two weeks of work, which required a lot of effort and time but we were able to sail through. In fact, the unit was quite surprised that we were able to do everything continuously," she laughs. Dhananjayan credits their energy, reflected in the ad, to their 55 years of "natya training and the discipline, devotion and dedication that comes with it."
There were many firsts. While Dhananjayan, who is usually comfortable in traditional clothes, wore Western clothes and tried his hand at riding a scooter, Shanta tried her hand at parasailing and even went up to an extent. "Next time, I'll be able to go all the way up," she chips in with confidence.
The joy and bonhomie of the couple in the ad is perhaps a reflection of how many elderly couples in India are choosing to live their post retirement years now, trying out new experiences. This is true to an extent, thinks Shanta. "People do want to travel and are a little more adventurous. The mindsets are changing. I would say it is 50-50!"
Partners All The Way
The Dhananjayans have always shared a modern mindset that is rooted in the tradition of their art but is forward looking and innovative at the same time. Performing together for almost five decades now, the Dhananjayans, both trained from Kalakshetra in Chennai, set up their dance school, Bharata Kalaanjali in 1968 and will celebrate its 50th year in 2018. They also celebrated their 50th marriage anniversary recently, with a family holiday in Greece. In fact they met at Kalakshetra when she was 8 and he was 13, though love blossomed sometime later. Theirs has been a strong and complementary partnership, something Shanta attributes to knowing each other very well and having the grace and intelligence to acknowledge each other's strengths. "I know what I'm capable of; when I feel my husband can do certain things better I leave that to him. I feel if you have that give and take, it makes life easy, not just in marriage but in other situations as well. This is a lesson I have learnt."
Dhanajayan credits his craft again for their happy and successful innings. "Practice of natya has given us strength and tolerance, including spiritual strength. Any art practice is good for a human being and that is why we should have art integrated education," he thinks. Their partnership as dancers and to establish their own institution has seen many rough patches which the couple have overcome, and has probably helped cement the bond further. It reflects in the Vodafone ad and has added to its appeal in a great measure.
As dancers, the duo has tried innovations and themes in their performances, without moving away from the tradition and base that they gained in their alma mater Kalakshetra. "In terms of technique, we have evolved and created our own themes, keeping the ethos of Bharatanaatyam. We have done themes like Jungle book, on women's liberation, collaborated with the late Pandit Ravi Shankar and done performances on themes related to Buddhism and Christianity," says Dhananjayan, who considers himself an active social reformer, concerned about several issues, including campaigns against smoking and drinking. Shanta feels their innovations have opened up avenues for other dancers as the duo has been able to break "some of the closed traditions." We are always open to new experiences, she says, referring not just to their innovations in dance but also their recent viral ad. "Everything is an experience and if anything passes a good message to the society, then why not?"
To know more about their work, visit http://www.bharatakalaanjali.org/
About Author