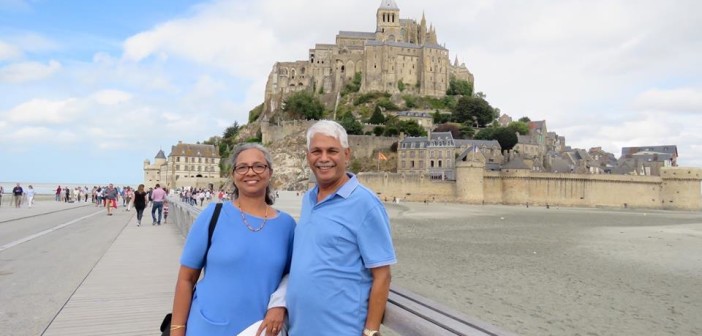 The Journey of A Lifetime
How semi-retired business couple Janet and Louis D'souza went on an eight-month 57,373 kms road trip and rediscovered themselves.

Inspirational, adventurous, living to the fullest… any of these words could describe the D'souza couple's eight month long road trip that spanned 52 countries, 57,373 kms and peak summer to freezing winter temperatures. A 'journey of a lifetime' is what it truly was. Perhaps adding the small detail of their age – Janet, 56, and Louis, 63, should explain why.
It happened like this: Janet and Louis D'souza, married for 36 years and owners of a logistics business in Mumbai, were inspired by Bangalorean Anand Baid and his family's epic road trip of 111 days covering half the world. They decided this was exactly the kind of adventure they would like to celebrate their semi-retirement with and pledged that their road trip would also benefit two charities — White Dove, Mangalore and Muskaan, Mumbai, by donating Rs.10 for every kilometre that they travelled.
The D'souzas had had a fair amount of practise driving through the south of India, en route to their home in Mangalore from Mumbai, taking detours through Kerala and Tamil Nadu. With Anand Baid's help, they located a Bangalore-based couple Susan and Michael to accompany them from Guwahati to Moscow. This would not only add to the fun quotient but also allow them to share the cost of hiring a government escort through the territories of China and Myanmar, mandated by their respective governments.
Putting The Plan To Action
"We left on May 20, 2016 and returned on Jan 6, 2017, with a break of four weeks during Christmas. This made the trip eight months long, spanning 57,373 kms, including through 600 kms in snow. The reason for this break was political unrest in Myanmar, but we'll come to that later," begins Janet.
The D'souza's decided on the road trip in August 2015 and Janet began her research on the route map, destinations for stop-overs and the permissions required. On March 1, 2016, she started applying for Visas. "The respective Indian Embassies helped to arrange our Visa documents to most countries but in some of the countries such as Azerbaijan and Iran, we had to buy the invitation letters through the local travel agents. In all, Visa for about 30 countries had to be applied, e.g., Turkey gave an e-visa; each embassy takes 10 days to issue Visa, so once I got the Passports back I applied for the next Visa. The applications had to be done carefully. "The tricky part was to apply just enough in advance so that the Visa would stay valid up until we travelled through the country," she explains.
The D'souzas had traded in their old BMW for a brand new BMW SUV X 5 model and driving it through changing terrains was a dream, they say. BMW suggested they use anti-freeze diesel. They also added additives to the fuel where it was cold or in case the fuel had excess sulphur. Even wiper water had to have anti-freeze added to it during the really cold days. And for emergencies like a tyre puncture on the highway far away from a service centre, they downloaded a YouTube tutorial on how to repair a punctured tyre and carried the puncture repair kit along with one donor tyre. Luckily they had only one puncture outside India in Skopje, Macedonia, with the nearest puncture repair service just 20 kms away, Janet adds.
"Food was a little bit of a problem as I prefer vegan food but there wasn't much choice of this outside India. Louis had to forego his preferred gravy-based curries for dry dishes. But these were minor discomforts. We had also carried ready-to-eat food but I rarely used it. Our staple was a flask of hot water to make our coffee on the highway stopovers and this was accompanied with dry-fruit and nuts that I carried in single-use packets," says Janet.
The Highs & Lows
"Typically, if we were crossing the border into another country, we started from our hotel at 6.30 a.m so that we could be among the first ones in the queue. Otherwise, we would leave after breakfast at 9.30 am. Every one and half to two hours, we would stop for rest-room breaks. Usually, we would check into a hotel by early evening and catch up with sight-seeing the next day. Google Translate was our go-to resource for striking up conversations," explains Janet.
"Europe was gorgeous with its museums and architecture. Travelling through Central Asia, we were delighted to walk through the history and heritage of humanity. Iran was very nice even though we had been warned about car and documents theft. So we had hired a travel agent to book a good hotel and get us a tour guide who could speak English. Iranians are fond of Indians and in some places they exempted us from tolls. Even though Iran has hilly terrain, roads are excellent. There were other strictures in Iran such as a ban on credit cards. And as in other countries, we left our passports with the hotel. Plus, women have to wear long sleeved and below-the-hips dresses with long pants and a veil," says Janet.
Their worst experience was in Turkmenistan where they were not allowed to take the car into the capital because right hand drive cars were prohibited from entering. This was a new rule which had not shown up in their Internet research and couldn't be overcome even with the Indian embassy's intervention. Eventually the travel agent hired by the D' souza's found a safe parking place for the car outside the city limits and they toured the city in his car.
Louis is diabetic and they carried insulin in a cool box, along with other medication. How bad was the physical or mental strain of driving? "All the routes and stop-overs were saved on Excel sheets and of course the GPS led our entire trip. Mostly the driving was pretty relaxed because the roads were excellent and the scenery gorgeous. But in China, while driving through the 2,000 km straight road of the Gobi desert with hardly any traffic to keep us alert, we started feeling drowsy. We had to take frequent coffee breaks and change places to drive," says Louis. "We admired the road discipline in Myanmar because even trucks stop to allow you to pass, and they all give indication for 'overtake or don't overtake.' Also, in Myanmar we found the cleanest toilets even in tiny villages. Sadly, India has the lousiest ones," says Louis.
Life On The Road
The D'souzas had a pleasant stay at all places. In Europe they had booked stays through Airbnb and Booking.com. Both these sites offer reviews of each place so you know what you are paying for. You can get clean bathrooms, do your laundry and make your breakfast in their kitchen if you feel like. The D'souzas shared the responsibilities. "I did 90 per cent of the driving and Janet did all the rest such as booking accommodation, mapping routes, time, distance, hiring guides, getting Visas, writing the blog," says Louis. "Oh, he booked one hotel stay and it was the most expensive hotel; he is brand conscious," tells Janet. "No, I was looking for comfort for us and a safe parking place for the car," defends Louis.
The journey came with its own challenges and rewards.
The most rewarding experience was the friendship of strangers in every place they visited. Most of these new-found friends continue to be friends on social media and many have invited Janet & Loouis 'to come stay with them when they visit their country.'
The greatest challenge for the D'souzas was on their return trip at the Ruili border to Myanmar which they could not enter due to political unrest. They applied for fresh permission from Myanmar authorities for entry from the southern side of the country. They parked their car at a hotel in Tachileik, a border town in Eastern Myanmar and flew back to India to celebrate Christmas and New Year with their family. When the permissions came through, they drove to the Tamu border in Myanmar to cross back into India, accompanied by an official from the Ministry of Tourism and a tour guide.
"Each day we woke up with the excitement of discovering new places; driving through no-man's land and rediscovering ourselves. We realised that it was safe to travel on planet Earth. Although we carried a pepper spray we never needed to use it," says Janet.
Did they have any panic moments where they felt they had taken on more than they could chew? "Our children tried to dissuade us. But this really is fun for us and we were confident. In our youth and middle age we have struggled to create a good life. I see people around me just continue to work and make more money because that's all they know. I believe we have come in this world with nothing and will leave with nothing. So let's enjoy while also doing good for people," Janet spells out their philosophy.
While the road trip brought novel experiences each day, they had also embarked on this journey of a lifetime to rediscover their relationship. "I like meeting people more than checking out every tourist attraction so, as you can imagine, we had a lot of fights and our Dash cam (dashboard camera) is witness to all our tantrums," smiles Louis.
"We spent 24/7 for seven months in the confined space of a car and hotel rooms. And it was a true test of endurance of our relationship. I discovered that there are times when I prefer to be myself even when we are on a road trip," says Janet thoughtfully. Would they do things differently on the next road trip? "Yes," pipes up Janet, "spend at least two days in each place so that we can unwind before packing up again for the next destination. May be just sit for a while and do nothing…"
The D'souza's have plans for another road trip within Australia and New Zealand in 2018 but for now Janet is enjoying baby-sitting her two grand children in Belgium.
To find out more details and the route of their trip, check out their blog The Lifetime Journey
All photographs courtesy: Janet & Louis D'souza
---
Road Trip Must Haves
Medicines
Enough stock of prescription medicines
Cool box for carrying Insulin, etc.
Paracetamol
Antacids
Vitamin supplements
First Aid Kit
Electronic gadgets
GPS
Dash cam
Camera
Mobiles
International SIM card
Tyre repair kit
Essential documents
Passport
Invitation letter
Financial documents such as bank statement, etc.
Visa application & fees
(Carry hard copies and back up digital copies on Google Drive)
What seniors need to keep in mind
Food and water should be available in the vehicle as you never know when delays may happen
Fire extinguisher
Reflector jackets to be worn in case you have to get down to check vehicle after parking or if stopped on the road for any reason
About Author