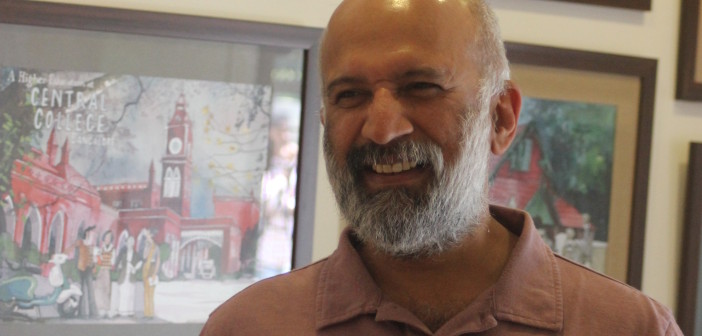 The memory keeper's gallery
aPaulogy, artist Paul Fernandes' gallery of curious illustrations is an ode to the Bangalore of yore. Silvertalkies pays a visit and comes back charmed.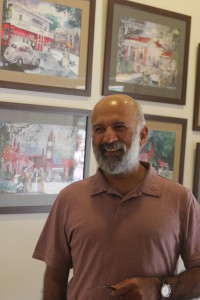 In a city that is now run over with people from different parts of India and the world, Paul Fernandes comes across as an original Bangalorean. An original Bangalorean with artistic inclinations and an understated sense of humour. So if you have made Bangalore your home and love it enough to want to know a bit of its history, his gallery aPaulogy near Richards Town is a must visit.
Apaulogy is a charming little place filled with abundant nostalgia about the Bangalore of yore. The gallery houses watercolour paintings done by Fernandes on Bangalore in the 70s, along  with a room that has his other work samples, like Shine Board arts and illustrations. Fernandes has also illustrated books on Bangalore. Reluctant to speak much about himself, the 54 year old artist and former adman does admit that the works are his attempt to recapture Bangalore's old charm.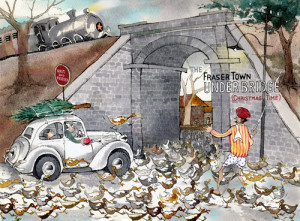 What makes this attempt even more endearing is the presentation. Starting with the name of the gallery (aPaulogy, suggested by a friend), the tongue-in-cheek humorous theme is kept alive throughout. The watercolours are done in a quirky style (reminiscent of Fernandes' inspiration Mario Miranda) that is guaranteed to bring on a smile.
To really appreciate the paintings, you need to know the history behind them and this is provided beautifully by Jatin Prabhu, an associate of Fernandes and a curator at the gallery. Humour is an essential part of his narration as it is constant feature in most of Paul Fernandes' works, be it the Shine Board Arts series he has created or his Bangalore watercolours.
Most of the watercolours feature areas like MG Road, Frazer Town, Russell Market or what was known as the Cantonment area. The now closed Dewar's Bar is depicted just the way it was, showing waiters running to the cars with their supplies and gentlemen leaning against its wall on a happy and high note. "Dewar's was a neighbourhood institution. Households in the vicinity turned to Dewar's to provide stocks for the bar at home. Boys ran these useful errands, earning a commission on returning 'empties'" Fernandes notes on his Facebook page.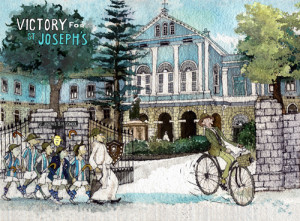 "Lot of the landmarks have come down," says Fernandes, pointing to one of Plaza Theater screening 'Gone with the wind.' He mentions how it used to be a dance hall for the British in earlier times. Then there's Victoria Hotel which has now been turned into a mall.
Some landmarks like Koshy's are still there and it's interesting to hear how the owner did not let the British Library rent out the floor above as he feared the building couldn't take the weight of the books!
For those who are familiar with the current landmarks of the city, it's fun to see a painting on Bangalore's original steakhouse The Only Place, with a distinctly hippy feel and Java Yezdi bikes parked outside.
Fernandes feels Bangalore in the 70's was westernized, cosmopolitan and probably more liberal than it is now. He tells us about the Music Strip in Cubbon Park when musicians used to perform free on Sunday evenings. "There was no closing time," he adds. Contrast that to Bangalore's current and rather archaic 11.30 pm deadline these days!
His paintings depict that feel not just through the events and activities happening in them but also in the architectural styles like Monkey Tops, long driveways, etc.
Fernandes himself grew up in a house like that. "There were 10 of us and each of those 10 got 10 friends,' he laughs, "We were always running around, climbing trees, getting into mischief."
One of Fernandes' earliest cartoons was that of a pot bellied teacher from his school, St Joseph's. "I must have been around nine or 10 years old," he recalls. The cartoonist seed was sown early. "My drawings were always funny," he says. What he also remembers is an unpressured childhood, where the most important thing "was to play a good sport and be outdoors as much as possible."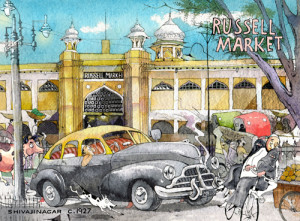 You can see a glimpse of that in his paintings, which have abundant trees surrounding the houses and some of the landmarks shown in them.
In fact Fernandes' inspiration to do the nostalgic paintings came when his own ancestral house was torn down to make way for an apartment block. He calls it a practical move but says that on the whole he isn't very happy with the way the city has changed. "I remember a very cool climate, shady roads and lots more rain," he adds.
Some changes have been for the better, he adds, pointing to the park outside his gallery. It used to be dry and dusty but now is beautifully leafy with enough green cover.
Fernandes has done most of his works from memory, with research stepping in when just reminiscence wasn't enough. He started painting more for himself, to remember what he calls "happy days."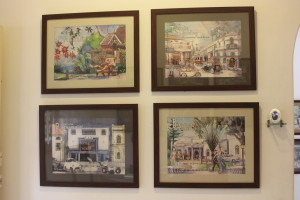 In fact, all the paintings in his gallery are positive ones and depict the way the city was in a light hearted vein. So go visit aPaulogy, discover bits of old Bangalore and acquaint yourself with a little bit of its history. Paul Fernandes, the keeper of Bangalore's memories and heritage will ensure that you come back smiling.
You can connect with aPaulogy Gallery on Facebook to view more of Paul Fernandes' work. https://www.facebook.com/aPaulogyGallery
— Reshmi Chakraborty
 Photographs courtesy: Paul Fernandes & Silvertalkies
About Author