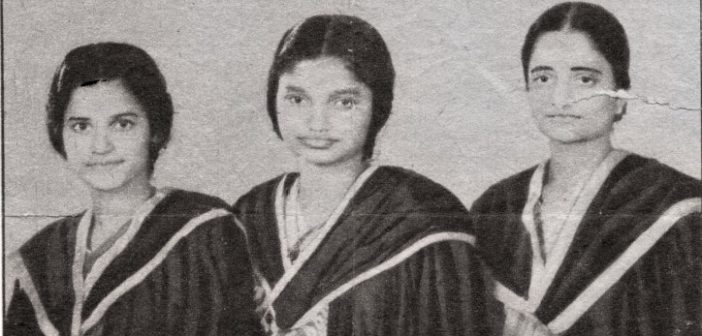 The Pathbreakers: Meet India's First Woman Engineer Who Broke All Stereotypes
As part of our #Pathbreakers series, this is the story of A Lalitha, India's first woman engineer who, with her grit and determination, achieved her goal while mothering a child single-handedly.  
The struggle of a widowed, single mother with the aspiration to become an engineer way back in 1937 was unimaginable. A Lalitha faced the challenges with grit and grace and went on to create history. Besides successfully raising her only daughter, Syamala, Lalitha became India's first woman engineer. A recently published news report threw light on the inspiring story of this brave heart. Silver Talkies wanted to capture Lalitha's tale of dauntless determination.
Lalitha got married at the age of 15 and became a mother of baby Syamala in September 1937, when she was only 18. Unfortunately, within just four months of her motherhood, she lost her husband and became a single mother to her infant daughter amid the strict life that widows were compelled to live in those days. However, social restrictions could not stop the spark of courage in young Lalitha. She decided to keep aside the outdated norms and chose to pursue engineering, a field that was completely male-dominated in her times.
Lalitha, belonging to a middle-class Telegu family was born on August 27, 1919. While her brothers had the privilege to become engineers, she and her sisters were lucky enough to get a basic education, thanks to her broadminded engineer father, Pappu Subba Rao. In a bold move for those times, he also made sure that Lalitha's marital life did not interfere with her education and made her study till class 10.
Lalitha's daughter, Syamala Chenelu, now settled in the US shared fond memories of her mother's journey with The Better India. "When my father passed away, mom had to suffer more than she should have. Her mother-in-law had lost her 16th child and took out that frustration on the young widow. It was a coping mechanism and today, I understand what she was going through. However, my mother decided not to succumb to societal pressures. She would educate herself and earn a respectable job."
Why Lalitha chose to become an engineer
Although medicine was a common field for women to choose compared to engineering, Lalitha, the single mother could not opt for it. Medicine required professionals to be available 24/7, which she could not afford as she had a young daughter to look after and tend. She could not leave her baby in the middle of the night and could only take up a typical 9 to 5 job that offered her adequate time to spend with her baby. This is why the young lady got driven towards engineering.
With the help of her father who was a professor of Electrical Engineering at the College of Engineering, Guindy (CEG), University of Madras and two other officials, KC Chacko, the principal and RM Statham, director of public instruction who were supportive of admitting a woman for the first time in CEG's history, Lalitha enrolled.
Syamala told in a news report: "Contrary to what people might think, the students at amma's college were extremely supportive. She was the only girl in a college with hundreds of boys but no one ever made her feel uncomfortable and we need to give credit to this. The authorities arranged for a separate hostel for her too. I used to live with my uncle while amma was completing college and she would visit me every weekend."
Given that women are sometimes unfairly judged when they step out to work after a baby even today, just imagine what a pathbreaking step this would have been for the brave Lalitha to have taken then.
Although Lalitha started her studies, she got lonely in the hostel as she was the only woman. It had a good outcome. After conveying the same to her father, Professor Rao decided to admit more women students in CEG in 1940 and Leelamma George and PK Thresia joined for the civil engineering course.
"Both of them were juniors to my mother by a year. However, all three of them graduated together because the Second World War was at its peak in 1944 and the University decided to cut down the engineering course by a few months," Syamala explained.
As an engineer, Lalitha was a pioneer
After completing her graduation from CEG in electrical engineering, Lalitha worked with the Central Standard Organisation in Shimla and also with her father in Chennai for some time. Lalitha assisted her father when he invented Jelectromonium, an electrical musical instrument, an electric flame producer and smokeless ovens. Within the next nine months, Lalitha bagged a job in the Associated Electrical Industries in Kolkata.
Going down memory lane, Syamala has been quoted saying: "My aunt lived in Kolkata and had a son about my age. We were very close and so, amma used to go to work leaving me with my cousin and aunt. That's how I grew up. Although today, I can understand how important my mother is in the history of women's education in India as well as in the history of engineering, back then, all I knew was that my mom is an engineer—just another engineer."
Later on, Lalitha's achievements were recognised at the international level and in 1964, she was invited to the First International Conference of Women Engineers and Scientists (ICWES) in New York. In the same conference, Lalitha had said: "150 years ago, I would have been burned at the funeral pyre with my husband's body."
Lalitha had always lived ahead of her time and was brimmed with positivity and optimism. She made sure that daughter grew up among loving people and crushed everything negative around on and created a history. She passed away at 60 due to brain aneurysm but has left behind a remarkable path for women of all generations to follow.
Image Caption:  A Lalitha, Leelamma George and P.K. Thressia (from right to left ): the first three female engineering students from CEG
Image Courtesy: mathisarovar.com   
---
Like our series on The Pathbreakers? You can read more here.
Also tell us about any #Pathbreakers you may know, men or women who broke barriers and created history in their own way.
About Author