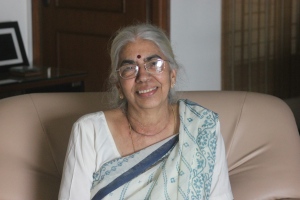 The show must go on
Always a creative person, Pankajam Balasundaram, 71, hasn't let the loss of almost 80 per cent of her vision come in the way of staying alert and active. Nidhi Chawla Manoj meets her and comes away inspired.
Amidst a constant banter to rectify each other about who remembers the past correctly, Mrs. Pankajam Balasundaram stops her husband from delving into the tyrannies or sad memories of their lives. She believes that "there is no point in talking about all these things. I don't like to talk about them and want to move on in life." This 71-year-old woman's unrelenting spirit is quite evident when we ask her about how she is coping with her recently diagnosed and treated cancer of the thyroid. She cheerfully replies that she is doing fine and feeling better. This has been Mrs. Balasundaram's attitude towards life throughout. Even though she is 80 per cent blind, she still insists on keeping herself busy by sewing her own nighties, learning new recipes and freezing techniques through the internet. Mind you, she has to enlarge everything on the computer or take enlarged printouts to be able to read them but that doesn't dampen her enthusiasm.
Mrs. Balasundaram has a creative side to her as well. Her interest in art and craft got cultivated during her stay in Kolkata, where her husband was working with Brooke Bond India Limited as Factories Manager. Here she attended various art classes like Decoupage (a French art form), the art of imitation bonsai tree making (Japanese) and Macrame, to name a few. She would design a New Year card out of waste material every year and make 1000 such cards yearlong to be sent to her husband's colleagues. She once even made Gandhiji's spectacles and sandals from reed mats she didn't want to dispose off. Her one such craft project was Air India's Maharaja made of wood and flying on a carpet. A friend who was very impressed with her work sent a sample of to Air India and six months later Air India approached her saying that they would like to use this art piece on their VVIP menu cards. Another project of hers with a WIMCO matchstick, was used by them for their advertising campaign.
The appreciations egged her on and gave her the idea to set up the first ever women's hobby club in Coimbatore in 1981 when she moved there sans family to be with her recently widowed mother-in-law. The school set up in the backyard of her house was called Saraswati Niketan and taught sewing, embroidery, cookery and art and craft. In Mrs. Balasundaram's words, "The art and craft were most popular."
After this, there was no looking back for 20 years, in spite of a retinal detachment in one of her eyes in 1986, which made her 50 per cent blind. However there came a detour in this journey few years later when a couple of incidents, coincidentally around the same time, changed her view towards art and craft.
On one of her visits to Bangalore she wanted to attend a course teaching glass painting. However she could not attend it due to the long duration of the course. But her keen eye observed the glass paintings at the class and she figured out how to do them. She decided to close down her school for six months and started experimenting with glass paintings on her own. During this period she also visited her sons in US. It was during this trip that an acquaintance asked her if she knew Tanjore paintings. Thoroughly embarrassed at having to say "No," Mrs. Balasundaram made it her mission to learn glass paintings. She made the most of her stay in US by reading various books teaching glass painting, sourced from libraries. Self-learned, she developed a technique of her own called the 'Three layer technique,' which gave her paintings a three-dimensional look.
Back home, she decided to give up teaching foreign forms of art and started teaching glass painting, developing her own designs over the next few years. Mr. Balasundaram was responsible for refining the outlines, while their younger son played a critics' role and would nudge her to look at the finer details of a picture, such as what kind of lotus is Goddess Lakshmi sitting on and what form of lotus is she holding in her hand, etc. Her glass paintings were a major hit, especially that of Lord Ganesha writing the Mahabharata.
Mrs. Balasundaram says that "it was very difficult to execute the designs as it was very time-consuming to draw them and difficult to keep up quality standards." They found a solution in screen printing as once screen printed it was much easier. Though cheated by the screen printer who sold off some of her designs, she continued to teach people how to make these glass paintings; also making them on order. "She sold more than thousand paintings," Mr. Balasundaram proudly chips in.
People would buy some of these paintings from her and sell them in Kolkata at about four or five times the price. However, her prices were fixed and the money earned was used for charity purposes to educate underprivileged youth. A cataract operation in 2003 led to further complications and made Mrs. Balasundaram 80 per cent blind. She handed over her school to a lady with a promise that her designs were to stay in Coimbatore only as she had dedicated her school to Coimbatore. The school is still active and teaching many more women Mrs. Balasundaram's glass paintings
The couple settled down in Bangalore in 2004. Undeterred by setbacks, Mrs. Balasundaram found a new mission in life. She started volunteering at FAME, a school for differently abled children and then joined a Dignity centre in 2007 and learned computers. Now she is a computer buff and spends a lot of time browsing through internet for healthy recipes and freezing techniques. She interacts with the likes of Sanjeev Kapoor and even submits her own recipes. She is busy teaching Mr. Balasundaram how to cook, if she falls sick again. She also showed us her recent attempt at painted tiles that she baked in her own microwave.
While Mrs. Balasundaram was thanking us for taking interest in her work and writing about senior citizens, I was feeling thoroughly inspired and wishing that in my old age I emulate her spirit and continue to say "the show must go on," no matter what.
About Author